Back to News list
Video Nasty comic book writer Mario Covone starts shooting his directorial feature, OVERTIME.
Here are the first images from Day 1 on the set of the genre shocker.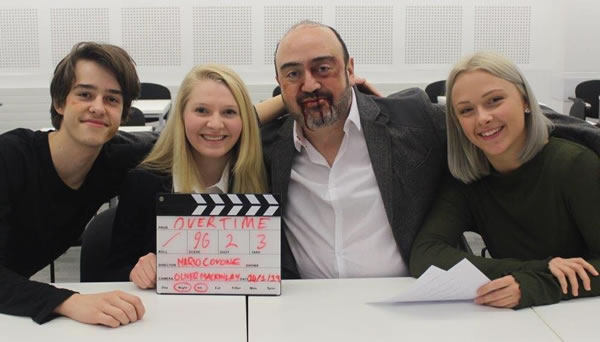 Cast of OVERTIME (Photo credit) Abby Moore
Mario Covone, writer of the critically acclaimed Reaper Comics horror series, Video Nasty, has begun shooting his feature film directorial debut, the horror movie OVERTIME.
And here are some of the principle cast on the first day of the shoot on location at a school in Ipswich, Suffolk. From left to right: Jack Clark, Pippa Haddow, Chris Spyrides and Bethany Rumbellow.
The film also stars Heather-Mae Cutts, Anna Beer and Gary Baxter.
OVERTIME centres on Nathan (Chris Spyrides), a teacher working late into the night at school, seemingly alone. But a presence is watching him from the shadows. Stalked through the winding corridors and trapped within, a sinister secret holds the key to his survival.
No stranger to political subtext within his work, Covone's movie, which he has also written, explores the real-world issues of violence in schools, and the dangers of media scaremongering, whilst maintaining a traditional horror backdrop with twists aplenty.
OVERTIME is a Miracle World Production, written & directed by Mario Covone and produced by Jack Burman. Director of Photography is Oliver Mackinlay, Special Make Up FX by Sophie Goodman, Sound Design by Chris Daniels, 1st AD is Rebecca Hudson, Key Grip is Niall Lomax, Art Director is Bethany Clark, and Costume Designer is Siobhan Penn.
The poster artwork (to be revealed soon) is being designed by horror industry legend Graham Humphreys. Humphreys also painted the covers for Covone's Video Nasty comic book run.
Mario Covone
Useful links:
www.facebook.com/mario.the.apocalypse
@MarioCovone
Instagram: covonemario