Back to News list
The FrightFest Guide to Werewolf Movies By Gavin Baddeley Foreword by Neil Marshall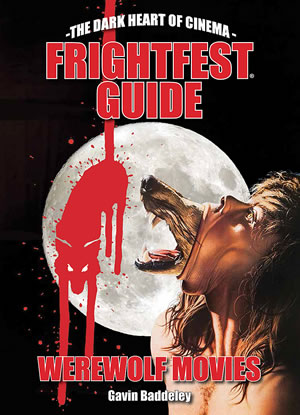 FRIGHTFEST & FAB PRESS LAUNCH THE FRIGHTFEST GUIDE TO WEREWOLF MOVIES
The FrightFest Guide to Werewolf Movies By Gavin Baddeley Foreword by Neil Marshall
FrightFest and FAB Press once again join forces to launch THE FRIGHTFEST GUIDE TO WEREWOLF MOVIES, which goes exclusively on sale during Arrow Video FrightFest 2019, Aug 22 – Aug 27. Both the author Gavin Baddeley and filmmaker Neil Marshall, who wrote the foreword, will be present to sign copies.
Following the success of the three previous editions: The FrightFest Guide to Exploitation Movies, Monster Movies & last year's Ghost Movies, this is the latest in a series of wide appeal books for both the curious spectator and the cult connoisseur.
For more than a century, a diverse pack of lycanthropes have memorably manifested onto our screens, in many hair-raising shapes and sizes. Within these colourful pages we will encounter reluctant wolfmen, shapeshifting sadists, Nazi werewolves, werewolf nuns, big bad fairytale wolves and lycanthropic nymphomaniacs.
Acclaimed author, broadcaster and occult historian, Gavin Baddeley, finds fresh perspectives on established classics, uncovers neglected gems, and even examines a few howlers among the two hundred-odd werewolf movies reviewed. In the process Baddeley shows how the myth has transformed; whereby werewolves become analogies for alcoholism or adolescence, or ciphers for sexual awakening or serial murder.
Gavin said today: "I was flattered to be asked – I'm among pretty distinguished company with the other FrightFest Guide authors and contributors – and it seemed an ideal opportunity to explore why I've been so fascinated by werewolves since childhood, As a lifelong lycanthropy obsessive, an excuse to watch hundreds of werewolf films under the pretext of work was always going to be impossible to resist!
Renowned director, writer and producer Neil Marshall – whose brilliant debut Dog Soldiers reinvigorated the werewolf for the 21st Century – contributes the foreword.
The official launch of the book is at Arrow Video FrightFest, with official signings taking place at Cineworld, Leicester Square (22 to 27 August). Both Gavin and Neil will be in attendance. The FrightFest exclusive hardcover will be on sale for just £20 from www.fabpress.com
The book's international street date is 1 October 2019. Paperback price: UK £17.99 / US $26.95
All FrightFest enquiries and interview requests for Gavin, please contact:
Greg Day, Clout Communications,  07889 861646
For review copies – either pdf or physical copies – contact:
Harvey Fenton at FAB Press (07790 664367, harvey@fabpress.com)
Editor's Notes
The Author
Gavin Baddeley is a writer specialising in the devilish, decadent and macabre. In addition to authoring numerous books, including the FAB Press volume The Gospel of Filth, he's written for countless magazines, and is in demand as a public speaker and television research consultant.
Neil Marshall (Foreword)
Neil Marshall is the acclaimed director of the modern werewolf movie classic Dog Soldiers (2002), plus The Descent (2005), Doomsday (2008), Centurion (2010), Hellboy (2019) and The Reckoning (2019). His impressive TV credits include: Lost in Space, Westworld, Black Sails and Game of Thrones.
FAB Press
Since launching with its seminal publication Flesh And Blood (the source of the FAB acronym) in 1993, FAB Press, publishers of books for cult connoisseurs, has gained respect among its loyal customers and knowledgeable members of the book publishing industry alike. FAB Press has been working with FrightFest's Alan Jones for many years, publishing his books Dario Argento: the Man, the Myths and the Magic, The FrightFest Guide to Exploitation Movies, and Nicolas Winding Refn: The Act of Seeing.
FrightFest
FrightFest is the most prestigious horror fantasy movie event in the United Kingdom since 2000. Created by Paul McEvoy, film exhibitor Ian Rattray, film critic, international journalist, author and broadcaster Alan Jones, and veteran PR man Greg Day, the main FrightFest event takes place annually over the August Bank Holiday in London. They also have their own distribution label, FrightFest Presents, in partnership with Signature Entertainment.