Back to News list
FrightFest Wants Fresh Blood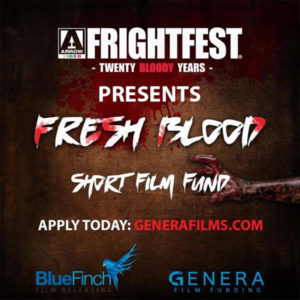 Arrow Video FrightFest, in conjunction with UK distribution outfit Blue Finch Films and short film funding company Genera, has launched a new initiative to help finance genre short films
Called 'Fresh Blood', the partners will look to help finance short form projects in the latter stages of development in the bid to discover new voices in the world of genre filmmaking.
Submissions for the fund will start on the 5th June 2019 and filmmakers can apply at www.generafilms.com. The closing date is 31st July and the shortlisted finalists will be announced on 14th August.
Shortlisted finalists will then have the opportunity to pitch their project in front of an industry panel during the festival, who will then decide the winning film.
This year will be the festival's 20th edition, with their full line-up to be announced on Thurs 4th July.
Genera's CEO, Christian Parton commented: "Short films are notoriously hard to fund. Partnering and creating exciting opportunities to support short filmmakers is paramount to Genera. We are incredibly excited to be partnering with FrightFest and Blue Finch Films in launching this round to encourage the financing of more genre films"
Ian Rattray, FrightFest co-director, added: "We're thrilled to join forces with these two dynamic companies to help continue the festival's tradition of seeking out and supporting fresh talent".
Editors Notes:
Blue Finch Films was launched in August last year by seasoned executive Mike Chapman, Simon Crowe of SC Films and entrepreneur Matt Joynes. Their upcoming slate features a variety of genre films including 'Roxanne' 'Benjamin's Body' 'At Brighton Rock', Venice Critic's Week selection 'Dachra' and Blumhouse produced 'Bloodline'.
Genera was launched in April 2017 and to date has 44 short films on the slate. With over 70 partners and filmmakers from over 130 countries Genera provides an innovative way to fund short films, letting filmmakers keep creative control whilst supporting them with financing through to post production and kit.
FrightFest, running since 2000, is the most prestigious horror fantasy movie event in the UK. Run by Paul McEvoy, Ian Rattray, Alan Jones and Greg Day, the main FrightFest event takes place annually over the August Bank Holiday in London. They also have their own strand at the Glasgow Film Festival and run a distribution label, FrightFest Presents, in partnership with Signature Entertainment