Back to News list
Scott Lyus to direct debut horror feature film WALKING AGAINST THE RAIN
Award-winning filmmaker Scott Lyus set to direct debut horror feature film WALKING AGAINST THE RAIN early June 2020.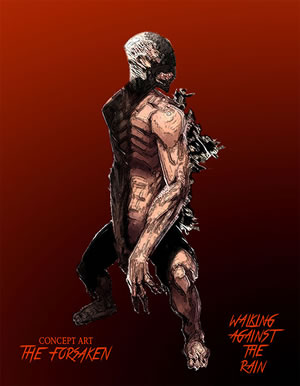 The apocalyptic Biblical monster movie, shot on locations in the UK over a three-week period, will star Cruel Summer's Reece Douglas, newcomer Maisy Kay and James Swanton as monster creation 'The Forsaken'.
Set six months after a biblical plague has fallen upon the world, WALKING AGAINST THE RAIN tells the story of two strangers, Tommy (Reece Douglas) and Blair (Maisy Kay) who are navigating their way across a barren landscape in a desperate attempt to find each other. With their only form of communication being two soon-to-die battery operated radio mics and with a new evil in the shape of 'The Forsaken' tracking them down, they must learn to confront loss and rediscover a trust in humanity. Or die.
Co-producers and long-term collaborators Scott Lyus and Chris Nials, have created several successful short films, including Silently Within Your Shadow, Echoes of the Passed and, most recently, the crowd-funded Black Mass.
Scott Lyus commentated: "The underlying theme of WALKING AGAINST THE RAIN is an exploration into loss, grief and how our characters are coming to terms with a new life in an empty, but at times beautiful, landscape and learning to endure shocking experiences beyond their comprehension. Gone is the quick access to constant communication, information and social media and, as a result, our protagonists have to start to reassess how they look at basic level human interaction, whilst surviving unspeakable horrors".
The film is being funded by ROKiT Pictures, which is part of the ROKiT Group, and their Co-Founder & Chairman, Jonathan Kendrick, said today: "We're thrilled to go on this journey with Scott and Chris and their terrifying fresh take on the post-apocalyptic genre".
WALKING AGAINST THE RAIN is a Crossroad Pictures production, written & directed by Scott Lyus and produced by Chris Nails & Scott Lyus. FX and special make-up is by BAFTA-nominated Kristyan Mallet (Ghost Stories, Autopsy of Jane Doe). Starring Reece Douglas (Cruel Summer, Waterloo Road), Maisy Kay (singer/songwriter, feature film debut) and James Swanton (Frankenstein's Creature, Double Date).