Back to News list
A GHOST WAITS director Adam Stovall Interview
Ahead of the World premiere of A GHOST WAITS at Arrow Video FrightFest Glasgow 2020, director Adam Stovall reflects on getting through depression, creating paranormal romance and the influence of Tom Waits…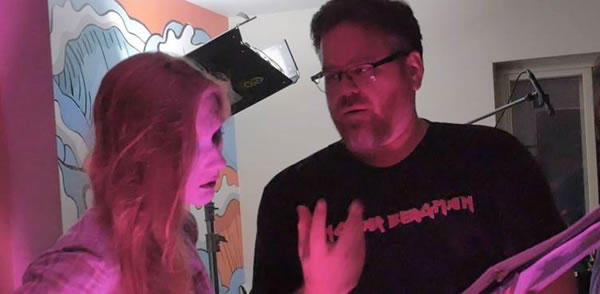 You have an interesting CV – from comedy theatre and film journalism to writing for The Hollywood Reporter and second assistant directing. Was all this a game plan to becoming a fully-fledged director?
I've known since I was a little kid sitting in the basement watching the network TV premiere of Back To The Future while holding my Back To The Future storybook and waiting for them to premiere the first footage from Back To The Future 2 during a commercial break that movies meant more to me than they did to those around me. And that's not a low bar – my Dad worked as a projectionist all through his college years, and my Mom takes my Aunt to see at least one movie a week. I remember seeing Pulp Fiction in the autumn of 1994 and suddenly realizing that a) cinema is far more elastic than I had previously thought, and b) it helped the world make sense in a way nothing else could. That was when I knew this was my path.
But I grew up in Northern Kentucky, which felt like the furthest you could possibly get from Hollywood. I spent my 20s trying to do anything else and be happy, to no avail. Towards the end of my 20s, I was mired in a severe depression, getting wine drunk and writing scripts on the weekends. Then, my dog died, and it put into stark relief just how alone I was. So I sold as much of my stuff as I could and moved the rest to L.A. so I could pursue film.
Quickly I had the thought that I'd feel pretty stupid if I moved 2000 miles and just sat in my room, so I started volunteering in the Creative Screenwriting screening series. After eight months of that, I wrote for a magazine, which closed down, then a friend asked me to work on his movie. I was not supposed to be the 2nd AD, but they ended up with a budget far smaller than they thought they'd get, so as people left the production for higher-paying gigs, I kept getting promoted. It was an incredible experience, though, and the best education I could have asked for in terms of no-budget filmmaking. It clarified for me where money needed to go, and where money went out of habit.
So yeah, that's a game plan…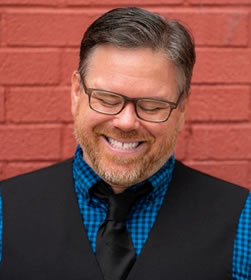 Did the story of A GHOST WAITS come as a sudden flash; were you inspired by the likes of GHOST and BEETLEJUICE?
The idea for A Ghost Waits came from a video game and a web comic. I am not a gamer, but I was visiting some friends and they told me I needed to play a game called P.T. which was designed by Guillermo Del Toro and Hideo Kojima. It's a first person puzzle game where you have to walk through an L-shaped hallway in a haunted house, doing specific things in time in order to open the door at the end of the hallway, which then puts you back at the beginning of the hallway.
At some point, it occurred to me that there might be a movie in someone like me having to deal with a haunted house. While I was working on that, I saw a Saturday Morning Breakfast Cereal comic where a man asks a woman what she thinks is the most American film. She answers, "Ghostbusters," and he asks why. She explains that people get demonstrable proof of an afterlife, but the whole thing is about growing a small business and navigating government bureaucracy. I thought, "That's hilarious, and also I want to see that movie." So I wrote it!
How long was the development process and where did you obtain financing?
Development on A Ghost Waits moved irresponsibly fast, haha. I had the idea in November 2015, and we shot in August 2016. Normally I have all the time in the world to write, since nobody cares about a spec script being written by a no-name, so the process of writing with so many eyes on me was equally exciting and daunting. Fun fact: I usually name characters and title the piece late in the process, but I wasn't able to do that here since we needed to create documents for casting and whatnot. So I went home, opened up my Tom Waits discography, and named every character after a Tom Waits song. And then named the movie after him, because he is one of my creative north stars…
MacLeod and I had spent the previous year trying to get another movie made, but just weren't able to raise enough money. One of the investors we met in that time remained very excited to make something, so when I had the idea for A Ghost Waits he immediately said he'd invest half the production budget. My Mom had told me to let her know when we had a firm budget number, so once we had half the budget, she invested the other half. That covered principal photography, and then MacLeod and I put in our own money to cover pickups and post-production.
How do you describe the movie, a supernatural comedy, a paranormal romance, what?
I've been referring to it as a haunted house love story, but paranormal romance is good – maybe I'll start using that!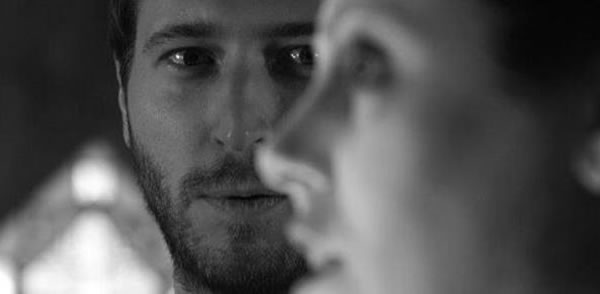 MacLeod Andrews & Natalie Walker in A GHOST WAITS
Was the choice to shoot in black-and-white more an artistic or budgetary consideration?
A bit of both, to be honest. I love the B&W aesthetic, so it was always a possibility in my mind, I mentioned my idea to my UPM during prep while we were on a location scout, and she told me not to do that. We shot in color with the intention of staying that way, but we also shot with two different cameras, the Blackmagic Ursa Mini and the Blackmagic Pocket Cinema, which yielded slightly different looks. I drove myself crazy trying to match the images in color-correction, and one day MacLeod said, "Have you thought about just making it B&W?" Because MacLeod is the best person ever. Once we put a B&W LUT on it, it felt right, tonally and aesthetically. Would we have gone with B&W even if we had more money? Who knows! Just another possibility for the pile…
When did you first meet MacLeod Andrews? He says you've wanted to make something together for years? So did you write the part of Jack with him in mind?
MacLeod and I met on the set of a film called Split, a bowling rom-com, which filmed in Louisville, KY. I met the filmmaker on a panel, and he asked if I'd be down to come work on his movie. MacLeod is a native of Louisville, and had worked with one of the producers on the film before. We instantly hit it off, and I was struck by his obvious talent and charisma so I sent him a script I'd recently written. He dug it, and we decided we wanted to work together.
I absolutely wrote the part of Jack for MacLeod. To the extent that if he'd said no, the movie would not exist. Fortunately our brains function on similarly weird frequencies, so we're usually intrigued and excited by similar ideas.
What about Natalie Walker? How did you come to cast her as Muriel?
I'd been following Natalie on Twitter for a while, and was impressed by her humor and brilliance. I had a feeling that casting her in a role that demanded she sublimate her energy would yield a similar result as when Robin Williams was asked to do the same for dramatic roles. I emailed and told her about the project, and offered to send over the script so she could check it out and see if it interested her. She responded that she was very interested, so we talked and she did a self-tape, which was perfect. We hopped on FaceTime and I offered her the role.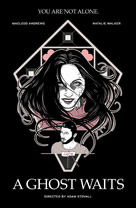 The chemistry between MacLeod and Natalie is wonderful. Was that instant or did it need nurturing?
Instant! We never even had a table read, much less any rehearsals, so the first time they met was on set. Since we had such a small crew, I was always doing a multitude of jobs, which limited how much time I was able to spend with them. A lot of their dynamic is due to the work they did on their own. It is my profound hope that the three of us are able to work together again.
Where did you film and for how long?
We filmed in Cincinnati, OH, and Lakeside Park, KY. Principle photography was 12 days in August 2016, and then we did the first set of pickups over four days in April 2017 and the last set over a week in February 2018.
What does having the World Premiere at FrightFest Glasgow mean to you?
Cesar A. Cruz once said, "Art should comfort the disturbed and disturb the comfortable." At my lowest, movies have made me feel less alone, and I wanted to make something that could do that for someone else. We made a small, personal, weird film, and it means the absolute world to know it means something to others and is finding its place in the world. Absolutely thrilled FrightFest get to show it first".
Finally, what's next for you?
We're working with a couple producers on two films, which we're obviously hoping to make soon. One is an existential horror drama, and the other is a coming-of-age comedy-drama. In the meantime, just writing a few things and hoping for the best.
A GHOST WAITS is showing at the Glasgow Film Theatre on Friday 6 March, 8.40pm, as part of Arrow Video FrightFest Glasgow 2020
Tickets: https://glasgowfilm.org/glasgow-film-festival/shows/frightfest