Back to News list
SCARE US new promo trailer
New promo trailer for horror anthology SCARE US ahead of UK release
Pre-order now
30 sec trailer: https://vimeo.com/713733191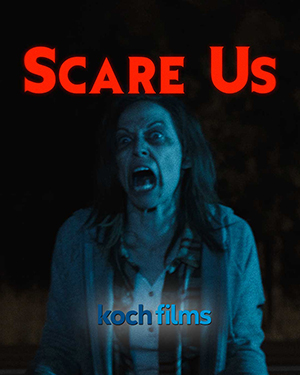 SCARE US, a darkly vicious serial killer horror anthology, will be digitally released in the UK on Monday 13th June, courtesy of Koch Films. It is now available to pre-order on Apple TV / iTunes: Scare Us
It will also be available to pre-order on Amazon 30th May.  Other outlets include Sky Store, Virgin Movies, Google Play and Xbox.
The 5-part murderous tale, which was voted one of the Top 10 Hidden Horror Gems of 2021, focuses on an unlikely group of aspiring writers who live in Sugarton – a small town plagued by the apparent return of an infamous serial killer, dubbed "Cutthroat". As usual, they meet in their local bookstore run by Peter, the group's leader, to share their scary stories, but tonight, they are about to discover they've become the stars of a sick killer's own twisted tale.
Shot in Arizona over a 16 day period, SCARE US is directed by Ryan Henry Johnston (Head Director, Co-Director of Night Haul), Carl Jensen IV (Co-Director of Dead Ringer) Ryan Kjolberg (Director of Untethered), Charlotte Lilt (Co-Director of Night Haul), Tom J. McCoy (Director of The Resting) and Jordan Pillar (Co-Director of Dead Ringer)
The Falling Flame Pictures production stars Tom Sandoval, Charlotte Lilt, Michelle Palermo, Michael C. Alvarez, Ethan Drew, Jason Wiechert, Desiree Srinivas and William Kenny. Writers are Will Hirsch, Carl Jensen IV, Ryan Henry Johnston, Ryan Kjolberg, Tom J. McCoy and Jordan Pillar. It is produced by Jason Wiechert, Ryan Henry Johnston and Robyn Sturgis.
Koch Films is an independent film and home entertainment distributor and a subsidiary of Koch Media GmbH which was founded in 1994. The group is a leading marketer of games, films and software products.  Koch Media GmbH maintains offices in Germany, Austria, Switzerland, United Kingdom, France, Benelux, Italy, Spain, Scandinavia, Poland, the Czech Republic, as well as subsidiaries in the USA and Australia. In February 2018 Koch Media became part of the Swedish Embracer Group.
Follow Koch Films on Twitter – @Koch_FilmsUK and on Instagram – @kochfilmsuk
Film twitter links: @fallingflame, @TomSandoval1, @CharlotteLilt
Press enquiries:
Clout Communications @cloutcomcouk