Back to News list
Poster art reveal for apocalyptic monster movie WALKING AGAINST THE RAIN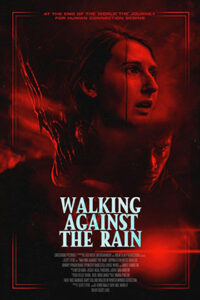 The new poster art for Scott Lyus's anticipated debut feature film WALKING AGAIST THE RAIN, has been revealed.
Designed by Colm Geoghegan's Creepy Duck Design, who have recently worked on the alternative posters for SCREAM, it captures the film's dangerously brooding atmosphere – which tells the story of two strangers, Blair (Sophia Eleni) and Tommy (Reece Douglas), who are navigating their way across a barren landscape in a desperate attempt to find each other, with only form of communication being two soon-to-die battery-operated radios mics
Set in a post-apocalyptic world, which is infested by a new evil in the shape of humanoid creatures 'The Forsaken', Blair and Tommy must battle for survival, while learning to confront loss and rediscover a trust in humanity.
Shot on locations in the UK over a three-week period, WALKING AGAIN THE RAIN stars Sophia Eleni who recently gained industry attention for her lead role in the Christmas Day edition of Call the Midwife, Cruel Summer's Reece Douglas, and James Swanton as monster creations 'The Forsaken'.
Scott Lyus commentated: "I am blown away with our official poster from Colm and Creepy Duck Design. It perfectly captures the threat of our humanoid creatures The Forsaken, while putting the human drama of Blair and Tommy's story front and centre. I cannot wait to unleash this film on the world, and Colm's artwork is the perfect tease."
What is sure to be a highlight for all practical effects and movie monster junkies is the film's main threat – 'The Forsaken'. With the creatures created by BIFA award-winning SFX artist Dan Martin and 13 Finger FX (Colour Out of Space, Possessor, Dashcam) using full body practical effects and puppetry.
WALKING AGAINST THE RAIN is a Crossroad Pictures production, written & directed by Scott Lyus. The film is produced by Scott Lyus, with Line Producer Chris Nails and Assistant Producer Mel Morley. The film is executive produced by Malcolm Winter and Monika Gergelova of M & M Film Productions and funded by Red Rock Entertainment.
The film stars Sophia Eleni (Black Mass, Call the Midwife), Reece Douglas (Cruel Summer, Waterloo Road), James Swanton (Host, Dashcam), Johnny Vivash (Charismata, Book of Monsters), Francesca Louise White (Jekyll and Hyde) and Diane Spencer.
Useful Twitter links: