Back to News list
Nicholas Vince Interview
Ahead of Horror Channel's broadcast of HELLRAISER and HELLRAISER II: Nicholas Vince, who played the Chatterer Cenobite, reflects on tackling monsters, his new one-man show and his love of Vincent Price.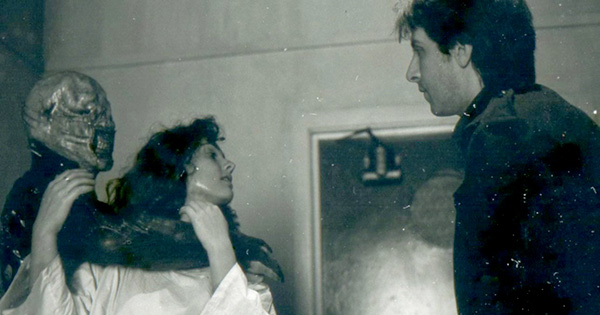 Nicholas Vince as The Chatterer on the set of HELLRAISER with Ashley Laurence & Clive Barker. Photo courtesy of The Clive Barker Archive.
Horror Channel are broadcasting HELLRAISER and HELLRAISER II: HELLBOUND. How does it feel being part of such an iconic franchise?
I feel extremely fortunate. And I'm grateful to Horror Channel for screening the films, as there's a chance for people who've not seen them before to watch them. I've introduced the films at various screenings and I'm always delighted there's often a 50/50 split between fans of the films and first timers.
You've spoken a lot about your experiences of playing the Chatterer Cenobite. Looking back, how much would you say it has defined your career?
Oh, it made my career. It's given me the chance to work with some really interesting young film makers such as MJ Dixon, Paddy Murphy, Stewart Sparke, Katie Bonham, Federico Ichi Scargiali and Lawrie Brewster. And it led to writing comics for Marvel in the 1990's. It's opened many doors for me, particularly in terms of meeting fans of the films who've been very supportive too.
I AM MONSTERS!, your well-received one-man show, reveals the depth of affection you have for Clive Barker. How would you sum up the impact he's had on your life?
The impact has been extraordinary. Clive is not only extraordinarily talented, he's been very encouraging of all my writing and acting. When I decided to write some short stories in 2012, the first thing I did was re-read his Books of Blood to get some insight how great short stories are written.
The show reveals not just your love for playing monsters but how much, at certain times in your life, you've felt like a monster yourself – being gay but remaining closeted during the 70s and being born undershot and having to have major surgery. How much of your life experiences informed your portrayal of the Chatterer?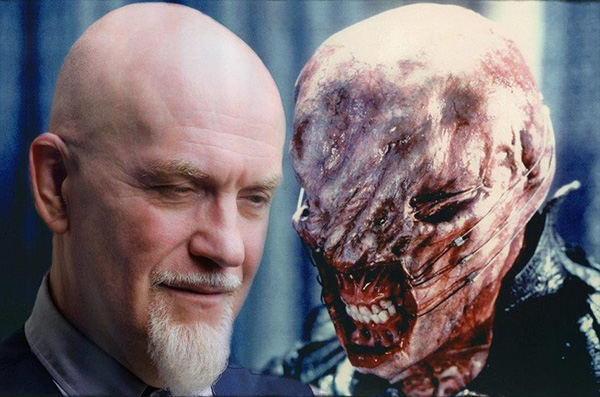 Good question. At the time, I was mostly concerned with the mechanics of making the costume and mask work, and hitting my marks on set. I did use a technique I'd learned during a mime class at drama school, where we had to bring in a cardboard box, put it over our head and make it into a character. We weren't allowed to decorate or cut it. That makes you both vulnerable and gives great freedom. Firstly, you can't see the audience, which is freeing; but you also have to rely entirely on your imagination and experiences to give the character life.
It's taken me decades to finally articulate a back story for Chatterer which I'm happy with, which I did in the short story Prayers of Desire.
Is it true that the design of the Chatterer was partly inspired by your own facial reconstruction?
Yes, that's right. I mentioned to Clive a documentary I'd watched about facial reconstructive surgery, during which I realised some of the techniques shown must have been used on me when I was 19 years old. It was really a brief conversation and I'd forgotten about it until after filming when Clive pointed out he'd remembered and incorporated what I'd described into the design of the Chatterer.
Are there plans to stage I AM MONSTERS in the future?
Yes, I'm working on some dates for later in the year for the UK and USA.
How important is the ongoing connection you have with your fans?
That's very important to me. It's something which I was taught by Clive. I used to meet up with friends when he did book signings at Forbidden Planet in London. I once saw him sign for seven hours without a break and he drew a picture along with his signature, and whilst he did that he chatted, answered any question and also asked questions. I've always tried to emulate that attitude when I meet fans, or as Clive would say 'enthusiasts'.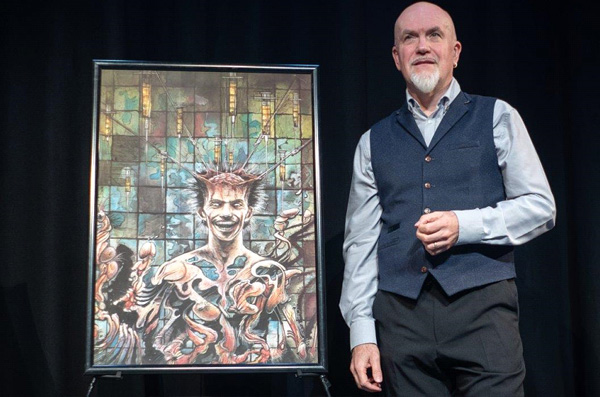 Nicholas Vince on stage in I AM MONSTERS!
What 'monster' movies do you personally admire? Have you a favourite?
I'm a big fan of Vincent Price and the Edgar Allan Poe films he did with Roger Corman. My all time favourite is MASQUE OF THE RED DEATH. What I love about Price in that film is that the monster he plays, Prince Prospero, isn't a classic monster makeup, but he's chilling. Of more classic monsters, then it would be Lon Chaney Jr. as WOLFMAN, Claude Rains as the PHANTOM OF THE OPERA and Robert England as Freddy Kreuger.
If you had the choice of playing any of the iconic monsters, which would it be?
The Abominable Dr Phibes, as played by Vincent Price.
Finally, what can we expect to see you in next?
They've just released Ashley Thorpe's BORLEY RECTORY onto Amazon Prime in the UK, narrated by Julian Sands and starring Reece Shearsmith. There are three other feature films nearing completion and aiming for release later this year.
I'm also working on my third volume of short stories, which has my Chatterer origin story as the title, PRAYERS OF DESIRE which is due out at the end of Spring 2020.
HELLRAISER is broadcast on Friday 3 April @ 22:50 and HELLRAISER II: HELLBOUND on Friday 10 April @ 23:15.