Back to News list
HELLRAISER TRILOGY Fridays in April on Horror Channel
"We have such sights to show you…"
Friday 3 April @ 22:50 – HELLRAISER (1987)
Frank Cotton (Sean Chapman) has solved the mystery of the Lament Configuration puzzle box, a sort of evil Rubik's cube. Unfortunately he inadvertently opens a doorway to Hell and, in death, enters the world of the Cenobites, a race of sadistic supernatural beings led by a bald Cenobite (Doug Bradley). Brought back from the edge of damnation by the blood of his brother, Larry (Andrew Robinson), Frank rises to feed on the souls of others. But he needs his lover and sister-in-law Julia (Clare Higgins) to bring him fresh blood.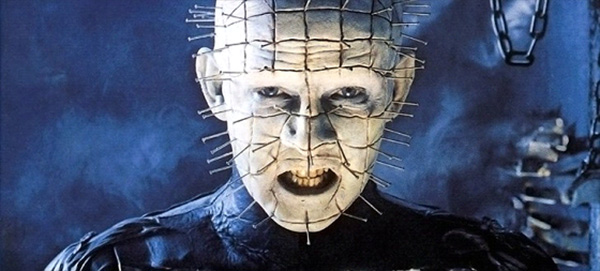 Friday 10 April @ 23:15 – HELLRAISER II: HELLBOUND (1989)
Kirsty Cotton (Ashley Laurence) has witnessed too many horrific images for her young mind to take and is placed in the care of Doctor Channard (Kenneth Cranham). No one believes Kirsty's wild and weird tales, except the Doctor who has secretly been searching for the pleasures the dark side can bring. Soon the walls at the institute begin to crack and bleed and once dead faces from Kirsty's recent past return to haunt her. And then a Cenobite known as Pinhead (Doug Bradley) vows to tear her soul apart.
Friday 17 April @ 22:55 – HELLRAISER III: HELL ON EARTH (1993)
Pinhead (Doug Bradley) has been caged in the Torture Pillar, his evil secured for all eternity. But a club owner J.P. Monroe (Kevin Bernhardt) buys this bizarre sculpture and accidentally cuts himself during its installation, dripping blood onto the ancient monument. This resurrects Pinhead but this time he's up against a reporter Joey Summerskill (Terri Farrell) who battles Pinhead into facing his own, tortured past.
Website: http://www.horrorchannel.co.uk/
Facebook: https://www.facebook.com/horrorchannel
Twitter: https://twitter.com/horror_channel