Back to News list
LEGEND reveals bumper crop of premieres for September 2023

Watch out for a 'dirty dozen' on LEGEND, as the UK's most engaging channel for action, suspense and Sci-Fi presents twelve premieres for September, including the UK TV premiere of Adrian Bol's high stakes espionage thriller LEGACY OF LIES, starring John Wick: Chapter 4-star Scott Adkins.
Superior crime and action movies feature this month with the Channel premieres  for remarkable Brit true-crime story THE HATTON GARDEN JOB, starring Larry Lamb, Phil Daniels and Matthew Goode, London gangster drama ASSASSIN, starring Danny Dyer,  neo-noir thriller SEA OF LOVE, starring Al Pacino and Ellen Barkin, action comedy BIRDS ON A WIRE, starring Mel Gibson and Goldie Hawn, revenge crime thriller ACTS OF VIOLENCE, starring Bruce Willis and RED ROCK WEST, starring Nic cage and Dennis Hopper.
There are also Channel premieres for British Cold war spy thriller THE FOURTH PROTOCOL, starring Michael Caine, AFTERMATH, a dark, atmospheric thriller starring Arnold Schwarzenegger, SMOKEY AND THE BANDIT III, starring Burt Reynolds, Ron Howard's Firefighter thriller BACKDRAFT, and Don Siegel's cult classic THE KILLERS, starring Lee Marvin and Ronald Regan.
This month's popular THE VINTAGE VAULT strand on Sunday night double-bills celebrates some great horror classics from the Sixties including CIRCUS OF HORRORS, THE PLAGUE OF THE ZOMBIES, ISLAND OF TERROR and QUATERMASS AND THE PIT.
Full film details in transmission order:
Fri 1 Sept @ 23:15 – ASSASSIN (2015) *Channel Premiere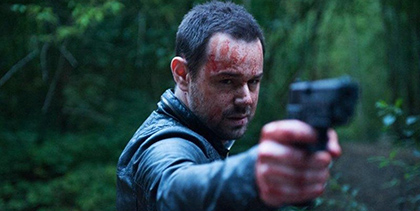 Danny Dyer is on top form as Jamie, a former hitman out for revenge. Also starring Martin and Gary Kemp, this is the story of the most corrupt crime bosses in the London underworld, and one man's crusade to bring them to justice.
Sat 2 Sept @ 21:00 – THE FOURTH PROTOCOL (1987) *Channel Premiere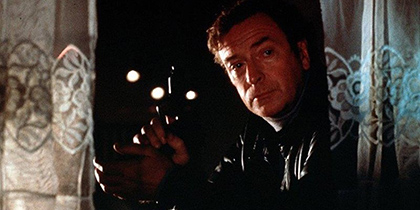 The Chairman of the KGB hatches a plan to breach this Fourth Protocol and destroy NATO. He sends an agent, Major Petrofsky (Pierce Brosnan), to assemble the operation. A British spy catcher, John Preston (Michael Caine), must race against an unknown deadline to stop him and his devastating mission.
Sun 3 Sept @ 21:00 – THE MUMMY (1959)
*Part of The Vintage Vault
In 1895 Egypt, a team of British archaeologists opens the tomb of Princess Ananka, despite warnings of a death curse. Three years later in England, a vengeful Egyptian arrives and unleashes the living mummy Kharis on the men. This superior Hammer Films production reunites the director, Terence Fisher, with stars Peter Cushing and Christopher Lee.
Sun 3 Sept @ 22:45 – CIRCUS OF HORRORS (1960)
*Part of The Vintage Vault
A deranged plastic surgeon takes over a traveling circus, transforming disfigured young women into ravishing beauties, then coercing them to perform in his three-ring extravaganza. But when the re-sculpted lovelies try to escape, they begin to meet with horrific accidents. Donald Pleasence and Yvonne Monlaur co-star in this notorious 1960 British cult classic.
Thurs 7 Sept @ 21:00 – THE HATTON GARDEN JOB (2017) *Channel Premiere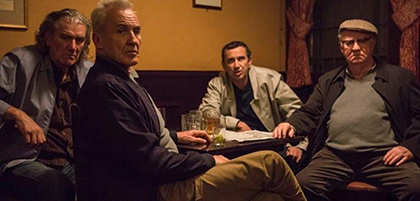 A remarkable true story set follows four ageing East End criminals – led by 76 year-old Brian Reader (Larry Lamb) who pull off the largest heist in English legal history. With everyone from the Hungarian mob to Scotland Yard on their tail, these old-school – and just plain old – villains set about achieving the seemingly impossible. But will they commit the crime of the century or pay with their lives?
Sat 9 Sept @ 21:00 – RED ROCK WEST (1992) *Channel Premiere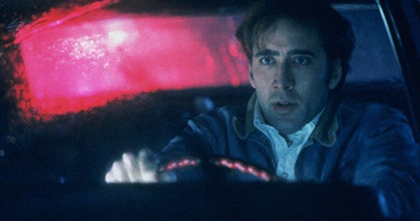 When a promised job for Texan Michael Williams (Nic Cage) fails to materialise, he takes advantage of being mistaken for a hitman hired to kill a man's unfaithful wife, takes the money and runs. But during his getaway he runs into the real hitman…
Sun 10 Sept @ 21:00 – THE BLACK TORMENT (1964)
*Part of The Vintage Vault
When Sir Richard (John Turner) returns to his manor with his new wife. he hears rumours that he had already secretly returned and had committed several murders. Has he lost his mind, or is something dark afoot? Also stars Heather Sears and Patrick Troughton.
Sun 10 Sept @ 22:45 – THE REPTILE (1966)
*Part of The Vintage Vault
Harry and Valerie inherit the Cornwall home of Harry's brother, who died under mysterious circumstances. The local villagers are tight-lipped and the couple's neighbour, the hostile Dr Franklin (Noel Willman), has been investigating a secret tribe of snake-people on his last trip to Borneo, and they react to his intrusion by making is daughter Anna one of them.
Thurs 14 Sept @ 21:00 – AFTERMATH (2017) *Channel Premiere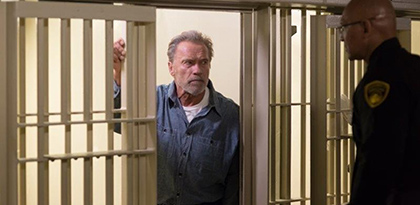 Inspired by astonishing true events, this heart-pounding thriller tells the story of two strangers, Roman Melnyk, (Arnold Schwarzenegger), and an air traffic controller (Scoot McNairy) whose lives become inextricably bound together after a devastating plane crash that resulted in the death of Roman's family.
Sat 16 Sept @ 22:50 – SMOKEY AND THE BANDIT III (1983) *Channel Premiere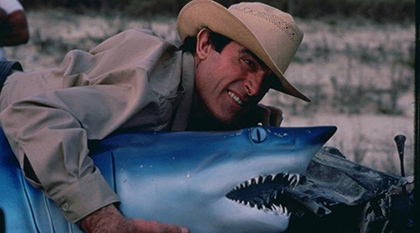 The final film is the franchise sees Big Enos and Little Enos open a seafood restaurant and wanting to promote it in their usual fashion. The Bandit is unavailable this time, so they enlist Cletus. "Trigger" is brought out of mothballs, a large fish is strapped to the roof of the car, and the new Bandit is on his way on another wild cross-country run. But where there is the Bandit, there is Sheriff Buford T. Justice.
Sun 17 Sept @ 21:00 – THE PLAGUE OF THE ZOMBIES (1966)
*Part of The Vintage Vault
A mad Cornish squire solves an annoying labour crisis in his tin mines by turning local villagers into voodoo-controlled zombies. Dr Thompson (Brook Williams) and his daughter Alice (Jacqueline Pearce) soon discover the unpleasant nocturnal habits of the shambling undead slaves. Directed by John Gilling, this spooky, atmospheric outing from Hammer Films, came out two years before Romero's 1968 classic Night of the Living Dead.
Sun 17 Sept @ 22:50 – ISLAND OF TERROR (1966)
*Part of The Vintage Vault
One the great British Sci-Fi thrillers! When the inhabitants of Petrie's Island succumb to a mysterious disease, doctors Stanley (Peter Cushing) and West (Edward Judd) investigate. Puncture marks on the corpses reveal the horrifying truth: the islanders are being killed not by a disease, but by a strange type of organism that sucks the bone from their bodies…
Thurs 21 Sept @ 21:00 – LEGACY OF LIES (2020) *UK TV Premiere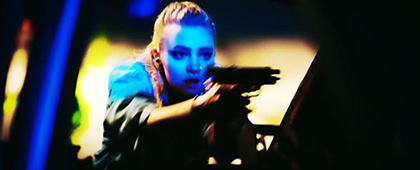 Martin Baxter (Scott Adkins) a disgraced MI6 agent, is forced back into the spy game as a young journalist seeks out his help to expose the shocking truth about operations conducted by the Russian Secret Service. With his daughter pulled into the fray will Martin choose family over queen and country.
Fri 22 Sept @ 22:35 – SEA OF LOVE (1999) *Channel Premiere
Al Pacino stars as a weary New York police detective who falls in love with the woman (Ellen Barkin) who is the prime suspect in the murder case he's investigating. Written by Richard Price and directed by Harold Becker, the story keeps its central characters in a state of constant suspicion that ignites dangerous sparks between Pacino and Barkin.
Sat 23 Sept @ 21:00 – BACKDRAFT (1991) *Channel Premiere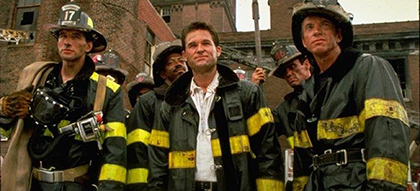 Stunning fire effects highlight Ron Howard's tense thriller about two quarrelling brothers in the Chicago Fire Department. William Baldwin and Kurt Russell star with Robert De Niro in this action-packed tale of men against nature. Donald Sutherland has a nasty turn as an arsonist.
Sun 24 Sept @ 21:00 – QUATERMASS AND THE PIT (1967)
*Part of The Vintage Vault
An ancient spacecraft is discovered buried in the ground at the site of an extension to the London Underground. Also uncovered are the remains of early human ancestors more than five million years old. Now uncovered the craft begins to exert a malign influence, resurrecting Martian memories and instincts buried deep within the human psyche. Mayhem breaks out on the streets of London as the alien force grows in strength.
Sun 24 Sept @ 22:55 – NIGHT OF THE BIG HEAT (1967)
*Part of The Vintage Vault
A freak heat wave sends the temperatures soaring on a remote island. Dr Stone (Peter Cushing) and Callum (Patrick Allen) try to uncover the reason for the sudden change in climate. But it falls to Godfrey Hanson (Christopher Lee) to discover that the rising heat is the start of an invasion of merciless aliens…
Tues 26 Sept @ 21:00 – THE KILLERS (1964) *Channel Premiere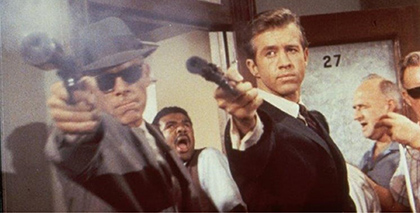 Hired assassins Charlie (Lee Marvin) and Lee (Clu Gulager) gun down Johnny North (John Cassavetes). Afterwards, Charlie wonders why Johnny just stood there, accepting his death. He also starts to wonder about his hefty pay check for the murder. Charlie's inquiries soon lead him down a rabbit hole of deception and murder. Directed by Don Siegel and based upon a story by Ernest Hemingway, the film also features Ronald Reagan in a very surprising role.
Thurs 28 Sept @ 21:00 – ACTS OF VIOLENCE (2018) *Channel Premiere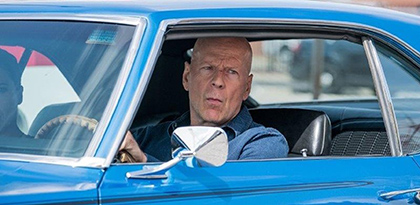 How far would you go for the one you love? For the MacGregor brothers, that question becomes a life-or-death decision. When his fiancée is kidnapped by human traffickers, Roman (Ashton Holmes) and his ex-military brothers set out to save her. Roman teams up with Avery (Bruce Willis), a cop investigating human trafficking and fighting the corrupted bureaucracy that has harmful intentions.
Sat 30 Sept @ 21:00 – BIRD ON A WIRE (1990) *Channel Premiere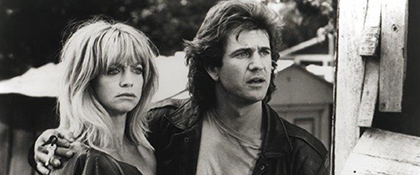 Rick Jarmin (Mel Gibson) is put in witness protection after he helps the FBI bust drug dealer
Eugene Sorenson (David Carradine). Fifteen years later, he is living with a new identity as a gas station attendant in Detroit. When an old flame (Goldie Hawn) recognises him, his cover is blown. The recently released Sorenson finds out, and both Jarmin and Marianne have to flee across the country with the vengeful Sorenson in hot pursuit.
Press enquires:
Greg Day | Clout Communications Ltd | cloutpr@gmail.con | @cloutcomcouk