Back to News list
Horror Channel Supernatural Week
Film news (UK):  Paranormal forces take over Horror Channel in May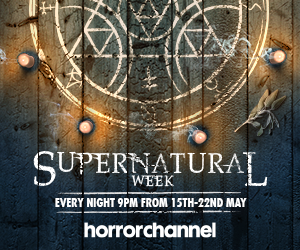 Paranormal forces take over Horror Channel in May with SUPERNATURAL WEEK, eight nights of ghostly scares highlighted by the Channel premieres of PARANORMAL ACTIVTY, the low-budget horror film that became a global phenomenon and David Robert Mitchell's creepy body horror hit, IT FOLLOWS.
The special event also sees the return of genre favourites such as demon chiller FIRSTBORN, with Misfits star Antonia Laura Thomas, John Carpenter's classic car-rage chiller CHRISTINE, the twisted supernatural gasper SINISTER, starring Ethan Hawke, the star-studded supernatural cult classic FLATLINERS, with Julia Roberts, Kiefer Sutherland and Kevin Bacon, the paranormal chiller THE QUIET ONES and Sean Byrne's THE DEVIL'S CANDY; a devastating ride into psychological trauma, starring Ethan Embry
---
 Full film details in transmission order:
 Saturday 15 May @ 21:00 – PARANORMAL ACTIVITY (2007) *Channel Premiere

Katie and Micah, a carefree couple, become haunted by an unseen presence in their house. They decide to investigate the increasingly bizarre and escalating intrusions by setting up a video camera to capture evidence of the demonic presence in their house, only to find much more than they ever imagined. The huge global success of the film, shot in a week, ushered in a new era of low budget tech inspired 'found-footage' movies.
Sunday 16 May @ 21:00 – CHRISTINE (1983)

High school geek Arnie Cunningham falls in love with "Christine", a bright red 1958 Plymouth Fury which has seen much better days. Setting himself the task of restoring the car to its original condition, Arnie has become consumed with passion for the sleek, rounded, chrome-laden car. His friends are horrified but it's too late – anyone seeking to come between them becomes the victim of Christine's horrifying wrath.
Monday 17 May @ 21:00 – SINISTER (2012)

Desperately in need of a best seller to revive his struggling career, true crime writer Ellison (Ethan Hawke), moves his family to the scene of his most recent story; the unsolved, gruesome murder of a loving, happy suburban family. Shunned by the local community and strained by his obligations to his family, the discovery of a batch of home movies in the attic offers Ellison shocking proof to the crime he is investigating and the terrifying realisation that his investigation may be putting his family in mortal danger.
Tuesday 18 May @ 21:00 – FLATLINERS (1990)
Five ambitious medical students embark on a daring experiment: to push through the confines of life and touch the face of death. To help him venture into this realm, manipulative Nelson Wright (Kiefer Sutherland) has recruited death expert (Julia Roberts), former med student (Kevin Bacon), ladies-man (William Baldwin), and the brilliant but self-absorbed documentarian (Oliver Platt). They soon find, however, that they don't return alone from their peek at the afterlife; they bring back manifestations of their past transgressions…
Wednesday 19 May @ 21:00 – THE QUIET ONES (2014)

A group of students, led by an eccentric professor (Jared Harris), prepare to conduct an experiment on a troubled young woman who insists she has been possessed by an evil doll. However, as they delve deeper they soon face a hellish ordeal.
Thursday 20 May @ 21:00 – THE DEVIL'S CANDY (2015)

Unfulfilled artist Jesse Hellman (Ethan Embry) moves his wife and fellow metal music-loving teenage daughter Zooey into a rustic Texas home with a violent past. Soon his paintings start taking on a darker, disturbing and more prophetic turn as anxieties get ramped up family tensions. Then the clearly unbalanced Ray appears on his doorstep wanting to move back where his parents tragically died. And when Ray sees Zooey, nothing prepares the family for the shocking chain of events.
Friday 21 May @ 21:00 – FIRSTBORN (2016)

Charlie and James are just starting their lives together. Young and in love, they're relishing having no responsibilities until Charlie discovers she is pregnant. In a moment of youthful abandon, they decide to keep the baby. So into their world comes Thea, a beautiful girl. But her arrival brings with it terrifying entities that threaten their newly formed family.
Saturday 22 May @ 21:00 – IT FOLLOWS (2014) *Channel Premiere

For 19-year-old Jay (Maika Monroe), the fall should be about school, boys and weekends out at the lake. But after a seemingly innocent sexual encounter, she finds herself plagued by strange visions and the inescapable sense that someone, or something, is following her. Faced with this burden, Jay and her teenage friends must find a way to escape the horrors
---
Website: http://www.horrorchannel.co.uk/
Facebook: https://www.facebook.com/horrorchannel
Twitter: https://twitter.com/horror_channel