Back to News list
Derren Brown SHOWMAN Interview
Voodoo, avoiding injuries and Broadway pensioners…As Derren Brown prepares to go on tour with SHOWMAN, he takes time out of rehearsals for a chat.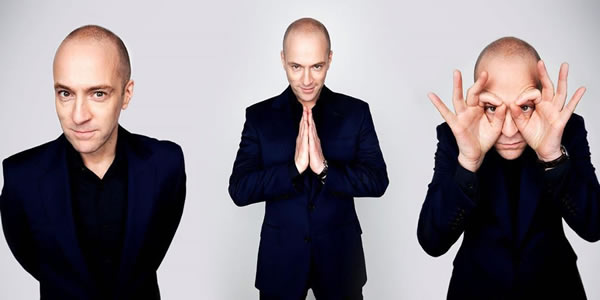 SHOWMAN will be your first new UK stage tour for five years. What can you tell us about it?
Well at the time of answering this, we are still writing and rehearsing it. The nature of my shows is that I never really know how well anything will work until I get an audience involved. So the first week or so we change a huge amount. But the heart of the show is about remembering what's important. Like how the very things that we find most isolating in life – our fears and difficulties – actually connect us. Framed with what I think will be some extraordinary demonstrations of my voodoo.
You revealed that SHOWMAN will revolve a lot around the audience. In what way?
I always try to write shows that are about the audience. I wasn't doing it consciously; until my manager pointed out that I was unusual amongst magicians in not making the shows about me. It sounded like a good thing. You do any job better when you don't make it about you.
What particular new challenges will SHOWMAN bring for you?
It's always a challenge to take ideas I feel are important and honest and use my strange effects (which spans the spectrum from honesty to deceit in their methods) to communicate those points. I had also grown very comfortable with the material from Underground (and its Broadway cousin Secret) which had truly become second nature. Starting again with a blank slate is exciting and daunting. Facing that first week of previews while we work out exactly what the show is. It's a lot.
What do you hope audiences will take away from the show?
If they're amazed by the tricks and feel better about themselves and a little warmer towards each other, I'm happy.
This will be your 16th year on tour. Does it get any easier?
I do actually now have to be more careful to avoid injuries. That's a new, slightly depressing thing. On the other hand, I know every decent cafe and writing spot around the cities I tour in which makes daytimes a treat. The busier I am at home, the more I appreciate having my daytimes to myself for a few months. And I worry less about the show. I enjoy it all more, it's in my blood, I don't struggle to find it or worry too much that things won't work. And all that makes for better, more mature performance than what it was a decade ago.
You've just returned from Broadway after a 17 week hugely successful run with SECRET. What was the experience of performing in New York like?
There is a level of professionalism out there in the Broadway world – perhaps because the stakes are so high and so much money gets spent on these shows – that we don't do in the same way in British theatre. Here it's small bunch of people mucking in and doing everything to make a show work. Plenty of those people might be a bit vinegary or chippy, it's part of the charm of it. Out there a thousand specialised, micro-unionised people are each doing a specific job faultlessly and with a brilliantly positive attitude. It's infectious. And Broadway has a starry aura around it that the West End doesn't. So that was nice for a bit. But you'd go mad if you started to think it was real life. So it's good to be home.
Also, the Broadway audiences are much more vocal, narrating their own experiences more. There's a lot more 'NOOOO!!' And 'FUUUUUUCK!!'s from the crowd. Half the audience is classic Broadway, and noticeably older. At home I might spot two older couples in the audience, but in New York about a quarter of the audience consisted of pensioners. But the rest were young and vibrant and contained many fans that had, amazingly, flown in from around the world. So it was a diverse group, and part of the fun was feeling them all come together as the show went on. And lots of actors – famous and otherwise – came to see the show. That's a real Broadway thing too.
Are there plans to return to America?
Vague plans, maybe even to play a few cities. I'd love to, but I love being here too, and it's a long time away and the promotional work would be rather intense. I might opt for an easier year.
You're working on your next book. How is it going?
It's my favourite thing to do. I shall be at it during the days on tour. Don't want to say much about it yet but it'll be in the same world as Happy. It won't be out any time soon though.
Finally, SACRIFICE on Netflix was your last TV show. Can we expect to see you back on the small screen any time soon?
I haven't had a moment for TV! We've got a good idea for the next one though, so once I know my plans and have an opportunity, I'm sure we'll get cracking. At the moment I'm really enjoying concentrating on book-writing and performing.
DERREN BROWN: SHOWMAN is on a UK tour from March 27 to Aug 2, 2020.
Details: http://derrenbrown.co.uk/shows/showman/