Back to Client list
Derren Brown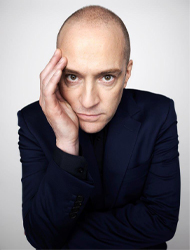 A multi award-winning performer, writer and artist, Derren Brown is a consummate showman who has pushed the boundaries of magic entertainment to a new level and gained a global reputation for his originality, versatility and daring.
Clout PR is retained as Derren's personal publicity agency. His books, HAPPY and MEET THE PEOPLE WITH LOVE, are best-sellers and his most recent TV special, SACRIFICE, is  streaming on Netflix.
---
Derren Brown: Live Shows
Clout PR is retained to handle press and publicity for all of Derren Brown's live shows, which have included DERREN BROWN: ENIGMA, DERREN BROWN: INFAMOUS, DERREN,  BROWN: SVENGALI, DERREN BROWN: MIRACLE and two tours and a West End run of DERREN BROWN: UNDERGROUND. The agency also supported his Broadway hit show, DERREN BROWN: SECRET and will be promoting his forthcoming UK live tour DERREN BROWN: SHOWMAN in 2021 & 2022.
Visit derrenbrown.co.uk/stage-screen/
Also cloutcom.co.uk/theatre-shows/derren-brown-underground-2017-2018/
---