Back to News list
VAULT OF HORROR – THE ITALIAN CONNECTION To be unleashed on Dec 8

News release
VAULT OF HORROR – THE ITALIAN CONNECTION
To be unleashed on Dec 8
20 Classic tracks from the golden era of Italian Horror, featuring composers including STELVIO CIPRIANI, FABIO FRIZZI & ENNIO MORRICONE, with extensive biographical notes on each track by FrightFest's ALAN JONES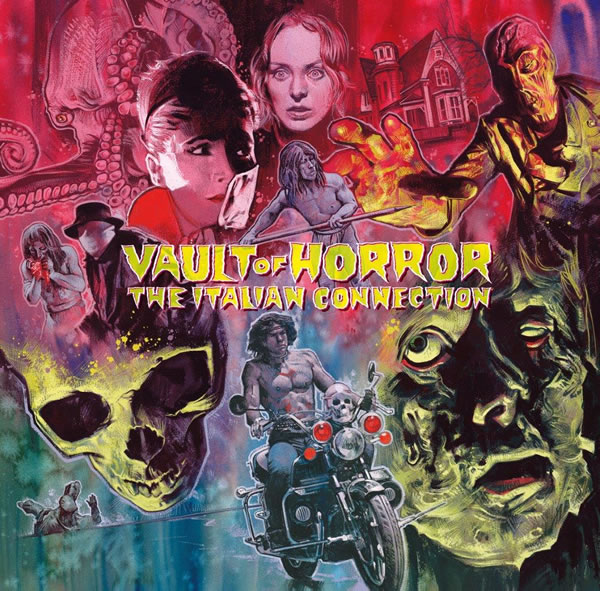 The golden era of Italian horror dates from the early 60's to the mid 80's. During that time directors such as Mario Bava, Dario Argento, Lucio Fulci, Antonio Margheriti, Umberto Lenzi, Joe D'Amato, and Enzo. G. Castellari directed some of the most outrageous terror films ever. As well as depicting some of the most stylish and horrific on screen images their films included some of the most elegant and beautiful scores. The cult following for their movies is as popular now as it's ever been.
VAULT OF HORROR – THE ITALIAN CONNECTION presents twenty of the most amazing film themes ever and is a heady mix of funk, disco, electronic and prog rock. It features composers such as Stelvio Cipriani, Franco Micalizzi, Roberto Donati, Carlo Rustichelli, Nico Fidenco, Ennio Morricone, Fabio Frizzi, Riz Ortolani and many more. There are also original soundtrack themes from such films as 'Zombie Flesh Eaters', 'Cannibal Ferox', 'Blood And Black Lace', 'The Beyond', 'The New York Ripper', 'Tentacles' and 'City Of The Living Dead'.
The truly stunning, exclusive sleeve has been painted by renowned graphic designer & commercial artist Graham Humphreys and the biographical notes on each track are written by author, critic and FrightFest director Alan Jones. As an added bonus Demon Records are including a CD version in a replica card wallet as well as a stunning 12×12" reproduction collector's art print of the sleeve painting.
Soundcloud: http://bit.ly/2xfgJaU
Trailer: https://youtu.be/vgV6gnqx0nk
Facebook: https://www.facebook.com/vaultofhorror1
Buy link: http://amzn.to/2zssh9m
CATALOGUE NO: DEMREC237
RELEASE DATE: 8th December 2017
FORMAT: 2 x 180G black vinyl with CD & 12×12 art print
CATEGORY: Soundtracks
BARCODE: 5014797896345
---
TRACKLISTING
DISC 1 SIDE A
Carlo Rustichelli – 'Atelier (totoli)' from 'Blood And Black Lace '('Sei Donne Per L'Assassioni)'
Franco Micalizzi – 'Seq 1' from 'The Last Hunter' '(L'Ultimo Cacciatore)'
Nico Fidenco – 'Seq 6' from 'Porno Holocaust'
Roberto Donati – 'Main Theme' from 'Eaten Alive' '(Mangiati Vivi!)'
Francesco De Masi – 'New York One More Day' from 'The New York Ripper' '(Lo Squatatore Di
New York)'
DISC 1 SIDE B
Franco Micalizzi feat. Warren Wilson – 'Bargain With The Devil' from 'Beyond The Door' '(Chi Sei)'
Stelvio Cipriani – 'Small Town Pleasures' from 'Tentacles' '(Tentacoli)'
Roberto Donati – 'NYC Main Title' from 'Cannibal Ferox'
A. Blonksteiner – 'Apocalypse' from 'Cannibal Apocalypse' '(Apocalypse Domani)'
Carlo Maria Cordio – 'Absurd' from 'Absurd' '(Rosso Sangue)'
DISC 2 SIDE C
Fabio Frizzi – 'Main Theme' from 'Zombie Flesh Eaters' '(Zombi 2)'
Fabio Frizzi – 'Mystery's Apotheosis' from 'City Of The Living Dead' '(Paura Nella Citta Dei Morti Viventi)'
Fabio Frizzi – 'Voci Dal Nula' from 'The Beyond' '(L'Aldila)'
Walter Rizatti– 'I Remember' from 'House By The Cemetery' '(Quella Villa Accanto Al Cimitero)'
Stefano Mainetti – 'Main Theme' from 'Zombie Flesh Eaters 2' '(Zombi 3)'
DISC 2 SIDE D
Walter Rizatti – 'Main Theme' from 'Bronx Warriors' '(1990: I Guerrieri Del Bronx)'
Claudio Simonetti – 'Nuke Is Over' from 'The New Barbarians' '(Nuovi Barbari)'
Riz Ortolani – 'The Fighter Centurions' from 'Rome 2033 – The Fighter Centurions' '(I Guerrieri Dell 'Anno 2072)'
Ennio Morricone – 'End Theme' from 'Holocaust 2000'
Nico Fidenco – 'I Celebrate Myself' from 'Emanuelle In America'
---
Alan Jones is available for press/radio interviews (excluding October 18 – 25).
For more information, please contact:
Lidia Pini lidia.pini@demonmusicgroup.co.uk or David.Akerman@DemonMusicGroup.co.uk.