Back to News list
THE RUSALKA director Perry Blackwater Interview
Ahead of the UK premiere of THE RUSALKA at Arrow Video FrightFest Glasgow 2019, director Perry Blackwater tells us about the joys of collaboration, his love of fairy tales and finding romance in horror.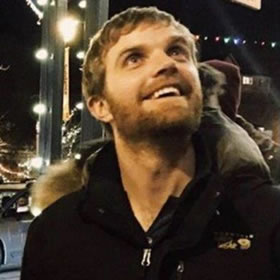 Can you give us some fun facts about your background and why you wanted to direct?
Our family got a little webcam when I was I think 11. It could record at about 5 frames per second, and it had a 6-foot cord from the computer so your camera setup options were pretty limited. And I just loved it so much. I made probably hundreds of minor epics in that one room. I think my most infamous was about a toy panther who defeats a trio of evil triceratops. My parents still believe it's my best work.
How did you gather together your repertory company of producers/actors Evan Dumouchel, MacLeod Andrews, and Margaret Ying Drake, the trio also involved in THEY LOOK LIKE PEOPLE as well as THE RUSALKA?
We made They Look Like People with just what we could save up from our jobs, it was a very intimate operation. But we promised ourselves we would be proud of what we made, and proud of how we did it. Our team really fell in love with each other as collaborators, and it was always in my mind that I would write another movie and we would produce it together. They Look Like People was still doing the festival circuit, but we were hungry to keep making work that we cared about with people we really liked.
You described THEY LOOK LIKE PEOPLE as a psycho bromance about love, friendship, and nightmares. What's your log-line for THE RUSALKA?
Oh God, did I describe it as a psycho bromance!? Haha well, I suppose that's not a million miles off. Going off my previous template, then, The Rusalka is a supernatural romance about love, murder, and a water demon. Someone called it Let The Right One In by way of the French New Wave, which made me smile.
Your choice of THE RUSALKA as your follow-up feature comes from your love of pagan European fairy tales. Can you explain some more?
I grew up obsessed with myth and fairy tales, and Slavic mythology has always been especially dark and mysterious to me. The Rusalka seemed like such a perfect character and something I hadn't seen before in a feature film. She's someone cursed to hurt people forever, but it's not her fault. In fact, she's only in this position because someone betrayed her.
There are three years between the movies, what were you doing during that time, especially when you say you write very quickly?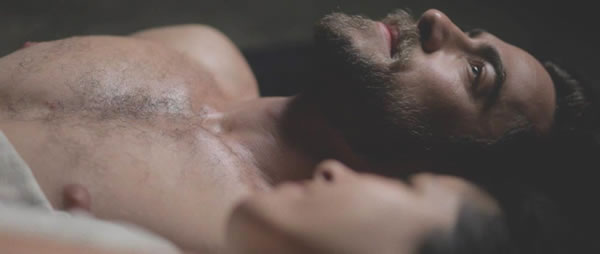 Haha, I was working full time, unfortunately. I also wrote and directed another movie! I was editing the two simultaneously for a while, which I am first to admit is not 100% ideal…
You've said your directing inspirations are Paul Thomas Anderson and Ingmar Bergman, both easily discernible in your work so far?
I really admired PT Anderson, especially when I was in college because he would write for his actors, he was so actor-centric. It seemed like he loved to make movies with a small group of rotating collaborators, friends and good colleagues. As far as Ingmar Bergman, I am always startled by his emotional intelligence and the depth of his understanding. Through A Glass Darkly is one of my favorite films. But what really sold me on him and his process was one behind the scenes clip I saw of Winter's Light, where there was rattling on the audio. And the footage is of the entire crew, including the actors, trying to figure it out all helping each other, all being jovial, building something together. The cast and crew were small, maybe twelve people. What a dream.
THE RUSALKA couldn't be further from THE LITTLE MERMAID fables of old, or even SPLASH – you deliberately go for the harder mythic aspects, hurting the person you love not because you have to, but because you want to?
What I loved specifically about the Rusalka myth was this idea that it was similar, and yet distinct from Vampires. A vampire drinks your blood because if it doesn't it will die. A vampire NEEDS to kill you. A Rusalka just REALLY WANTS to kill you. So you get the opportunity to watch that struggle. She is divinely compelled. I thought, what a wonderful way to talk about love, co-dependency, addiction, obsession, it was just so rich. Can she fight who she is? If she can't, what does that mean?
Why did you make Evan's character Tom mute? Did he find that difficult to play?
In the original story of The Little Mermaid and many of the old tales that share similar DNA to The Rusalka, the mermaid/Rusalka/spirit is often mute. I wanted to reverse this, to put a new spin on a fairy tale. Evan was amazing, in the dialogue I didn't write the hand gestures or how he would communicate, I just wrote the dialogue in and he figured it out! It's always difficult to play characters whose lives fall outside of your own personal experience, but Evan quickly found Tom's emotional core, and then he just knocked it out of the park.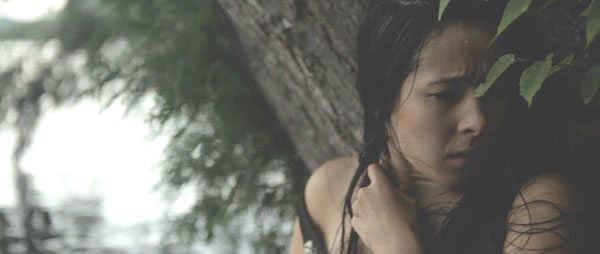 Interesting that both Evan and MacLeod play similar characters to their roles in THEY LOOK LIKE PEOPLE?
It's funny you should say that as I think they were actually quite different! For example, I would say Christian was a skinny loser who went crazy aggro and became a beefcake because of all sort of insecurities about himself and his manhood. Tom is a religious innocent who has shut himself off from life because of a childhood accident. Wyatt was a caretaker, a medic who lost his adulthood to a failed relationship while developing a mental illness, his fundamental drive is to help and protect others but his mind and history stand in his way. Al is a methodical man consumed by grief and anger, to the point where he barely knows who he is. I do think, however, that the intimacy of our sets and the fact that I write for these actors does mean that while many things shift, certain personality traits can carry over in some way. There may be more parallels than even I realize. And they certainly look pretty similar!
You've just completed your third movie, which you say is a brother/sister supernatural tale. Any more details?
Hmmm, it is very mysterious, this is true! I can confirm it is a brother-sister story, and it is supernatural. And it is the siblings against a demon, on the streets of New York at night. And it's very dark.
THE RUSALKA is showing at the Glasgow Film Theatre on Sat 2 March, 10.45am, as part of Arrow Video FrightFest Glasgow 2019. Perry Blackshear will be attending.
The film will be released as THE SIREN, courtesy of FrightFest Presents, on May 20, 2019.