Back to News list
SAW: The Experience reveals first-look trailer
DO YOU WANT TO PLAY A GAME?
SAW: THE EXPERIENCE REVEALS TANTALISING FIRST-LOOK TRAILER,
Link: https://youtu.be/bdxjB5cjMCM
TICKETS NOW ON SALE
SAW fans can now buy preview tickets online from £34pp:
[02 Aug 2022: LONDON, UK] In partnership with global content leader Lionsgate and Twisted Pictures, Experiential production company The Path Entertainment Group today revealed a tantalising first-look trailer for SAW: The Experience, a brand-new, immersive, multi-room escape experience, coming this Halloween to a secret location in London.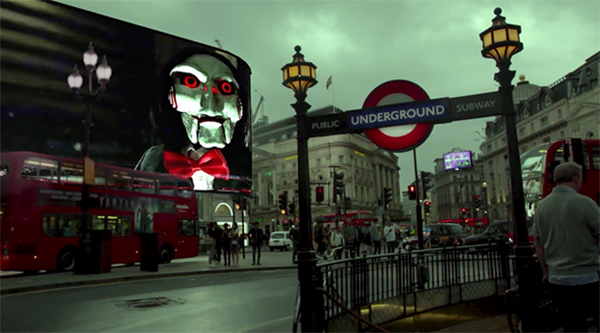 The creative team behind the project is also being revealed.  The Creative Producer is Tom Beynon on behalf of TPEG, with Filipe Carvalho as Creative Director. Set Designer is David Pizarro, Sound Designer is Luke Swaffield on behalf of Autograph Sound, Lighting Designer is John Coman on behalf of Woodroffe Bassett Design and Game Control Design is by Clockwork Dog.
SAW: The Experience will be an adrenaline-fuelled, theatrical escape experience bringing to life new twisted games in the world of the iconic horror film franchise. Combining the thrill of escape rooms with nerve-jangling horror, players will to be pushed to their limits in this new participatory theatrical experience.
With its global box office passing $1 billion last year, the SAW franchise continues to expand the world of Jigsaw for fans on and off the screen. The brand new SAW attraction is sure to appeal to fans of the film franchise and daring thrill seekers alike.
Will you earn redemption through trials designed to test your teamwork, or will your moral compass betray others to ensure your own survivial? Make your choices. Live with the consquences.
Book your tickets now at sawtheexperience.com to begin the games. How you play the cards you're dealt is all the matters.
Check the official Facebook, Twitter and Instagram accounts for further information and announcements: @SawExperience
PR CONTACT
Clout Communications
ASSETS & LOGOS
---
NOTES TO EDITORS:
About The Path Entertainment Group
The Path Entertainment Group (TPEG) is a London based production house dedicated to producing world class experiential and gameplay entertainment. TPEG brings together teams from theatre production, hospitality, and event management to bring some of the largest global brands and intellectual property to life in thrilling and life-sized immersive experiences in major markets across the world.
About LIONSGATE
Lionsgate (NYSE: LGF.A, LGF.B) encompasses world-class motion picture and television studio operations aligned with the STARZ premium global subscription platform to bring a unique and varied portfolio of entertainment to consumers around the world.  The Company's film, television, subscription and location-based entertainment businesses are backed by a 17,000-title library and a valuable collection of iconic film and television franchises. A digital age company driven by its entrepreneurial culture and commitment to innovation, the Lionsgate brand is synonymous with bold, original, relatable entertainment for audiences worldwide. 
About Twisted Pictures
Twisted Pictures, a division of Evolution Entertainment, formed by Mark Burg and Oren Koules is a leading horror and thriller film entertainment studio founded in 2004. Twisted Pictures has produced beloved brands that have garnered over $1 billion in global box office and $2 billion in ancillary market revenues, such as the SAW franchise, for audiences worldwide.