Back to News list
NYX UK October 2023
The UK's hottest Fast TV channel for horror fans unveils a
'Helloween' month of movies for October

Freeview 271 / Channelbox App / TCL TVs / Distro TV
Facebook | Twitter | Instagram | YouTube
Press hub: Images / posters: https://www.bit.ly/nyxtv
October is 'Helloween' month on NYX, with a fearsome flourish of 9pm channel premieres including Sam Raimi's seminal THE EVIL DEAD, which celebrates the uniquely talented filmmaker's birthday on October 23. Other premieres include Lucio Fulci's 1981 shocker THE BLACK CAT, Larry Fessenden's remarkable vampire hit HABIT, Bob Clarke's acclaimed 1974 breakthrough slasher BLACK CHRISTMAS, giallo masterpiece WHAT HAVE YOU DONE TO SOLANGE? and WAKE WOOD, the acclaimed Irish supernatural horror, starring Timothy Spall.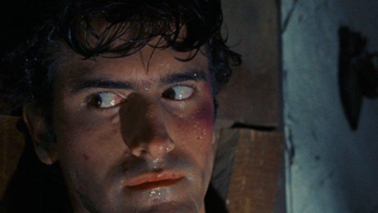 Plus, Halloween diehards can seek out make-up tips from DICK SMITH'S DO-IT-YOURSELF MONSTER MAKE-UP and TOM SAVINI'S HORROR EFFECTS, which will air as a double bill on Sat 21 Oct, 9pm.
The popular 9pm 'Hammer Sundays' strand continues, which this month features four firm favourites: gothic cult chiller COUNTESS DRACULA, starring Ingrid Pitt,  ", THE SATANIC RITES OF DRACULA, which marks the final pairing of Lee and Cushing as Count Dracula and Van Helsing in the Hammer Dracula series, THE REVENGE OF FRANKENSTEIN,  Mary Shelley's classic monster tale and THE ABOMINABLE SNOWMAN, which brilliantly fuses an eerie blend of adventure, mystery, and suspense set against the breathtaking backdrop of the Himalayas
Other monthly highlights include John Carpenter's timeless HALLOWEEN, starring Jamie Lee Curtis, Micheal Winner's twisted THE SENTINEL, starring Chris Sarandon and Ava Gardner, Sergio Martino's classic slasher TORSO, Ivan Reitman's masterful comedy horror CANNIBAL GIRLS, and Peter Jackson's distinctive debut horror BAD TASTE.
And erotic horror is given a Friday late-night flavour with Jesús Franco's VAMPYRO LESBOS and two stand-outs from cult auteur Jean Rollin – THE SHIVER OF THE VAMPIRES and THE NIGHT OF THE HUNTED.
---
Highlighted films in transmission order:
Sun 1 Oct @ 21:00 – COUNTESS DRACULA (1971)
* Part of Hammer Sundays
The aging Countess Elisabeth Nadasdy (Ingrid Pitt) discovers that bathing in the blood of virgins can restore her youthful beauty. As she becomes increasingly obsessed with her newfound power, the countess embarks on a murderous spree to maintain her appearance. The film's unique blend of historical fact, legend, and horror storytelling has made it a cult favourite among fans of classic British horror cinema.
Wed 4 Oct @ 21:00 – THE SENTINEL (1977)
Alison Parker (Christina Raines), a young and successful fashion model moves into a Brooklyn brownstone to escape her tumultuous relationship with her boyfriend, Michael (Chris Sarandon). However, upon moving in, Alison begins to experience strange and terrifying occurrences. With its shocking twists, suspenseful storytelling, and haunting visuals, making it a memorable entry in the 1970s horror genre.
Fri 6 Oct @ 21:00 – HABIT (1995) *Channel Premiere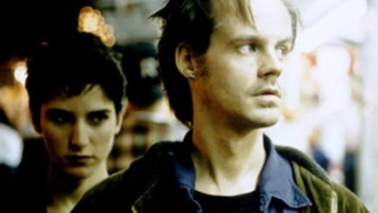 A grieving Sam (Larry Fessenden), a down-and-out New Yorker, is lost in an alcoholic haze. When he meets the seductive Anna (Meredith Snaider), he immediately falls under her spell. Allowing her to draw him away from his friends and into a web of blood-sucking addiction and madness. This disturbing, critically acclaimed debut from actor /writer / director Lary Fessenden, is acknowledged as a modern classic in the vampire genre.
Fri 6 Oct @ 23:00 – VAMPYRO LESBOS (1971) 
 Countess Nadine Carody, an enigmatic and seductive vampire lures woman to her isolated island to satisfy her vampiric desires. With its blend of horror, eroticism, and surrealism, Jesús Franco's evocative film stands as a unique experience within the vampire genre.
Sun 8 Oct @ 21:00 – THE SATANIC RITES OF DRACULA (1973)
* Part of Hammer Sundays
A Scotland Yard investigator enlists the help of occult expert Lorrimer Van Helsing (Peter Cushing) and his granddaughter Jessica (Joanna Lumley) to uncover a mysterious and powerful Satanic cult led by an enigmatic figure named D.D. Denham. As they delve deeper into their investigation, they discover that Denham is none other than Count Dracula (Christopher Lee). A sequel to the 1970 movie Dracula A.D. 1972, this marks the final pairing of Lee and Cushing as Count Dracula and Van Helsing in the Hammer Dracula series.
Wed 11 Oct @ 21:00 – TORSO (1973)
 A group of college students who become the targets of a masked killer with a penchant for dismemberment. As the body count rises and the students are stalked through the picturesque Italian countryside, the film delves into themes of obsession, voyeurism, and the fragility of human relationships.
Fri 13 Oct @ 21:00 – WAKE WOOD (2009) *Channel Premiere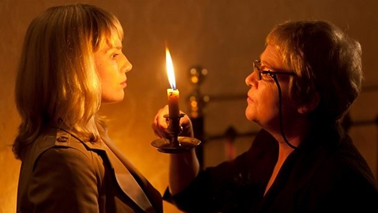 A couple grieving the tragic death of their nine-year-old daughter move to a sleepy village. Stumbling into a strange night-time ritualistic ceremony, the couple are made an offer they find difficult to refuse – to have their daughter back. But it will come at a price. Directed by David Keating, this spell-binding Hammer Film co-production stars Timothy Spall, Eva Birthistle, Ella Connolly and Aidan Gillen.
Fri 13 Oct @ 23:00 – THE SHIVER OF THE VAMPIRES (1971)
A newlywed couple, Isle and Antoine, visit Isle's ancestral castle only to find that her two cousins, who were supposed to welcome them, have turned into vampires. With its visually stunning style and innovative approach to the vampire mythos, the film is a standout entry in the genre, demonstrating Rollin's ability to push boundaries and redefine conventions.
Sat 14 Oct @ 21:00 – CANNIBAL GIRLS (1973)
A young couple stumbled upon a remote country inn run by a trio of beautiful but deadly women. As the couple begins to uncover the macabre history of the inn and its inhabitants, they find themselves drawn into a horrifying nightmare of murder and cannibalism. Ivan Reitman's career-defining dark horror is a unique and twisted take on the cannibal subgenre.
Sun 15 Oct @ 21:00 – THE REVENGE OF FRANKENSTEIN (1958)
* Part of Hammer Sundays
Baron Frankenstein (Peter Cushing), escaping execution, takes on the alias of Dr. Stein and opens a new practice, where he continues his forbidden experiments to create life. With its focus on character-driven horror, inventive narrative, rich visuals, and exceptional performances, Terence Fisher's film, a sequel to the renowned "The Curse of Frankenstein".  is an enduring classic that continues to inspire horror filmmakers.
Fri 20 Oct @21:00 – BOWERY AT MIDNIGHT (1942)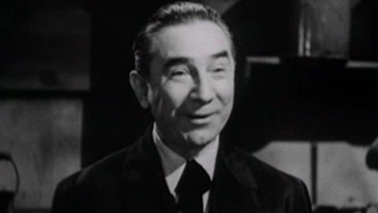 Bela Lugosi plays Professor Brenner, a seemingly benign psychology professor by day who leads a terrifying double life. After sunset, Brenner adopts the identity of Karl Wagner, the malevolent manager of a mission that provides shelter to the homeless of the Bowery district in New York City. Unbeknownst to the unfortunate souls who seek refuge there, Wagner uses the mission as a recruitment ground for his criminal activities. Directed by Wallace Fox, Lugosi's compelling performance make this a fascinating entry in the annals of classic horror cinema.
BOWERY AT MIDNIGHT is part of a Lugosi double-bill, with WHITE ZOMBIE which follows at 11pm. Directed by Victor Halperin in 1932, "White Zombie" is a seminal horror film starring the iconic Bela Lugosi as the sinister voodoo master Murder Legendre, who uses his powers to transform people into mindless zombies.
Sat 21 Oct @ 21:00 – DOUBLE BILL – DICK SMITH'S DO-IT-YOURSELF MONSTER MAKE-UP (1989) & TOM SAVINI'S HORROR EFFECTS (2008) *Channel premieres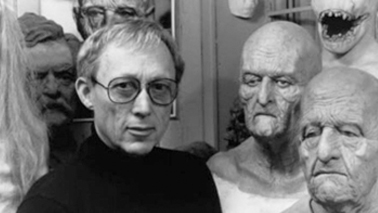 A chance to learn from the legend on NYX this month as Dick Smith (pictured), the man who created the effects for such movies as The Exorcist, Scanners and The Godfather. Watch him in action to help you prepare for Halloween. Plus, there's a chance to go behind the scenes at the workshop of special effects maestro Tom Savini as he gives us a true insight into how he created his legendary effects for such movies as Friday the 13th and Dawn of the Dead.
Sun 22 Oct @ 21:00 – THE ABOMINABLE SNOWMAN (1957)
*Part of Hammer Sundays
British scientist, Dr. John Rollason (Peter Cushing), joins an expedition led by Tom Friend (Forrest Tucker) in the Himalayas. The goal: to seek out the mythical Yeti or the Abominable Snowman. As they ascend higher into the treacherous and icy landscape, they encounter much more than they bargained for. Val Guest's enduring classic presents an enthralling mix of the classic monster movie trope with philosophical and existential themes.
Mon 23 Oct @ 21:00 – THE EVIL DEAD (1981) *Channel premiere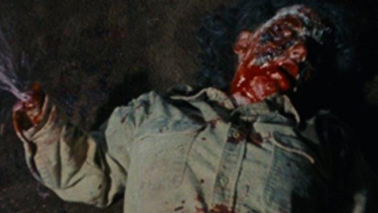 Sam Raimi's 1981 directorial debut, "The Evil Dead," is a seminal horror film that tells the story of a group of friends who unwittingly unleash a demonic force during a vacation at a remote cabin in the woods. As the demonic presence begins to possess and torment the group, they must fight for their lives and their sanity. With its relentless pacing and unforgettable moments of terror, "The Evil Dead" remains a touchstone of the horror genre and a testament to Sam Raimi's unique vision. Happy birthday Sam Raimi!
Wed 25 Oct @ 21:00 – BAD TASTE (1987)
A group of friends discover that their small New Zealand town has been overrun by grotesque aliens seeking to harvest human flesh for their intergalactic fast-food chain. Peter Jackson's directorial debut scored instantly with its over-the-top gore, dark humour, and outrageous special effects, making it a cult classic among horror and comedy fans.
Fri 27 Oct @ 21:00 – WHAT HAVE YOU DONE TO SOLANGE? (1972) *Channel Premiere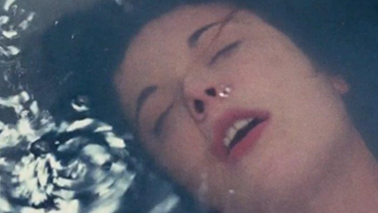 Enrico Rosseni (Fabio Testi), a school gym teacher becomes embroiled in a horrifying mystery as his secret relationship with one of his students, Elizabeth (Cristina Galbó) leads to them witnessing a murder, making Elizabeth a target and prompting Enrico to take the matter into his own hands. Massimo Dallamano's giallo thriller remains a standout with its potent mix of mystery, social commentary, and atmospheric horror.
Fri 27 Oct @ 23:00 – THE NIGHT OF THE HUNTED (1980)
Elisabeth, a young woman suffering from a mysterious condition that erases her memories, finds herself trapped in a high-rise building with other afflicted individuals. With its atmospheric direction, thought-provoking themes, and emotional depth, Jean Rollin's French horror drama, a departure from his vampire-themed works, is a compelling exploration of the fragility of human memory and identity film directed by the renowned Jean Rollin, best known for his unique blend of eroticism and horror.
Sat 28 Oct @ 21:00 – THE BLACK CAT (1981) *Channel Premiere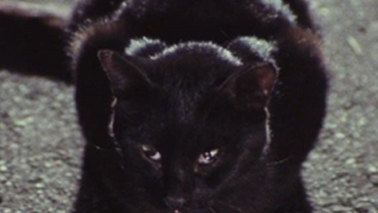 Set in a small English village, the story revolves around an ill-tempered black cat with uncanny abilities. The cat's owner is a reclusive professor who has the power to communicate with the dead, and who uses the feline as an instrument of murder. As the body count starts to rise, a visiting American photographer and a local detective begin to suspect the professor's involvement in the gruesome deaths. Based loosely on Edgar Allan Poe's classic short story of the same name, it may not be as famous as some of Fulci's other works, but it showcases his unique ability to infuse atmospheric locations with gruesome violence.
Sun 29 Oct @ 21:00 – LUST FOR A VAMPIRE (1971)
*Part of Hammer Sundays
The story unfolds with the resurrection of the beautiful but deadly vampire Carmilla (Yutte Stensgaard), who, under the alias Mircalla, enrols at an all-girls boarding school located near the gothic and atmospheric Karnstein Castle. The film is the second instalment in Hammer Film Productions' Karnstein Trilogy, sandwiched between "The Vampire Lovers" and "Twins of Evil" and is renowned for its atmospheric setting and sensuous narrative/
Mon 30 Oct @ 21:00 – BLACK CHRISTMAS (1974) *Channel Premiere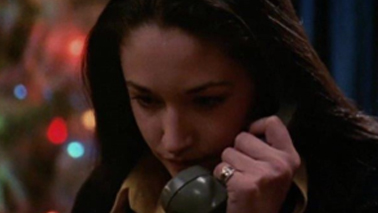 The action takes place in a sorority house during the festive season, where the sorority sisters begin to receive disturbing and anonymous phone calls. Unbeknownst to them, the calls are coming from an intruder who has taken up residence in their attic. Bob Clarke's Canadian horror is often cited as one of the first slasher films and is credited with pioneering elements of the genre. Its combination of horror and mystery set against an ordinarily joyful holiday season has made it a classic in the annals of horror cinema.
 Tues 31 Oct @ 21:00 – HALLOWEEN (1978)
Michael Myers (Nick Castle), a deranged murderer who, fifteen years after brutally killing his sister on Halloween night, returns to his hometown of Haddonfield, Illinois, to continue his killing spree. Laurie Strode (Jamie Lee Curtis), a high school student, becomes the primary target of Michael's rampage, and she must use her resourcefulness and determination to survive the night and protect her friends from the relentless killer. The film's success spawned numerous sequels and imitators, solidifying its status as a classic in the horror genre and launching the career of Jamie Lee Curtis
---
Editors' notes:
NYX Corporation, based in Canada, is a global media content distribution network specialising in the horror genre. The company delivers high-quality programmed content across linear digital broadcast TV networks. First launched in the UK late 2022, NYX will also move into the US markets in 2024.  NYX is dedicated to curating a unique and entertaining blend of horror films and TV series and invites genre fans to delve into a world of carefully selected horror content – for free!
@nyxuk
---
Press enquiries:
Greg Day | Clout Communications | cloutpr@gmail.con | @cloutcomcouk
Press hub: Images / posters: https://www.bit.ly/nyxtv