Back to News list
LEGEND reveals slate of horror, sci-fi and action premieres for January

LEGEND reveals slate of horror, sci-fi and action premieres for January
Demented scientists, deranged doctors and avenging heroes kick off the New Year on LEGEND, headed up by the UK TV premieres of RED a dark thriller based on Jack Ketchum's novel, starring Brian Cox and Robert Englund and tough action drama SEAL TEAM VI: JOURNEY INTO DARKNESS, which depicts an elite counter-terrorism team's incursion into Iraq four days prior to Operation: Desert Shield.
Plus, there are Channel premieres for gothic horror fantasy THE ASPHYX, starring Robert Powell, and the deliciously outrageous HORROR HOSPITAL, starring Michael Gough. These seventies cult classics headline THE VINTAGE VAULT strand, the popular Sunday night presentation of double-bills of classic and cult favourites
There are also Channel premieres for sci-fi horror THE LAWNMOWER MAN, which is based on a Stephen King short story and stars Pierce Brosnan, its sequel, LAWNMOVER MAN 2: BEYOND CYBERSPACE and Brit action crime thriller THE OUTSIDER, written by and starring Craig Fairbrass.
January also heralds the Channel premiere of the ever-popular original series of sci-fi anthology classic THE TWILIGHT ZONE.
---
Full film details in transmission order:
Saturdays & Sundays from Sun 1 Jan @ 20:30 – THE TWILIGHT ZONE (1959) *Channel Premiere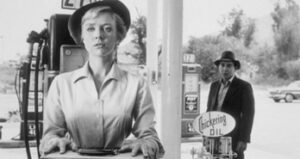 A classic anthology of sci-fi, suspense and goose-bump-inducing tales that explore 'a fifth dimension beyond that which is known to man'. Filled with invention and irony, each story is tightly constructed, containing cautionary themes and frequently ending with an unexpected plot twist. In the first series of 36 episodes, the stories include a man arriving in a deserted town, who can't help feeling that he's being watched, the residents of a peaceful suburban street who begin to fear that their neighbours are aliens masquerading as humans, and a schoolteacher who is followed around by a sinister small child.
Sun 1 Jan @ 21:00 – THE ASPHYX (1972) *Channel Premiere
*Part of The Vintage Vault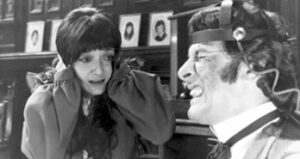 Utilising an experimental photographic device, a scientist (Robert Stephens) captures what appears to be the image of the Asphyx—the ancient Greek spirit of the dead. With the help of his adopted son (Robert Powell), he discovers a way to harness the Asphyx and gain immortality, unleashing dreadful consequences. Blending elements of Gothic horror with the more contemporary ingredients of steampunk, The Asphyx has emerged from obscurity to become a cult favourite of the sci-fi/fantasy genre.
Sun 1 Jan @ 22:45 – TWINS OF EVIL (1971)
*Part of The Vintage Vault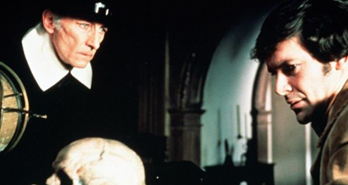 After being orphaned, two beautiful identical twins move from Vienna to the village of Karnstein. There they are to live with their Uncle, a fanatical Puritan (Peter Cushing). Nearby, the Count of the village is performing a sacrificial rite which raises his ancestor, the vampire Countess. He turns his attention to the twins. One of them is destined to fall under the castle's spell, but which one?
Sat 7 Jan @ 21:00 – THE LAWNMOWER MAN (1992) *Channel Premiere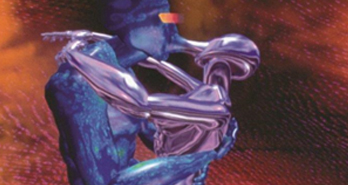 Dr Lawrence Angelo (Pierce Brosnan) is a brilliant scientist obsessed with perfecting virtual reality software. When his experiments on animals fail, he finds the ideal substitute – Jobe Smith (Jeff Fahey), a slow-witted gardener. When he puts Jobe on a regime of experimental pills and computer-simulated training sequences he cannot begin to fathom what he has unleashed…
Sun 8 Jan @ 21:00 – TALES THAT WITNESS MADNESS (1973)
*Part of The Vintage Vault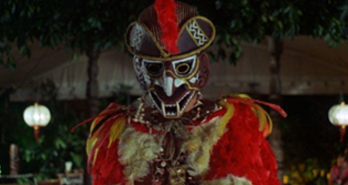 Stroll down the corridors of a mental asylum – your mind will not believe what your eyes see. In the tradition of Tales from the Crypt and Creepshow, this anthology of pulp horror stories is helmed by horror master Freddie Francis and the legendary cast includes Donal Pleasance, Joan Collins, Kim Novak, Jack Hawkins and Suzi Kendall.
Sun 8 Jan @ 22:50 – HORROR HOSPITAL (1973) *Channel Premiere
*Part of The Vintage Vault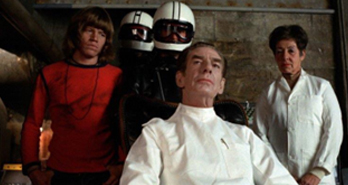 Jason Jones, a disillusioned songwriter (played by Robin Askwith) decides a change of pace is needed and checks into Brittlehouse Manor, a 'health resort' where young people are supposedly cured of all their hang-ups. It is run by the sinister Dr Storm (Michael Gough). a crippled, demented genius who performs lobotomies on his young patients. It isn't long before Jones realises that his life is in danger, and with the help of Strom's assistant dwarf (Skip Martin), he tries to escape…
Thurs 12 Jan @ 21:00 – SEAL TEAM VI: JOURNEY INTO DARKNESS (2008) *UK TV Premiere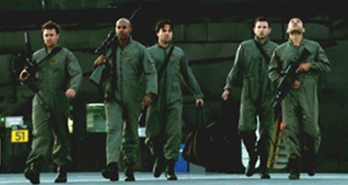 A team of Navy Seals were sent on a black ops incursion into Iraq prior to Operation Desert Storm, but when their mission is compromised they face harrowing consequences that will change the course of the conflict. Based on actual events this film follows the most elite of the U.S. Navy's Seal Teams and tells their incredible true story. Directed by Mark C. Andrews and starring Jeremy Davis, Zach McGowan and Chris Warner.
Sat 14 Jan @ 21:00 – LAWNMOWER MAN 2: BEYOND CYBERSPACE (1995) *Channel Premiere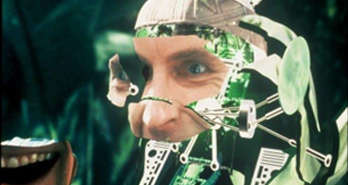 They thought they had destroyed him, but Jobe (Matt Frewer), the simple gardener-turned-super killer has found a way to reboot himself, but Benjamin (Patrick Bergin), a brilliant computer engineer, is out to help thwart Jobe's scheme for world domination, and a battle rages throughout cyberspace and in the real world.
Sun 15 Jan @ 21:00 – DOOMWATCH (1971)
*Part of The Vintage Vault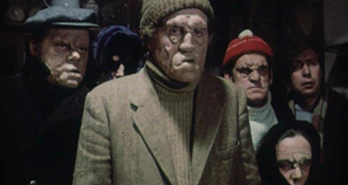 Dr Del Shaw (Ian Bannen), part of the government's investigative environmental organisation Doomwatch, travels to the island of Balfe to examine the potentially adverse effects of a recent oil spill. The villagers are all suspicious of Shaw, especially the menfolk, who seem to have transformed into near-Neanderthals. After teaming up with a local teacher, Shaw discovers that the transformation of the men is due to a disease called acromegaly.
Sun 15 Jan @ 22:50 – TO THE DEVIL A DAUGHTER (1976)
*Part of The Vintage Vault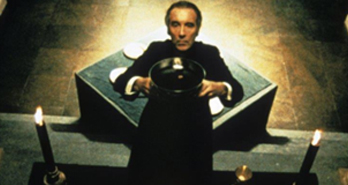 Henry Beddows (Denholm Elliott) asks occult novelist John Verney (Richard Widmark) to protect his 18 year-old daughter, Catherine (Natasha Kinski). She has attracted the attention of ex-communicated priest Father Michael Rayner (Christopher Lee), who wants Catherine to become the incarnation of one of the crowned princes of Hell, Astaroth. Pitted against black magic, ancient rituals and a clan of Satanists, Verney battles to save the young girl from a diabolical fate.
Sat 21 Jan @ 21:00 – RED (2008) *UK TV Premiere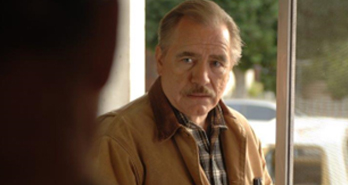 Multi-award winning actor Brian Cox plays reclusive Avery Ludlow, a small-town shop owner whose only reason for living is his dog, Red. When bored and bad-seed teens savagely kill the animal, Cox becomes determined to settle the score by wreaking vengeance by whatever means possible, Based on the novel by cult thriller writer Jack Ketchum, the horror thriller also stars Robert Englund and Tom Sizemore.
Sun 22 Jan @ 21:00 – THE INVISIBLE MAN (1933)
*Part of The Vintage Vault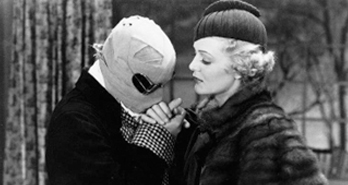 Claude Rains plays a mysterious doctor who discovers a serum that makes him invisible. Covered by bandages and dark glasses, Rains arrives at a small English village and attempts to hide his amazing discovery. But the same drug that renders him invisible slowly drives him to commit acts of unspeakable terror. Based on H.G. Wells' classic novel and directed by the master of macabre James Whale, The Invisible Man not only fuelled a host of sequels, but also features some special effects that are still imitated today.
Sun 22 Jan @ 22:25 – BRIDE OF FRANKENSTEIN (1935)
*Part of The Vintage Vault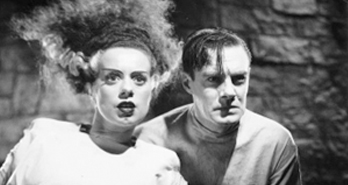 This celebrated sequel to the 1931 classic, directed by James Whale, finds Mary Shelley's monster alive and well and forcing the good baron to create a mate. Horror film icon Boris Karloff reprises his role as Dr Frankenstein's fabled creation and Elsa Lanchester co-stars as his monstrous lady love.
Sat 28 Jan @ 21:00 – THE OUTSIDER (2008) *Channel Premiere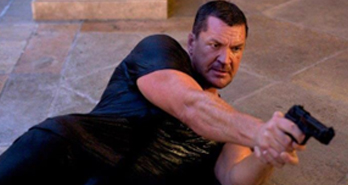 Craig Fairbrass stars as Lex, a British military contractor who is told that his daughter has died. When he arrives in Los Angeles he discovers that the body isn't his daughters, and that Karl Schuster, a high tec company CEO (James Caan) is implicated in her kidnap. Trailed by a suspicious detective (Jason Patric), Lex sets out to save his daughter, wreaking havoc through the streets of L.A.
Sun 29 Jan @ 21:00 – THE MUMMY'S HAND (1933)
*Part of The Vintage Vault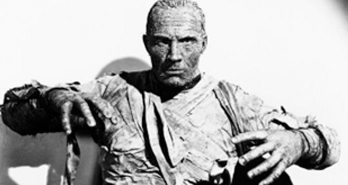 Two broke archaeologists, Steve Banning (Dick Foran) and Babe Jenson (Wallace Ford), head to Egypt to uncover the legendary sarcophagus of Princess Ananka. Not only is the tomb cursed, it has its own guard – an eternal mummy named Kharis! When expedition members start dying at the mummy's hand, it'll take wits and courage to survive the undying horror uncovered under the sands.
Sun 22 Jan @ 22:20 – FRANKENSTEIN MEETS THE WOLFMAN (1943)
*Part of The Vintage Vault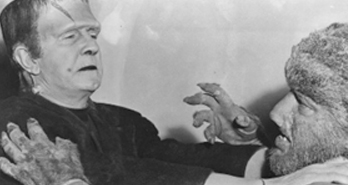 Two of the silver screen's most fearsome creatures battle it out when the Wolfman (Lon Chaney Jr. reprising his role) seeking to end his curse, looks to the notorious Dr Frankenstein for a cure. However, his mission pus him on a collision course with Frankenstein's monster, played by Bela Lugosi. Directed by Roy William Hill, this was the first of a series called "monster rallies" combining characters from several film series.
---
TV: Sky 148 / Virgin 149 / Freeview 41 / Freesat 137