Back to News list
Interview with Xavier Gens, director of COLD SKIN
Ahead of the UK premiere of COLD SKIN at Horror Channel FrightFest Glasgow 2018, director Xavier Gens reflects on the film's emotional journey to screen, bachelor parties and what scares him the most…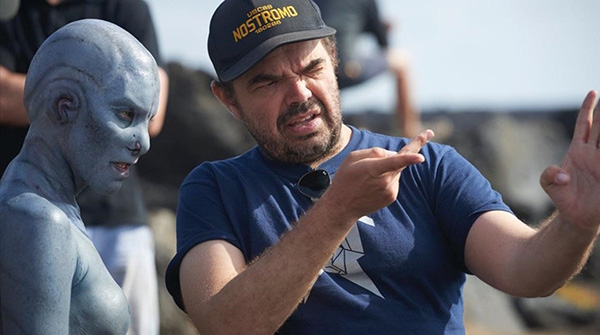 Q: You were a fan of the book by Albert Sánchez Piñol and wanted to make it after FRONTIERE(S). What took so long?
It took so long because we had to find the right combination between budget and the story we wanted to tell. If you adapt a film from a book and you are respectful of the original story you have to find how to make it perfect. And reading the first chapter of Cold Skin I was thinking "how can I do that with the budget of an indie film?"
So, first we wrote the script, which took over two years, and then we started looking at the best locations. We have been everywhere…Canada, Iceland, Ireland… Each time studying where the technician can be from, how to build the light house, how to create everything related to the story we need to tell. Then you have to find the right actors… I was lucky to find David Oakes and Ray Stevenson as they both are incredible human beings who totally got the film I wanted to do. And then I encountered Aura Garrido in Madrid who was so clever on her approach to Aneris. But to reunite all the elements to do the film I wanted to make took the time. It's been an amazing Journey.
Q: How different is the book from the film?
The film retains the philosophy behind the book and my approach after talking with Albert Sanchez Pinol was to understand what pushed him to write this story. He is an anthropologist with a scientist's mind, so it was interesting to understand from where the inspiration was coming. I wanted to catch the spirit of that. He decided to create his own theory of evolution and give an original take about the myth of the mermaid. I wanted to be so close to the book on his philosophical approach and on his realism as I could.
The book is more violent and sexually brutal with the character of 'Aneris' but the film is more poetic. The character of 'Friend' is an intellectual. So I wanted the film from Friend's point of view and keep his romantic feeling.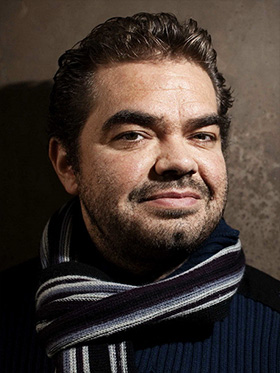 Q: You built the lighthouse on the Canary Islands. Was finding the right desolate location difficult?
Yes, it was really difficult to find the right place to build the lighthouse. We visited so many places, then we arrived in Lanzarote and the location was fantastic. The volcanic rock, everything, was like I imagined it. Then we took a small road in Tinajo on the Atlantic side of Lanzarote. The location was so dramatic and creatively perfect but it was almost impossible to bring a crew there. So we decided to keep it and build the base camp and a road to access this place near the national park of Timonfaya at the bottom of a volcano. If you like hiking it's the best place to go!
Q: Amazing that with COLD SKIN and THE SHAPE OF WATER we currently have two films about amphibious creatures encompassing both horror and romantic elements?
Yes, I'm happy for Guillermo Del Toro that The Shape of Water is getting this worldwide recognition. It will help fantasy and horror movies to exist. I believe the audience need to dream and I think of the experience like an explorer of alternate realities. My hope is that with movies like The Shape of Water and Cold Skin, we propose a different kind of cinema.
Q: Why were actors David Oakes and Ray Stevenson perfect for their parts?
David Oakes is really the most incredible and cool human being I have ever met. He is very creative, he draws, is passionate about poetry and 19th century authors like John Keats. And working on the film I wanted to keep that literal approach, express the feeling you can have when you read a book. And David is really from another time, he captured that elegance I needed for the character and this deep, natural kindness. You can feel a real sensitivity in him and it's why he was so perfect as Friend.
For Ray I wanted someone with a strong charisma, strong voice, a force of nature. And Ray is like that. He is Titus Pullo! He's able to perform in a very physical and violent way and then, in an instant, turn into the most vulnerable character. For Gruner the most challenging aspect was to be unpredictable. Gruner is a broken man who hides who he really is behind a shell of violence. And Ray has got this incredible talent to go into these emotional places. I'm so glad both actors accepted to work with me and accompanied me is this adventure. I feel blessed.
Q: The role of Aneris is crucial; why did you pick actress Aura Garrido and how did her look evolve?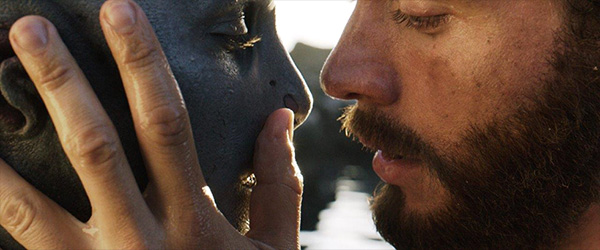 First, we worked on the creature design. Then I saw Aura on a film and I was so fascinated by her eyes. She is so magnetic. And I wanted Aneris to be magnetic, as graceful as Aura is. When we met she told me how she liked body expression and she wanted to explore and give life to Aneris without any words. So she trained for two months before the film – learning how to move, how to express her emotions with her body…She also went on a strict diet as her character is almost naked all the way through the film. We need to believe she is amphibian, swimming hours every day. She was incredible. She worked so hard to give life to Aneris, you can't imagine how difficult it was. I'm eternally thankful for what she did.
Q: You've said the visual inspiration is from the German painter Caspar David Friedrich, can you explain more?
I love Friedrich's painting of a man looking at the ocean. For me this painting contains everything I wanted to express in Cold Skin. I don't know how to explain… it's more a feeling and when I'm looking at this painting I feel emotions I wanted to give to the audience in the film. There is a feeling of loneliness and isolation that is very personal for me and that's what I tried to communicate in the film.
Q: How much of the movie is CGI as opposed to physical effects?
There is more than a thousand shots with visuals effects in the film. Felix Berges, David Ramos and Laura Petter from the company El Ranchito did them. I can't tell you the amount of hours of work there is behind this film. I think in almost every shot of the film there is something we changed or created.
Q: What was the worst aspect of filming? The weather?
The weather was amazing. We really enjoyed being in Lanzarote and the atmosphere on set was really great. I think Cold Skin was the most agreeable shooting experience I've ever had. It was hard for the actors but we had such an amazing location to shoot. Every morning you arrive near the ocean to make a film, with the sound of waves crashing on volcanic black rocks. It's just perfect.
Q: Many audiences knowing your French Extreme reputation will be surprised by the elegance and eloquence of COLD SKIN. Was that the shock to the system you wanted?
There is no calculation. I just wanted to tell the story I loved while reading the book and share those emotions with the audience. There are violent beats in the film but it's not a film about violence. Frontier(s) and The Divide are movies talking about violence but Cold Skin is talking about humanity, isolation and a main character who wants to escape from violence.
Q: What scares you the most?
Movie critics! Ahahaha. No, I'm kidding. What scares me the most is current politics. We have such a social crisis in the world and particularly in Europe right now. It's urgent to find solutions. And I'm scared and angry that we are not able to solve the problem. We are in 2018 and we should be able to stop human conflicts by talking rather than killing…
Q: Finally, what's next?
I just wrapped a French movie called Budapest, which will be released in France this summer and stars Manu Payet, Jonathan Cohen and Mister Poulpe. It's a comedy about two friends who decide to create a company to organise bachelor parties in Budapest where everything you want to do is possible…
COLD SKIN is showing at the Glasgow Film Theatre on Fri 2 March, 8.45pm, as part of Horror Channel FrightFest Glasgow 2018. Xavier Gens will be attending, alongside lead actor David Oakes.
COLD SKIN will be available on DVD and Digital HD from April 23rd, courtesy of Signature Entertainment.