Back to News list
Interview with Open 24 Hours Director Padraig Reynolds
10 Questions with Padraig Reynolds, director of OPEN 24 HOURS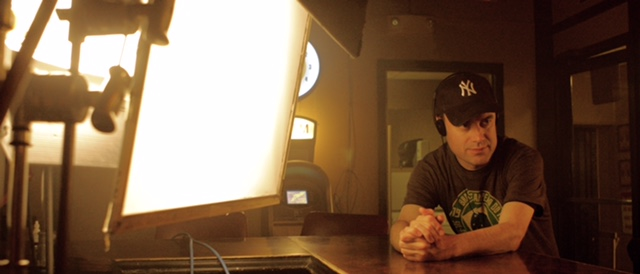 Welcome back to FrightFest, OPEN 24 HOURS is your third time being represented. Why is it important you show your movies at the UK's premier festival?
FrightFest is the best horror festival in the world. It has the best fans and the best organisers a genre director could hope for. There is so much love and care that goes into the festival and I'm honored every time I get to be a part of it. I'm just happy that they let me keep coming back and showing my films. Everyone involved has become like a family to me and I really can't thank them enough for helping me with my career and showing my films.
Where did you get the story concept for OPEN 24 HOURS?
The idea of 'Open 24 Hours' came to me while I was shooting my first feature "Rites Of Spring" in Mississippi. We were scouting locations for the movie and came across this time worn Gas Station on a lonely rural road. This gas station was a character of itself and I knew that it would make a great self-contained horror movie. I went back to my hotel room and began writing the script. I knew I wanted a strong female protagonist to be as lonely as our main location. Mary is a damaged woman in a thrift store dress. She is desperately trying to put her life back together after years of abuse from her Serial Killer boyfriend who made her watch while killing people. She gets a job and feels that her haunted past is finally behind her. But on a cold rainy night the past returns with a vengeance.
How much did the story change from first treatment to finished screenplay?
I wrote the overall script nine years ago and most of it never changed. I added some gags and tweaked some dialogue. We were going to change the ending but we left it alone.
Is the Rain Ripper based on any particular serial killer from criminal history?
This is a funny story. An ex-girlfriend asked me one night if I was a serial killer who would I be? I said the Rain Ripper and I would only kill when it rained. She thought that was really scary and I kept that element for years and plugged it into Open 24 Hours. The killing with the hammer part came from The Yorkshire Ripper who use to kill off his victims with a variety of blunt objects.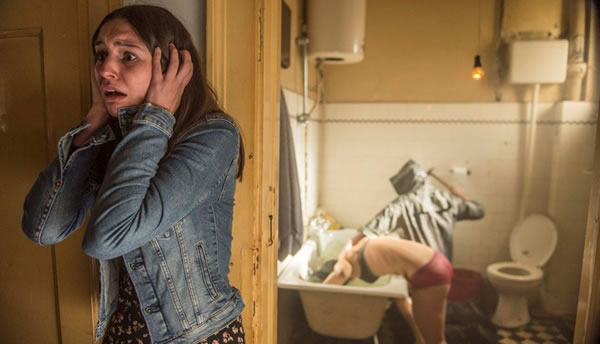 You play with reality, illusion and delusion within the movie, was that the biggest challenge?
Actually, it was a blessing because you can get away with so much more playing with reality and illusions. I really wanted to push the illusions into territories we haven't seen before but try to keep them grounded.
FrightFest loves Vanessa Grasse because of LEATHERFACE and IT CAME FROM THE DESERT. Why did you choose her to play Mary?
She gave a killer audition and her look was exactly what I had always envisioned for Mary. Mary is a great female character. A well rounded protagonist that you feel for and you want her to conquer her demons. I think Vanessa really knocked it out of the park. I was blown away by how well she could switch her accent from English to American as well.
Did you build the garage/gas station from scratch? And where did you shoot the movie?
I had a full Gas Station that I could use in Mississippi but the producers wanted to shoot in Serbia. So my production designer, Jelena Sopik, and her team built me the exact Gas Station that was in Mississippi in Serbia. It was crazy but really cool. It gave me the freedom to put more rooms in the Gas Station for more cat and mouse play. I really can't thank them enough. They really made the movie special since the Gas Station is basically a character in the film.
When directing a Psychological Horror film like OPEN 24 HOURS, what do you have to bear in mind?
You want to keep the audience guessing as to what is real and what is not. You also want to deliver the thrills that they expect when they come into a horror movie.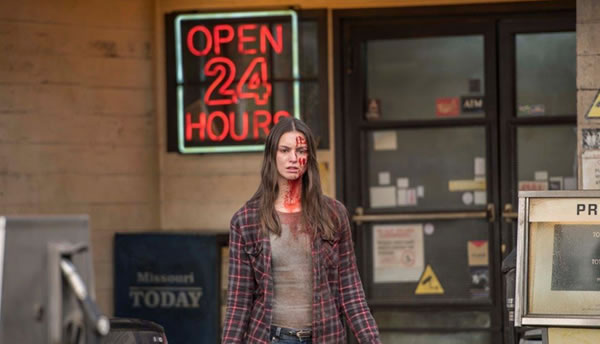 Were you influenced by any past horrors in either the look or tone of OPEN 24 HOURS?
John Carpenter's Body Bags episode 'The Gas Station' and 'High Tension' for sure. Since we shot in Serbia in the winter I really wanted to capture the cold and the rain. I really think that added a nice element to the film.
What are your opinions on the state of the current horror genre?
I think horror is so great now. You have all these different avenues where your film can be watched. Netflix, Amazon, Shudder, Theatrical, Hulu, You Tube. It's just crazy how many places where your movie can be played. And this year has had some killer horror movies already. 'A Quiet Place', 'Sequence Break', 'Mohawk', 'Downrange', 'The Ritual'.
OPEN 24 HOURS plays at Arrow Video FrightFest on Mon 27 August, Cineworld Leicester SQ.
Tickets: http://www.frightfest.co.uk/2018Films/open-24-hours.html