Back to News list
Interview with BOAR director Chris Sun
10 Questions with Chris Sun, director of BOAR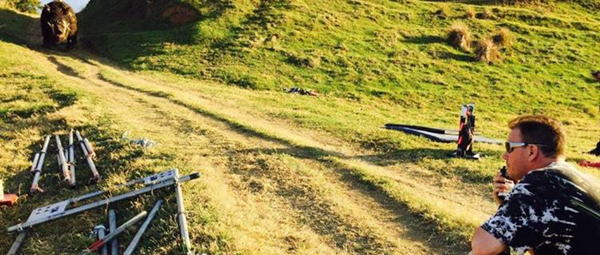 Are you really named Christopher after horror icon Christopher Lee?
Sure am, my mum loved him as an actor and I guess I scored his name.
Your past horrors – DADDY'S LITTLE GIRL, COME AND GET ME, CHARLIE'S FARM – were all R rated and came with some controversy. Is that why BOAR is just gory creature feature fun?
When I first wrote BOAR I wanted it to be R Rated as well, really violent kills and gore like my past films, people seemed to really love the kills in Charlie's Farm and the Torture in Daddy's Little Girl. I wanted the fans to get that same feeling and enjoyment from the bloodshed in BOAR. I wrote BOAR to be funny when it had to be funny and serious when it had to be serious. I wanted to give the fans a journey they could go on for 96 minutes, one minute they are laughing, the next minute watching a head get torn off then back to laughing again. BOAR doesn't take itself serious at all; it's a fun film that has a giant pig that eats people, so yeah BOAR is just "Gory Creature Feature Fun"!
A giant pig in the outback! Obviously RAZORBACK must have been an influence?
You know you can't make a giant pig movie in Australia without people thinking about one of the greats, RAZORBACK. Now that's a great monster movie and I guess in a small way there was a little RB Influence there but to be honest, my inspiration for BOAR came from American Werewolf in London and Jaws. However I do have an awesome cameo from Chris Haywood (Razorback) in BOAR where he sits at the bar and talks about a giant pig terrorising the outback.
You are very loyal to your repertory company, including Bill Moseley, Nathan Jones. And BOAR also stars iconic actors from WOLF CREEK and MAD MAX. How important is it to continue that Australian genre tradition?
I have so much love for all the actors I have worked with over the years, both named stars and up and coming actors; I definitely have a special bond with some of them and hope to work with them again down the track. Like most directors I have my go too talent for my films in Australia. This may change if I was shooting a film in USA or other countries; also it depends on the film/script to what talent would be needed of course. If it was an Australian film I would most definitely continue to hire Aussie acting legends for the roles, especially talent I have worked with and now have solid relationships with.
This is your first time at FrightFest. Excited?
I am super excited and honoured to have BOAR playing at FrightFest, what an amazing festival to have the UK premiere. I really hope the FrightFest Creature Feature fans really enjoy BOAR and have a great time watching BOAR and all the great films the festival is playing.
What are your own personal favourite past Australian horrors?
You can't go past John Jarratt and Wolf Creek, Razorback, Rogue, The Loved Ones and I really enjoyed Wyrmwood. To be honest I'm a big supporter of Aussie Horror movies in general, I think Aussie's have a knack for making good fun horror films and I think the world loves to see what we are going to bring out next. Aussie's are known for F@%king Sh%t up and I don't think this will ever change. The boar itself is a 3-man operated 14ft. fibreglass model and over 85% of the film utilises practical effects.
Was that the major challenge here?
One of the main challenges was moving the big beast around on set, sometimes just to move him a few meters up the road could take 20+ minutes then we would have to re set him up and get the team back inside for the next takes. As for challenges I don't think we had too many with the practical beast apart from small things like tusks breaking, there was the one time Nathan Jones punched out one of the eyes and we had to change heads but overall I think he went pretty well on set.
How hard is it to balance comedy with the horror?
The script has to have some great dialogue in there for the talent to use but I think it's all in the casting, delivery and edit. So far all my films have had a mixture of comedy and horror, as I said a few times in the past I don't think I've actually made a "Scary" movie yet. I seem to be able to have that healthy balance of both comedy and horror and the fans seem to enjoy that balance as well. It's also important to know when enough is enough so you don't turn the whole film into a comedy, you still need those moments where the audience hides behind their hands, gasps or reacts to the horror on screen. You have to remember it's a horror film that has a few laughs along the way, take the audience on the emotional roller coaster ride so they walk out of that screening not only talking about the funny scenes but they are raving about the kills, blood and guts as well.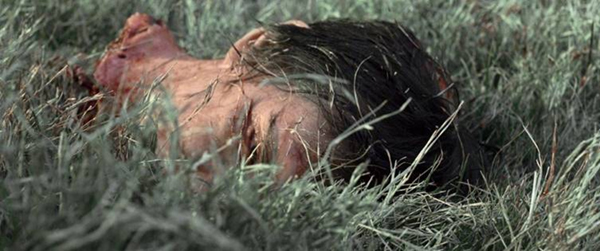 What's your favourite scene in BOAR?
There is a scene with Chris Haywood, Ernie Dingo and Melissa Tkautz that I just love in the bar where Chris delivers a cameo, I had so much fun shooting it and editing it all together. I also really enjoyed Nathan Jones's rap scene, I wont spoil for the fans but Nathan Jones is normally cast in films to play the big bad guy, In BOAR we have cast him as "Uncle Bernie" and he is just a lovable character and has a few memorable scenes through out the film, he has definitely become a BOAR fan favourite.
BOAR is just so over-the-top, is that the overall atmosphere you were going for?
Most definitely, I always knew it was going to be a fun over the top film. It has serious moments in there but for the most part it's an entertaining F@%ked up film. FrightFest supporters should go to watch BOAR knowing it's a fun film with plenty of laughs, blood and guts, they won't be disappointed. I mean how can you be disappointed – it's a giant pig roaming around eating random people, who doesn't want to see that?
BOAR plays at Arrow Video FrightFest on Fri 24th August, Cineworld Leicester SQ.
It will receive a Home Entertainment release in 2019, courtesy of FrightFest Presents.