Back to News list
Ozploitation horror comedy BOAR to be released on DVD and Digital HD 25th February 2019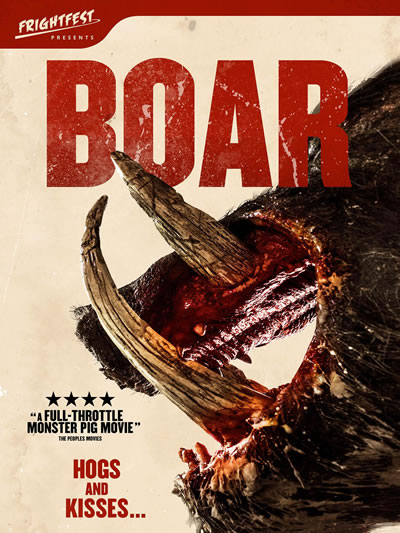 FrightFest Presents, in association with Signature Entertainment, are releasing director Chris Sun's foul-mouthed killer pig horror comedy, which boasts a cast of genre film legends – Bill Moseley, who played Chop-Top in The Texas Chainsaw Massacre 2; John Jarratt from the Wolf Creek films; Roger Ward and Steve Bisley, the cops from Ozploitation classic Mad Max; and the formidable former WWF star Nathan Jones, who (Rictus Erectus in Mad Max: Fury Road). In this zany, gory thriller. they get to indulge in some no-nonsense boar-wrestling, as well as lip-synching to Vanilla Ice. Thrown into this macho mix is Simone Buchanan from Patrick: Evil Awakens – who proves more than a match for the men, and, for that matter, the killer pig.
Synopsis:
In the harsh, yet beautiful Australian outback lives a beast, an animal of staggering size, with a ruthless, driving need for blood and destruction. It cares for none, defends its territory with brutal force, and kills with a raw, animalistic savagery unlike any have seen before. Believed nothing more than a myth, a legend brought to life by a drunken hunter, the beast ventures closer to civilization. When the bodies of two of its most recent victims are discovered, it is up to a locals, and an out-of-town family caught in the carnage, to halt the creature in its tracks.
About Signature Entertainment:
Launched in 2011, Signature Entertainment is one of the leading names in UK film distribution. The team combines a wealth of film expertise with a fresh commercial outlook, delivering diverse quality entertainment to a broad audience in cinemas and at home. Signature has released over 600 titles into the UK market since inception, leading the way with innovative, bold ways of releasing and quality productions. Our recent releases include acclaimed Scandi thriller The Guilty, The Negotiator starring Jon Hamm and Rosamund Pike and Jungle starring Daniel Radcliffe. Our impressive upcoming slate includes Charlie Hunnam and Rami Malek's Papillon and Mads Mikkleson's Arctic.
About FrightFest:
Dubbed "the Woodstock of Gore" by director Guillermo Del Toro, FrightFest, set up 19 years ago, has grown in size and stature since its cult roots at the Prince Charles Cinema and today is internationally renowned for discovering exciting and original horror fantasy genre films and for supporting the talent behind them. Over the years the festival directors, Greg Day, Alan Jones, Paul McEvoy and Ian Rattray, have developed FrightFest into a brand leader for horror film, expanding its footprint in the UK by hosting special events throughout the year and joining forces with the Glasgow Film Festival, where they run an established three-day event. It has helped launch the careers of directors such as Simon Rumley, Christopher Smith, Eli Roth, Neil Marshall and Simon Hunter and recently teamed by with FAB Press to publish a series of "The FrightFest Guide To…" books.
Join the FrightFest Presents community at FrightFest-Presents.co.uk, and on Twitter @FrightFestFilms and Facebook and Instagram
@FrightFestPresents #FrightFestPresents.