Back to News list
Horror Channel FrightFest announces Glasgow Film Festival 2018 line-up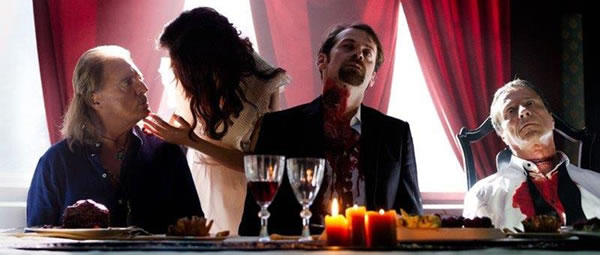 The Wanderers
Be prepared to feast on a chilling cornucopia of savage shocks, unsettling surprises and devilish delights as the UK's favourite horror fantasy event returns to the Glasgow Film Festival for its 13th year, from Thurs 1 March to Sat 3 March 2018.
This year's bold line-up, once again housed at the iconic Glasgow Film Theatre, embraces the latest horror, fantasy and sci-fi discoveries from ten countries, spanning four continents, reflecting the world-wide popularity of the genre.
GHOST STORIES remains one of the scariest stage shows ever seen and on Thursday night FrightFest kicks off with a special screening of Andy Nyman and Jeremy Dyson's smash hit phenomenon. Starring Martin Freeman, Paul Whitehouse, as well as Nyman, this unforgettable screen adaptation terrifies in a whole new thrilling and chilling dimension. Jeremy and Andy will be attending. This is followed by the Scottish premiere of Brian O'Malley's supernatural romance THE LODGERS, a masterful Irish set Gothic ghost story, starring Charlotte Vega and David Bradley.
Friday's line-up lunges into vampiric action with the UK premiere of Dragos Buliga's THE WANDERERS: QUEST OF THE DEMON HUNTER, an inspired modern twist on Transylvanian mythology. This is followed by the world premiere of writer/director Kelly Greene's pastiche gem ATTACK OF THE BAT MONSTERS. If you liked The Love Witch, this is your new retro-perfect jam and Kelly will be in attendance. Next up is the UK premiere of THE RAVENOUS, writer/director Robin Aubert's surreal and wickedly humorous addition to the Living Dead canon.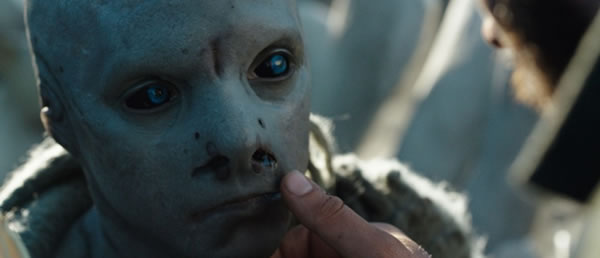 Cold Skin
The 8.45pm presentation is the UK premiere of the powerfully gripping COLD SKIN. At the vanguard of French extreme cinema, director Xavier Gens made his name with Frontiere(s) and The Divide. Now he brings us a stunning adaptation of Albert Sánchez Piñol's acclaimed novel that's part H.P. Lovecraft, part Joseph Conrad and Xavier will be at the festival to discuss his film. Rounding off the evening is the European premiere of PRIMAL RAGE, a creature feature that blows the lid off traditional Bigfoot mythology. Special effects guru/director Patrick Magee has created an intelligent, cunning primitive warrior being guaranteed to terrify.
Getting the Saturday programme off to a demonically hellish start is the UK premiere of Paul Urkijo's visually breath-taking fantasy THE BLACKSMITH AND THE DEVIL a vivid Basque fairy-tale, produced by Spanish legend Alex de la Iglesia, This is followed by the European premiere of supernatural chiller PYEWACKET, a beautifully paced, dread-filled study of occult belief by writer/director Adam MacDonald. Next up is the UK premiere of FRIENDLY BEAST, Gabriela Amaral Almeida's intense shocker, which explores the latent evil within us all.
Climb on board for a fiendishly tense slay-ride as the evening programme kicks off with the UK premiere of director Adam Marcus' savvy seasonal shocker SECRET SANTA. Marcus will be joined onstage by some of the cast and producers. Following this is the much anticipated UK premiere of TIGERS ARE NOT AFRAID, an unflinching South of the Border cautionary fable, an audacious mix of Pan's Labyrinth and Narcos, which firmly announces director Issa López as a rising star of Mexico's New Wave cinema.
This year's global celebration of the genre ends on an adrenalin-fuelled high with the European premiere of Neil Mackay's ultra-violent, action-packed thriller SIXTY MINUTES TO MIDNIGHT. Actor Arnold Sydney Junior and producer Frank Leraci will be in Glasgow to introduce the movie.
Alan Jones, FrightFest co-director, said today: "With our bold choices and the quality of programming, FrightFest is once again positioned to deliver at our beloved second home in Glasgow. It's no surprise to us that the genre has just had its biggest and most successful year. If you've ever attended one of our events, you'll know exactly why. For FrightFest will always create a communal space where the pure enjoyment of the occasion is paramount and a vital shared experience. Welcome to our Pleasure Dome, FrightFest- Glasgow-style".
FrightFest Passes are £75 and available from noon on Mon Jan 15, 2018. Passes cover all films on Fri 2 March and Sat 3 March ONLY.
Tickets for GHOST STORIES and THE LODGERS, plus individual tickets for the Fri/Sat films are on sale Mon Jan 29 from 10am. Price: £10.50. £8.50 concessions.
To book tickets:
+44 (0)141 332 6535 / boxoffice@glasgowfilm.org / www.glasgowfilm.org/festival
---
Programme details
THURS 1 MARCH – GFT Screen 1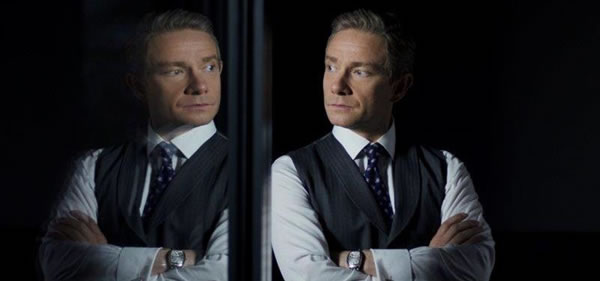 Martin Freeman in Ghost Stories
21:00 GHOST STORIES (Special screening)
Professor Philip Goodman (Andy Nyman) is a renowned sceptic of the supernatural and clairvoyant. Given the opportunity to investigate three case histories of baffling paranormal activity, he uncovers mysteries beyond his own imagination leading to a shocking personal nightmare conclusion.
Directors Andy Nyman, Jeremy Dyson Cast Martin Freeman, Paul Whitehouse, Alex Lawther UK 2017, 1hr38m, 15+
23:20 THE LODGERS (Scottish Premiere)
Set in a rapidly changing 1920s society under the weakening grasp of British colonialism, orphaned twins Rachel (Charlotte Vega) and Edward (Bill Milner) share a strange existence in their crumbling family estate. For each night the property becomes the domain of a sinister presence enforcing three rules upon them; bed by midnight, no outsiders past the threshold, and any solo escape attempt puts the other twin in jeopardy. Now the curse is about to be tested by a troubled war veteran who is mysteriously drawn to Rachel.
Director Brian O'Malley Cast Charlotte Vega, David Bradley, Bill Milner, Eugene Simon Ireland 2017 1hr32m N/C 18+
FRI 2 MARCH – GFT Screen 1
13:30 THE WANDERERS: QUEST OF THE DEMON HUNTER (UK Premiere)
Louis (Armand Assante) is the most famous ghost and demon hunter in the world. The hardened American has travelled with Robert, an Israeli journalist (Lior Ashkenazi) to investigate a mysterious event that happened at the infamous Zalesky Castle, an imposing edifice towering over a village drenched in bloody history. Joined by a Romanian guide and a Korean television reality show team, the duo attempt to untangle the evil secrets lurking at the dark heart of this frightened community.
Director Dragos Buliga Cast Armand Assante, Lior Ashkenazi, Branko Djuric Romania 2017, 1hr46m, N/C 18+
15:50 ATTACK OF THE BAT MONSTERS (World Premiere)
Join schlock impresario Francis Gordon as his intrepid crew attempt to shoot an impromptu monster movie in the three days left over from the film they've just wrapped. From the Saul Bass opening title homage to its highly authentic, comic evocation of 1950s' grade-Z grindhouse, this was lost when it was made in 1999. But ace restorer Mark Rance (who brought Tobe Hooper's Eggshells to FrightFest 2010) found it and has lovingly refurbished it under writer/director Kelly Greene's supervision.
Director Kelly Greene Cast Michael Dalmon, Maurice Ripke, Fred Ballard USA 1999 1hr 29m. N/C 15
18:30 THE RAVENOUS (Les affamés) (UK Premiere)
The zombie apocalypse has begun. But for the still-human residents of rural Quebec assistance of any governmental or community kind is zero. So lone survivors must figure things out for themselves, even if it means joining tentative forces and risking a hideous death…
Director Robin Aubert Cast Marc-André Grondin, Monia Chokri, Charlotte St-Martin Canada 2017, French with English subtitles, 1hr40m N/C 18+
20: 45 COLD SKIN (UK Premiere)
At the dawn of the First World War a young man named Friend (David Oakes) arrives at a desolate Antarctic Circle island to take the post of weather observer and where a race of amphibious humanoids emerge from the seas every night to besiege him and his rancorous lighthouse keeper companion, Gruner (Ray Stevenson). How much horror can the human heart endure?
Director Xavier Gens Cast Ray Stevenson, David Oakes, Aura Garrido Spain/France 2017 1hr48m N/C 18+
23:15 PRIMAL RAGE (European Premiere)
Lost deep in the forest of the Pacific Northwest, Ashley (Casey Cagliardi) and her ex-convict husband Max (Andrew Joseph Montgomery) are stalked by a terrifying creature the locals call Oh-Mah. Soon they find themselves forced to face nature's harshness, a band of unsavoury hunters and become embroiled in a strange land of Native American legend turned absolutely real in their life or death battle.
Director Patrick Magee Cast Casey Gagliardi, Andrew Joseph Montgomery, Eloy Casados USA 2017 1hr46m N/C 18+
SAT 3 MARCH – GFT Screen 1
11:00 THE BLACKSMITH AND THE DEVIL (Errementari) (UK PREMIERE)
Ten years after Civil War in Spain 1833, orphan Usue (Uma Bracaglia) seeks escape from her abusive guardians and constant harassment from uncaring villagers. When her beloved doll is stolen, it ends up at the property of Patxi (Kandido Uranga) a lonely and feared blacksmith who is the keeper of a terrifying secret, a horrible truth that Usue innocently reveals.
Director Paul Urkijo Alijo Cast Kandido Uranga, Eneko Sagardoy, Uma Bracaglia Spain 2017. Basque with English subtitles. 1hr38min N/C 18+
13:15 PYEWACKET (European Premiere)
Confused and enraged for being forced to move away from school friends after her father dies, Leah (Nicole Muñoz) performs a blood incantation calling on an evil entity to punish her grieving mother. Immediately regretful, too late she realises she can't reverse the ritual curse and an unholy presence now stalks them both in their rural home.
Director Adam MacDonald Cast Nicole Muñoz, Laurie Holden, Chloe Rose Canada 2017, 1hr27m, 15+
15:15 FRIENDLY BEAST (O Animal Cordial) (UK Premiere)
It's nearly closing time at a struggling restaurant. Staff want to go home while the boss struggles with money troubles and a desire for more power in his life. Enter two robbers, the catalyst for a violent situation, which the boss is initially able to contain and gain the upper hand. Suddenly, the already dangerous and explosive situation turn deadly; sides are taken and people turn to the most abhorrent behaviour in an instant.
Director Gabriela Amaral Almeida Cast Murilo Benício, Luciana Paes, Irandhir Santos Brazil 2017 1hr38m Portuguese with English subtitles. N/C 18+
18:30 SECRET SANTA (UK Premiere)
The Pope family's Christmas Eve dinner goes horribly and hilariously wrong when someone puts something in the party punch causing everyone to tell the unvarnished truth at the already dysfunctional holiday reunion. When the head of the household psychopathically freaks-out, the scene is set for murderous mayhem and splatterific revenge as the deviant relatives reveal their long-buried hatreds and festering loathings.
Director Adam Marcus Cast Michelle Renee Allaire, Petra Areskoug, Scott Burkett USA 2017, 1hr29m, N/C 18+
21:05 TIGERS ARE NOT AFRAID (Vuelven) (UK Premiere)
Thousands have been murdered or gone missing in the ongoing violent drug war in Mexico. The result is many orphaned children living on the streets caught in the unceasing cartel crossfire. In her third work of immense beauty, pain, fear and joy, writer/director Issa López tells the magical story of five such urchins making the best of their daily struggle to survive.
Director Issa López Cast Paola Lara, Hanssel Casillas, Rodrigo Cortes Mexico 2017, Spanish with English subtitles, 1hr23m N/C 18+
23:00 SIXTY MINUTES TO MIDNIGHT (European Premiere)
It's New Year's Eve 1999 and former soldier Jack Darcy (Robert Nolan) wakes to find himself mysteriously entered into a murderous new TV game show. He has sixty minutes to kill or be killed by a group of strange armed men who've surrounded his house. But what his would-be assassins haven't realised is that Jack has learnt a few tricks from his military days. He has a hidden bunker full of weapons and he isn't going down without a vicious fight!
Director Neil Mackay Cast Robert Nolan, Arnold Sidney, Terry McDonald Canada 2017, 1hr23m, N/C 18+.
For further information: www.frightfest.co.uk
Images: https://cloutcom.co.uk/picture-gallery/gallery/frightfest-glasgow-2018/
All press enquires:
enquiries@cloutcom.co.uk
@cloutcomcouk
---
Notes to editors:

ABOUT FRIGHTFEST
Dubbed "the Woodstock of Gore" by director Guillermo Del Toro, FrightFest was created in 2000 by film producer Paul McEvoy, journalist and broadcaster Alan Jones and film distributor/booker Ian Rattray. Greg Day, the festival's long standing PR, became a joint director in 2007. From its cult roots at the Prince Charles Cinema it has grown to become one of the genre's most vibrant, credible and recognisable brands, helping to launch the careers of directors such as Simon Rumley, Christopher Smith, Eli Roth, Neil Marshall and Simon Hunter. Apart from the annual 5-day event in London, FrightFest has an ever-growing strand at the Glasgow Film Festival, hosts a Halloween Horrorthon and showcases special screenings throughout the year. It has teamed up with Icon Films Distribution to release FrightFest curated films under the banner 'FrightFest Presents' and publishes a series of books in association with publishers FAB Press, including THE FRIGHTFEST GUIDE TO EXPLOITATION MOVIES and THE FRIGHTFEST GUIDE TO MONSTER MOVIES.
ABOUT GLASGOW FILM FESTIVAL

The fourteenth annual Glasgow Film Festival will run from 21 February – 4 March 2018. The full programme will be launched on the evening of 24 January, with tickets on sale to GFF members and GFT CineCard holders from 12noon on 25 January and then on general sale from 10am on 29 January. GFF Membership is available to buy now for only £10, offering four days of advance booking, and discounts. See www.glasgowfilm.org/gffmembership for full information. Existing GFT CineCard members will automatically have GFF membership.
Notable guests visiting the festival in recent years have included Richard Gere, Alan Rickman, Joss Whedon, Terry Gilliam, John C Reilly, Saoirse Ronan, Richard Dreyfuss, Jonathan Glazer, Richard Johnson, Gemma Arterton, Ben Wheatley, David Tennant, Cliff Curtis, David Robert Mitchell, Carol Morley, Gemma Jones, Jason Priestley, Neil Jordan, agnés b., Armando Iannucci, Jack O'Connell, Dexter Fletcher, Peter Mullan, George Sluizier, Peter Capaldi, Ty West, Richard Ayoade, Eli Roth and Jean-Pierre Jeunet. The 2017 festival featured the red carpet world premiere of David Tennant's Mad To Be Normal and logged over 41,000 admissions, cementing its reputation as one of Europe's major film festivals.
For information specifically relating to Glasgow Film Festival, please contact:
Ruth Marsh: ruth.marsh@glasgowfilm.org +44(0) 141 352 8615