Back to News list
FrightFest & FAB Press present The FrightFest Guide To Mad Doctors
The FrightFest Guide to Mad Doctor Movies
By Dr. John Llewellyn Probert
Foreword by Tom Six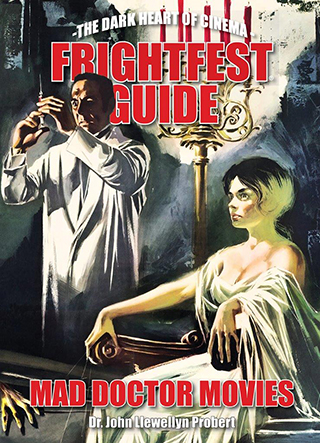 Mad medics, sinister surgeons and psychopathic psychiatrists…FrightFest and FAB Press once again join forces to exclusively launch THE FRIGHTFEST GUIDE TO MAD DOCTOR MOVIES, which goes on sale during FrightFest 2023. The author, practising surgeon Dr. John Llewellyn Probert, will be present, with official signings taking place at Cineworld, Leicester Square on Friday 25 and Saturday 26 August.
Ever since the dawn of cinema, filmmakers have been depicting on screen the potential outcomes of medical madness and science gone sick. Now join surgeon, author, film critic and not-at-all-mad Doctor (at least according to him) John Llewellyn Probert as he takes a detailed look at the history of one of the most enduring archetypes in cinema, with an introductory overview of the genre followed by reviews of over 200 key mad doctor movies.
In addition to critical appraisal, the author's own medical background allows him to provide a unique insight into just how well the filmmakers have done their homework. And who better to provide a foreword then notorious director Tom Six, who shocked filmgoers across the globe with his 100% medically accurate Human Centipede, and its sequels.
So, thrill to monsters and mutations, creatures and creations, horror hospitals, isolated mansions and underground laboratories as we enter a world of research gone rogue, of frightening philosophies and dread disease.
Following the success of the previous six editions: The FrightFest Guide to Exploitation Movies, Monster Movies, Ghost Movies, Werewolf Movies, Grindhouse Movies, and Vampire Movies, this is the latest in a series of wide appeal books for both the curious spectator and the cult connoisseur.
The FrightFest exclusive hardcover will be on sale for just £25, and people not attending he festival, which takes place Thurs 24 August – Mon 28 August, won't miss out as they have the option to pre-order the book from www.fabpress.com – pre-ordered books will ship the first week of September.
The Paperback publication date is 24 October 2023.
Hardcover ISBN: 9781913051310. Trade Paperback ISBN: 9781913051327
All FrightFest enquiries and interview requests for Dr. John Llewellyn Probert, please contact:
Clout Communications, info@cloutcom.co.uk @cloutcomcouk
For review copies – either pdf or physical copies – contact:
Harvey Fenton at FAB Press: harvey@fabpress.com @FAB_Press
Editor's Notes
THE AUTHOR — Dr. John Llewellyn Probert is a Fellow of the Royal College of Surgeons of Edinburgh and currently works as a Consultant Urological Surgeon in the south west of England. Because one job just isn't enough for him, John is also an Honorary Senior Lecturer at the University of Bristol, where surgery students get to enjoy his lectures once a week. Throughout his medical career John has maintained his lifelong love of horror movies, and has pursued a second career as a writer of horror fiction, in 2013 winning the British Fantasy Award for his novella The Nine Deaths of Dr. Valentine. John also has an online review site, House of Mortal Cinema – now into its second decade – where he gets to talk about the latest film releases and festival screenings.
FOREWORD — Tom Six started his career in television, being one of the pioneer directors for the original and highly successful reality TV show 'Big Brother' in the Netherlands. As directing consultant, he was responsible for the start of 'Big Brother' shows in the U.S., Germany, Denmark, Norway and South Africa. Tom Six also successfully pursued his true passion of filmmaking. He created three Dutch films before moving on to his first English spoken film: The Human Centipede. A concept so crazy it has become part of pop culture all over the world.
FAB Press
Since launching with its seminal publication Flesh And Blood (the source of the FAB acronym) in 1993, FAB Press, publishers of books for cult connoisseurs, has gained respect among its loyal customers and knowledgeable members of the book publishing industry alike. FAB Press has been working with FrightFest since 2016. This is the seventh volume in the FrightFest Guide series of books.
FrightFest
FrightFest is the most prestigious horror fantasy movie event in the United Kingdom since 2000. Created by Paul McEvoy, film exhibitor Ian Rattray, film critic, international journalist, author and broadcaster Alan Jones, and veteran PR man Greg Day, the main FrightFest event takes place annually over the August Bank Holiday in London. They also have their own distribution label, FrightFest Presents, in partnership with Signature Entertainment.