Back to News list
Hammer Classics Season to premiere on Horror Channel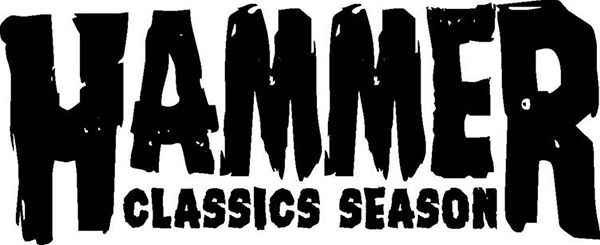 From November 3, Horror Channel celebrates vintage 1950s home-grown fantasy and horror with a HAMMER CLASSICS SEASON, The primetime Saturday night season, consisting of four network premieres, which star the iconic Peter Cushing, kicks off with Val Guest's atmospheric masterpiece, THE ABOMINABLE SNOWMAN, The other three, all directed by Terence Fisher, are the highly successful adaptations of the classic Universal monster movies: the brilliantly lurid THE CURSE OF FRANKENSTEIN (1957), the hypnotically sensual and gory DRACULA (1958), which launched Cushing and Christopher Lee into global stardom, and THE MUMMY (1959), perhaps the most critically well-received Hammer movie of all time.
Season promo trailer:
Full film details of season in transmission order:
Sat 3 Nov @ 21:00 – THE ABOMINABLE SNOWMAN (1957) – *Network Premiere
An adaptation of a drama by Nigel Kneale, creator of the Quatermass series, this horror fantasy stars Peter Cushing as scientist John Rollason, who, ignoring his wife's objections, joins an expedition lead by brash American Tom Friend (Forrest Tucker). They are searching for the legendary yeti in the high Himalayas – a quest with deadly consequences.
Sat 10 Nov @ 21:00 – THE CURSE OF FRANKENSTEIN (1957) * Network Premiere
Scientist Victor Frankenstein (Peter Cushing) will stop at nothing in his quest to reanimate a deceased body and assembles a hideous creature (Christopher Lee) out of dead body parts. He succeeds in bringing it to life, but the monster is not as obedient or docile as Frankenstein expected…
Sat 17 Nov @ 21:00 – DRACULA (1958) *Network Premiere

On a search for his missing friend, Jonathan Harker (John Van Eyssen), vampire hunter Dr. Van Helsing (Peter Cushing) is led to Count Dracula's (Christopher Lee) castle, where he finds an undead Harker in Dracula's crypt and discovers that the count's next target is Harker's ailing fiancée, Lucy Holmwood (Carol Marsh). With the help of her brother, Arthur (Michael Gough), Van Helsing is determined to protect Lucy and put an end to Count Dracula's parasitic reign of terror.
Sat 24 Nov @ 21:00 – THE MUMMY (1959) *Network Premiere

When a family of British archaeologists (Peter Cushing, Felix Aylmer and Raymond Huntley) discover the ancient tomb of an Egyptian High Princess, Kharis (Christopher Lee), a mummy of a high priest who has been buried alive, comes to life to seek retribution against the trespassers of the tomb.
There are also Friday night network premieres for darkly gripping sci-fi thriller SPLICE, John Carpenter's brilliant body-mangling monster horror THE THING, starring Kurt Russell, Aussie shark schlockfest BAIT, the 2008 US remake of THE EYE, starring Jessica Alba and psychological thriller HOUSE AT THE END OF THE STREET, starring Jennifer Lawrence.
Plus, STAR TREK: ENTERPRISE returns for the network premiere of Season 3, from Friday 2 November at 8pm.
Horror Channel: Be Afraid
TV: Sky 317 / Virgin 149 / Freeview 70 / Freesat 138

Website: http://www.horrorchannel.co.uk/
Facebook: https://www.facebook.com/horrorchannel
Twitter: https://twitter.com/horror_channel