Back to Film & DVD list
Reborn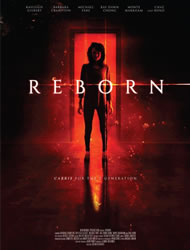 Julian Richards (Director of THE LAST HORROR MOVIE and DADDY'S GIRL), has created a Carrie for the Z Generation chiller, starring genre icon Barbara Crampton, and featuring a stunning performance from rising newcomer Kayleigh Gilbert.
A stillborn baby girl is abducted by a deranged morgue attendant and brought back to life by electro-kinetic power. On her sixteenth birthday, traumatized Tess escapes captivity and sets out to find her birth mother leaving a trail of horrifying violent destruction and chilling chaos behind her.
Clout PR handles all UK press & publicity enquiries.