Back to Film & DVD list
Peripheral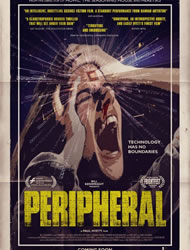 Technology has no boundaries in Paul Hyett's sinister and unsettling sci-fi horror fantasy, which boasts an astonishing performance from Hannah Arterton. It also stars Tom Conti, Jenny Seagrove and Rosie Day.
Bobbi Johnson (Hannah Arterton), a young literary sensation, is struggling with her difficult second novel. While dealing with a crazed stalker and a junkie ex-boyfriend, Bobbi's publisher convinces her to use new smart editing software. But soon the A.I. programme starts manipulating her work to suit its nefarious ends…
Clout PR handles all UK press & publicity enquiries.