Back to News list
Fab Press To Publish David McGillivray's Explosive and Revealing Autobiography
Little Did You Know: The Confessions of David McGillivray
FAB Press | £20 | Hardcover
"A meticulous account of a life so sordid I think each copy should come with a complimentary sanitary wipe."
~ Julian Clary ~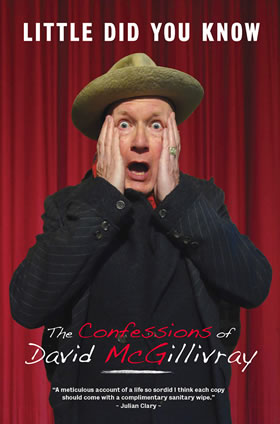 FAB PRESS is publishing the eagerly-awaited autobiography of writer, critic, journalist, broadcaster and all round raconteur, David McGillivray.
Signed editions will be shipping from 1st June, 2019 from www.fabpress.com with the book hitting book stores on 1st August, 2019. The book can be pre-ordered now on: https://www.fabpress.com/little-did-you-know.html
In this sensational memoir, illustrated with many previously unseen photos, McGillivray reveals how his anti-establishment lifestyle stretches back to his teenage years and journeys six decades, taking us through the cocaine-lined world of London's media industry, the tragic heights of the AIDS epidemic and the sinful celluloid backstreets of Soho. It's a colourful picaresque account of the capital from every angle.
Described by Jonathan Ross as "a comedy legend", Alan Jones as "a horror icon" and Matthew Sweet as "the Truffaut of smut", David McGillivray has enjoyed a colourful career in many areas of lowbrow entertainment. But not even his closest associates, let alone fans of his horror films and comedy plays, could have predicted the extraordinary direction his career took around the turn of the 21st century.

From 1998 – 2011, McGillivray hosted London's wildest parties at his home in London's sleazy King's Cross district. They were attended by some of the biggest names of stage, screen, music and fashion. The revelations of what went on under the figurative noses of law enforcement agencies and the literal noses of McG and his high-flying guests are not for the faint-hearted.
The confessions of this outrageously funny man may amaze and amuse, scandalise or shock you. And you may never look back on Millennium Night in quite the same light again…
Little Did You Know: The Confessions of David McGillivray is available from 1st June.