Back to News list
Comedy legend Bernie Clifton to publish his autobiography
"Be honest, how many of you thought I was dead?"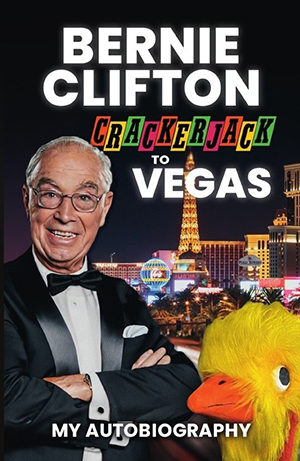 Not only is Bernie alive and well, but his long-awaited autobiography, BERNIE CLIFTON: CRACKERJACK TO VEGAS, will be available from 27 Nov 2023, courtesy of Bannister Publishing.
Finally, we get to read how one of Britain's most original and cherished comedians went from failed plumber to reducing the late Queen to tears of laughter, and his showbiz journey from Crackerjack regular to Vegas star whilst playing trombone for the England World Cup football band.
"What a story!  From dodging a Bomb as a 4-year-old to a standing ovation in Las Vegas, it's all here. Read and enjoy, I know I did". (Johnny Vegas)
From growing up in wartime St. Helens Bernie takes us on his hilarious (and sometimes tragic) journey from teenage singer with a local dance band to The Palladium, standing ovations in Las Vegas and the London Marathon on the back of an Ostrich.
With tributes from Johnny Vegas, Su Pollard, Anita Dobson, Joe Pasquale and Jimmy Cricket, BERNIE CLIFTON: CRACKJACK TO VEGAS is a fascinating and deeply personal account of an eight-decade journey of one of Britain's most cherished entertainers. He doubts he'll write a sequel.
Bernie commentated: "Write a sequel? Me? I'm 87, I'm not even buying green bananas!
"Clifton is God (The Guardian)
Orders: https://www.bannisterpublications.com/product-page/crackerjack-to-vegas
First published in Great Britain in 2023
Bannister Publications Ltd
ISBN: 978-1-909813-97-7
Press enquiries:
Greg Day | Clout Communications | cloutpr@gmail.com