Back to News list
ATTACK OF THE ADULT BABIES Blu-ray artwork reveal
Graham Humphrey's stunning new artwork created exclusively for the limited edition Blu-ray of ATTACK OF THE ADULT BABIES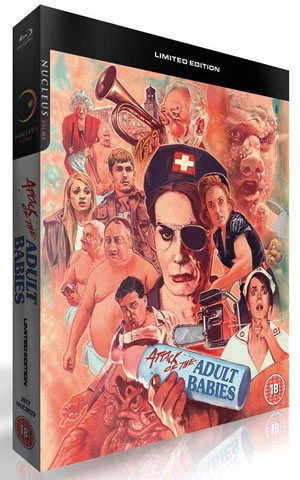 Nucleus Films have released the stunning new artwork created exclusively by the legendary graphic artist Graham Humphreys for the slipcase 1-1000 numbered limited edition Blu-ray of Dominic Brunt's ATTACK OF THE ADULT BABIES, which is being released nationwide on June 11.
And, in further good news for genre fans, HMV will be racking the limited Edition Blu-ray in their "Special Edition range" in stores across the country.
Jake West, co-director of Nucleus Films, said today: "In a time where it's increasingly difficult to release truly independent movies in physical formats, this is a real treat for film fans. As a movie collector myself, who enjoyed the thrills of the Video Nasty era, I loved the ritual of browsing through the racks and taking a chance on something because the cover art and title caught my eye.
We wanted to re-create the thrill of that era and what better artist could we ask to do that than Graham Humphreys – and what better film could there be than Dominic Brunt's outrageous Attack of the Adult Babies!"
West's partner at Nucleus Films, Marc Morris. added: "We're very excited that HMV are really getting behind the release, giving fans of physical media a chance to pick up their copy in the real world!"
Graham Humphreys commentated: "I met Dominic Brunt at FrightFest some three or four years ago, where he mentioned the idea for the Adult Baby project, so it was a happy surprise to be asked to provide this slipcase cover for the Nucleus films release.
It's always daunting working on an image with multiple elements, as a busy layout can be visually confusing. However, by focussing on key characters and using carefully considered colour palette, I hope I've managed some level of visual restraint.  I've intentionally used 'baby' colours, pinks and pale blues, these contrast well with the dark red blood, capturing the creepy mix of the infantile and adult horrors."
World premiered at FrightFest 2017, ATTACK OF THE ADULT BABIES has been described as disgusting, depraved, brave, bonkers, brilliant and quintessentially British in its humour and depravity. Starring Sally Dexter, Charlie Chuck, Kate Coogan, Joanne Mitchell and Laurence Harvey, it is released on June 11 on Blu-ray, DVD and Digital Download and there is a special advance screening at Derby Quad, Friday 4 May, 7.45pm, with Dominic Brunt and Joanne Mitchell in attendance. A special London screening will be announced soon.
Trailer: https://youtu.be/wYJCtS-o8Ck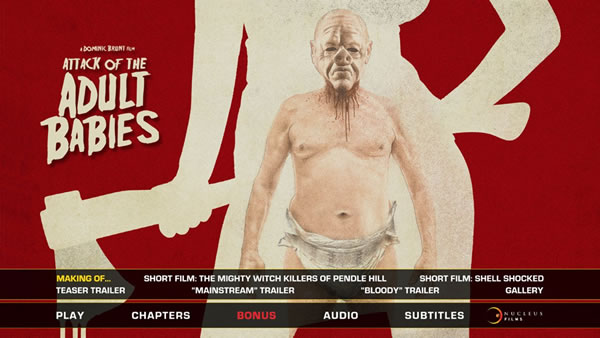 Synopsis
The aftermath of a shocking home invasion forces three frightened family members to break into a remote country manor and steal Top Secret documents. Little do they know the stately pile is also the clandestine venue where a group of high-powered elderly men go to take refuge from the stresses and strains of daily life by dressing up in nappies and having a bevy of beautiful nurses indulging their every perverse nursery whim. Nor do they realise this grotesque assembly is compelled to refuel the world's economy by very sinister, sick and monstrous means. As the bodily fluids hit the fan, the bloody carnage and freaky weirdness escalates.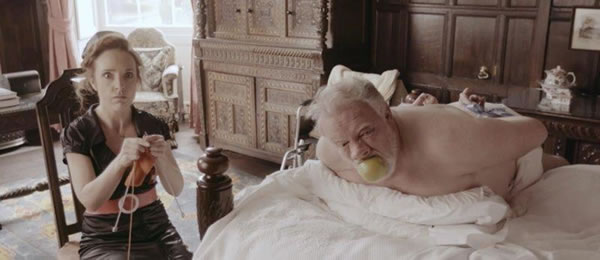 ---
PR contact: Greg Day | Clout Communications
High res images: https://cloutcom.co.uk/picture-gallery/gallery/attack-adult-babies/