Back to News list
Ahead of Legend's UK TV Premiere of horror revenge thriller NEVER LET GO, director Howard J Ford reflects on a near tragic family experience, the importance of locations and returning to his horror genre roots


Howard J. Ford
Your nail-biting revenge thriller NEVER LET GO is having its channel premiere on LEGEND on June 3. Excited or what?
It's always exciting to know one of your movies is going to be on the telly and watched by thousands at one time rather than one streamer at a time! I fine I feel totally different when I watch a broadcast of my film, it accentuates my cringe at all the things I could have done better! Ha.
Looking back at the making of the movie, what memories stand out for you?
It was a hell of an experience shooting Never Let Go amongst the twisty, turns of the Marrakesh streets. I recall running round with a fully laden Steadicam following our wonderful star Angela Dixon and dripping with so much sweat I almost could not see anything and that I might die of heatstroke at any minute!
You've gone on record as saying the film was inspired by a near-tragic experience with your son. Can you tell us more?
Yes – to say I was 'Frantic' is an understatement. I thought my 3 year old son had been abducted from a holiday resort I was at. I was running around looking for him shouting like a lunatic and I was convinced he has been taken.  I remember seeing a guy loading something into the back of a small open back car, like a lump in a sack and I was going to leap on him from a huge height, that turned out to be vegetables. My mind was going at 1000 miles an hour. In the end, he was at the bottom of the swimming pool and I only just found him in time. The 'miss' was so near, it affected me greatly and I wanted to make a film where a mother had everything against her in a race against time to get her child back. I even cast my son as a kidnapped kid!
The casting of Angela Dixon as Lucy is inspired. How did you discover her?
Angela Dixon is an amazing talent and a lovely lady to boot. We had met at a networking event in Cannes and I checked her showreel and realised she was talented and we were both into fitness and 5 years later I needed someone for this part and BOOM, Angela sprang to mind and off we went to Morocco… I love meeting actors and you just never know when you can cast them.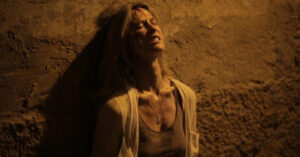 Angela Dixon in NEVER LET GO
The locations are pretty spectacular, as in all of your films. Is this an important element of the filmmaking process for you?
Thanks. It really is and the locations are a huge part of the adventure I want to take audiences on. Just like Africa in The Dead, India in the Dead 2, I really like to take my audiences somewhere very different from their living room with a couch in it. I want them to 'feel' it and sense it and locations are a huge part of that.
You wrote and produced, as well as directed NEVER LET GO. Do you think having independent creative freedom was crucial to what you wanted to achieve with this film?
I did, I also camera operated and all sorts and that 'hands on' element was important to me. It's an indie film. No one commissioned it or financed it, I just went and did it as I was desperate to turn that awful feeling I had experienced into something real that could be seen and somehow exorcised from me. It was a scramble with a small band of crew but everyone did a super job both on and off screen.
As an independent filmmaker, what do you find are the greatest frustrations?
Normally it's the fact you don't have the money to make the film so indie film makers spend 90% of their time chasing money and not actually making films which is the thing they fell in love with. Also you don't have a 'money hose' so to speak to wash away your practical and technical problems so that puts you in the corner all to often. You have to think on your feet, often on your hands and knees!
Fast-forwarding, you've returned back to your horror genre roots with your latest films ESCAPE and DARKGAME.  Tell us what you can about both films?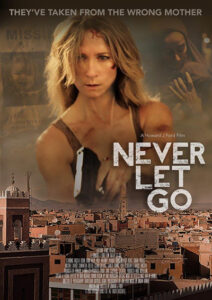 Yes, DarkGame has it's first screening this Cannes and has an amazing cast headed by Ed Westwick who was the star of Gossip Girl. A super performance; he plays Ben a detective in a race against time to stop the presenter of a warped online live murder show on the dark web. Producer Tom George did a super job of developing the film so on this one I had his great support and an amazing team.
Escape which is my 10th feature film as director – again we're back to my indie roots and it's shot on a desert island. A Beautiful holiday destination where ten young women ( a lovely ensemble headed by 'Scream Queen' Sarah Alexandra Marks and Sophie Rankin)  kidnapped for sex trafficking by a heinous gang –  their lead villain played by Sean Cronin who was in Mission Impossible and a Bond movie to name but a few. It's a revenge thriller and the girls are not going to take it lying down. It should be a real heart pumper and somewhat of a blast!
When can we expect to see them?
Both DarkGame and Escape should be out before the end of the year. We don't have the release dates yet and you generally have to wait for the US to release first but as soon as we have them I'll shout it loud!
Finally, what else does 2023 hold for you?
I'm working on another film from the team we worked with on The Ledge. Writer Tom Boyle and Producer Fred Hedman of GFM Films. We're very excited about this one and I hope its another nail biter  – about a family on an adventure trip in an RV that turns nasty when an altercation with a gang of hells angles becomes a fight to the death! News on this soon.
NEVER LET GO airs on Legend on Saturday 3rd June, 9pm.


TV: Sky 148 / Virgin 149 / Freeview 41 / Freesat 137