Back to News list
PATCHWORK director Tyler MacIntyre interview
On the eve of Horror Channel's UK TV premiere of PATCHWORK, director Tyler MacIntyre reflects on body image issues. twisting audience expections and his admiration for current female genre directors.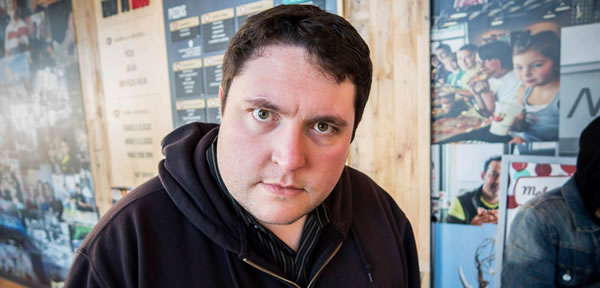 Tyler Macintyre
Q: PATCHWORK finally gets its UK TV premiere on Horror Channel. Excited or what?
Relieved actually. It's been a long time coming. The third screening of the film ever happened at FrightFest in Glasgow and since then I've had people asking me when it was going to come out. The UK genre fans are among the most diehard in the world, so I'm very excited to finally have it available for them.
Q: You were in attendance when PATCHWORK, your directorial feature debut, received its European premiere screening at FrightFest Glasgow 2016. What are your abiding memories?
I met a lot of awesome filmmakers and made some really good friends on that trip, particularly Joe Begos, who had THE MIND'S EYE playing right before us. My favorite was doing one of my first Q&As with the great Alan Jones. He did an amazing job of contextualizing the film and set the expectations that allowed it to be one of the most fun screenings I've ever had.
Q: It has been described as an "ingenious Frankenstein variant". Fair comment? And how would you describe it?
Haha. Ingenious is a bit of a judgement call, but the inception of the character really did try to get behind what it would be like for a character comprised of multiple bodies. That's what's most off-putting about Frankenstein to me, so it was quite satisfying to explore that in the context of more contemporary body image issues.
Q: Stuart Gordon helped you on the film? What role did he play?
Stuart was as a bit of a mentor to us through the process. He read a very early draft of the script and gave us notes, as well as weighed in on the cuts. We were quite obviously influenced by the splat-stick horror of the late-1980s, DEAD ALIVE, EVIL DEAD II, and RE-ANIMATOR especially, so it was amazing to get his blessing.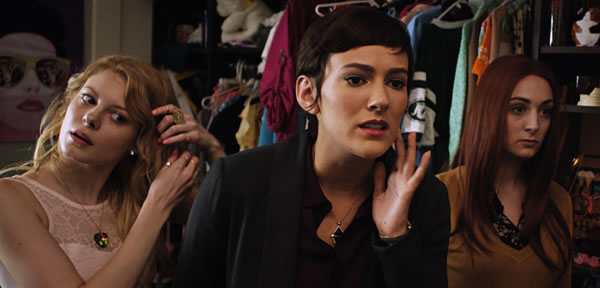 From l to r: Tracey Fairaway, Tory Stolper & Maria Blasucci in PATCHWORK
Q: The chemistry between Tory Stolper, Tracey Fairaway and Maria Blasucci is amazing. How did that come together from the casting process?
We had actually worked with Tory on the short film version, so she was the first in. I'd edited a film that Tracey acted in a few years before, so I knew she brought a lot of good ideas and had a fun bubbly energy. Once we had them in place, we had to counter-weight them with a more off-beat comedic energy, which Maria has very naturally. Once I got to see all three together it became apparent very quickly that they bounce off each other well, and it was going to be a blast to work on.
Tyler MacIntyre on the set of PATCHWORK
Q: Your second feature, TRAGEDY GIRLS, described as "the most frightening slasher send-up since Scream", also deals with strong women in subversive, anti-heroine roles. Is this a conscious theme to your work?
When I write things either by myself or with my writing partner Chris Lee Hill, we tend to look for ways to twist the expectations of the audience, trying to take them somewhere they haven't been before. That leads us to a lot of the more subversive elements. Since there are still a lot of story areas involving female protagonists that are unexplored, we often come up with ideas involving female leads pretty organically. We've also have been very fortunate to work with a lot of amazing up-and-coming actresses, who really inspire us to keep developing material with similar themes.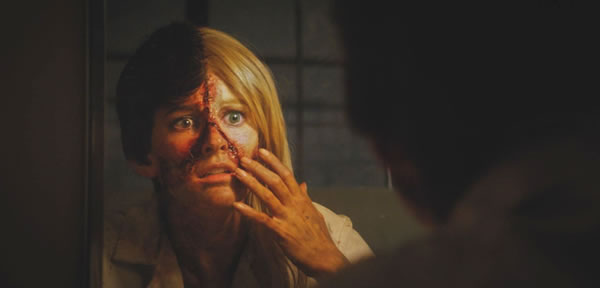 Tracey Fairaway in PATCHWORK
Q: TRAGEDY GIRLS closed FrightFest 2017, where you and the film received a rousing reception. What is it about the genre that attracts you the most?
For me it's actually the community. Fans of genre have a great way of standing up to be counted, and in my experience, they're quite open and welcoming. The film industry is competitive and toxic enough as it is, so I'm happy to be part of a section that is actually really supportive and collaborative.
Q: What's your take on the burgeoning growth of female directors/voices in the horror genre?
It's amazing, and I hope grows even more quickly. I was absolutely bowled-over by what Julia Ducournau did with RAW. That movie floored me. So precise with its tone and psychology. And likewise with what Issa López did with TIGERS ARE NOT AFRAID. I watched the most emotional Q&A I've ever seen at the Canadian premiere of that film. We even named the teacher character in TRAGEDY GIRLS "Ms. Kent" after Jennifer Kent, because we were so impressed with THE BABADOOK. There are a lot of great voices popping up, which makes this a very exciting time.
Q: Favourite genre film of 2019 so far?
It's probably PARASITE, but the year isn't over yet.
Q: Finally, what's next?
We are developing a couple of feature projects right now that are in the horror space, as well as a television series that's more of a mystery-comedy. I am hoping that we get the opportunity to shoot our first studio feature film next year.
PATCHWORK in on Horror Channel, Sat 14 Dec, 9pm.