Back to News list
New Blood Horror Initiative Selects Fresh Class Of Eight Projects
TO PRESENT TO PANEL Of TOP INDUSTRY PROFESSIONALS AT FRIGHTFEST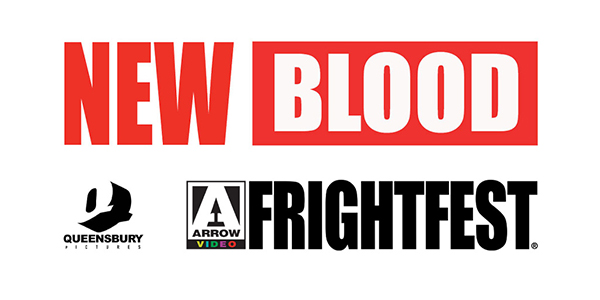 The search is over as this year's New Blood participants have been unearthed and will be attending Arrow FrightFest for a special mentoring session in a Central London venue at the start of festival on Thursday 25th August where they will pitch their feature script ideas to a panel of industry professionals.
After a record number of submissions, eight projects have been chosen to be presented to the four mentors. They come from all over the UK and amazing imagination unleashed in their script ideas.  The grateful eight and their respective projects are Hail Santa by Jonny Grant, She Knows Why!!! by Alix Austin and Keir Siewert (AK), Caravanserai by Ayad Andrews , Crave by David Yorke, This House Is Fucked by James M. Macleod, Crawl To Me by Penelope Yeulet & Ruby Abbiss, Ovipositor by Elizabeth Parikh, and Vessel by Ellena Loughrey
The successful shortlisted applicants will workshop their ideas in a group setting under the guidance of top industry professionals and genre experts. Regular mentor Queensbury Pictures' Giles Edwards is joined this year by Neil Marshall, Emmy-nominated director of Dog Soldiers and this year's opening film, The Lair; Aaron Koontz, producer of Pale Horse, and the Scare Package franchise, and James Moran, prolific screenwriter of Severance,  TV's Curfew series as well as FrightFest's very own Turn Your Bloody Phone Off campaign
Following the selection, Giles Edwards, Head of Development at Queensbury Pictures, said: "I'm thrilled with our, once again, fabulously diverse torrent of New Blood for 2022. This year's crop is as wild and wicked as ever. It proves that the creativity of the UK's undiscovered genre talent is a roaring, rampaging river of pure, palpable and delectable terror…."
New Blood is the new writer's initiative jointly held by Arrow FrightFest with Giles Edwards of Queensbury Pictures with its mission to find emerging UK-based writers dedicated to the genre and nurture their projects from script to screen.
Arrow FrightFest 2022 runs 25th to 29th August at the Cineworld, Leicester Square and The Prince Charles Cinema.
Follow: @frightfest
All press enquires:
Paul Smith, PaulWSmithPR
07970 878 802   paulwsmithpr@gmail.com
Greg Day | Clout Communications Ltd
---
Editors notes:
About FrightFest
Dubbed "the Woodstock of Gore" by director Guillermo Del Toro, FrightFest, set up in 2000, has grown in size and stature since its cult roots at the Prince Charles Cinema and today is internationally renowned for discovering exciting and original horror fantasy genre films and for supporting the talent behind them, helping to launch the careers of such directors as Simon Rumley, Christopher Smith, Eli Roth, Neil Marshall and Simon Hunter.
Over the years the festival directors, Greg Day, Alan Jones, Paul McEvoy and Ian Rattray, have developed FrightFest into a brand leader for horror film, expanding its footprint in the UK by hosting special events throughout the year and joining forces with the Glasgow Film Festival, where they run an established three-day event. They have teamed up with FAB Press to publish a series of 'The FrightFest Guide To…" books and have an exclusive partnership with Signature Entertainment to release films under the festival's thriving label  'FrightFest Presents'. You can catch the documentary FRIGHTFEST: BENEATH THE DARK HEART OF CINEMA on Amazon.
About Queensbury Pictures
Queensbury Pictures is a production company specializing in the development, finance and production of Film and TV/Digital Series for traditional and emerging distribution and exhibition platforms. Queensbury Pictures exists to usher in the next wave of audacious, world-class storytelling across multiple genres. Queensbury is based in LA, Chicago and London.