Back to News list
Interview with UNCANNY ANNIE director Paul Davis
Ahead of the International premiere of UNCANNY ANNIE at Arrow Video FrightFest Halloween 2019, director Paul Davis reflects on working for Blumhouse, bemoans attitudes to British genre film funding and reveals the movies that inspire him the most…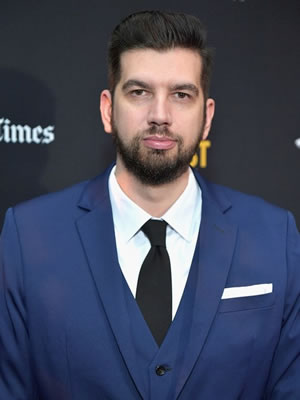 Welcome back to FrightFest. It's been a while. Excited?
Very excited. This is very much a homecoming for me having spent the best part of two-years now making movies in Los Angeles. What makes it all the more special is that after two shorts and a documentary, this marks the first time I've had a narrative feature film play at FrightFest, and on the 10th anniversary of my first FF appearance. So this one means a lot to me, as it was something I've longed to do ever since BEWARE THE MOON in 2009.
Tell us how UNCANNY ANNIE came about?
UNCANNY ANNIE is my second movie for Blumhouse as part of Hulu's INTO THE DARK movie series. I had the opportunity to actually kick off INTO THE DARK last October with a feature adaptation of my short film THE BODY (which had its world premiere at FF in 2013). The concept was to release a movie a month, for twelve months, with each revolving around a holiday or particular day for the month of its released.
With THE BODY taking place on Halloween, it literally was a right place/right time scenario in which my co-writer, Paul Fischer, and I had literally just written a spec first draft of a feature version, and within a week it was sold to Blumhouse. The feature starred Tom Bateman (Vanity Fair), Rebecca Rittenhouse (Once Upon a Time… in Hollywood), Aurora Perrineau (If They Could See Us) and Ray Santiago (Ash Vs Evil Dead). I'm still hoping it'll drop in the UK at some point. I know Sony Worldwide own the rights outside of the US, so we'll see what happens.
Until then… the series did well enough to get a second year at Hulu and that's when I got the call to return to Halloween and make UNCANNY ANNIE, which was my opportunity to do something completely different to THE BODY. Essentially I wanted to make a kids horror film with blood and swearing – inspired mostly by Joe Dante's THE HOLE and Robert Rodriguez's THE FACULTY.
What were the particular challenges you faced?
Oh man, where to start. First of all these are super low budget movies, but of course, with the Blumhouse brand comes huge expectation, so these are very ambitious films for very little time and money. With THE BODY being my first film, every day was a learning experience. I at least had a bit more money and a few more days on that one compared to UNCANNY ANNIE. When it came to Annie I was faced with a three week prep from the day I received the script (which was being re-written), a 16 day shoot, and under $1m to do a movie that ended up with over 200 VFX shots.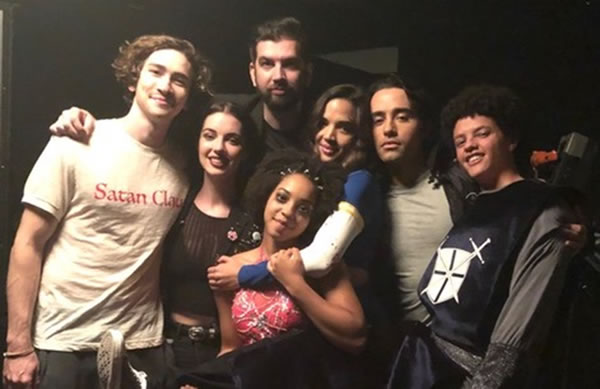 Paul with the cast of UNCANNY ANNIE
That said, coming into this film I knew that this is exactly how these movies are now made – and they've just completed 12 of them in a year. That is an insane and impressive achievement. So for me it was about coming in and making the best damn movie I could within those parameters. And that's the same with all of the filmmakers on this. Sophia Takal, Nacho Vigalondo, Gigi Saul Guerrero, Daniel Stamm, Patrick Lussier… doesn't matter if it's your first movie, or your eighth. We all get the same shake. And what's great about Blumhouse is that they give you the freedom to create your movie with 100% encouragement.
All that aside, the biggest challenge for me was post production. My mother sadly passed away a week before my director's cut was due, so I had to fly back to London and consult on the edit from London. It wasn't easy, but we eventually got there, and I couldn't be more proud of the film, and excited to share it with a FrightFest audience.
Your breakthrough movie was the much praised documentary BEWARE THE MOON: REMEMBERING AN AMERICAN WEREWOLF IN LONDON (2009).
John Landis introduced the film at FrightFest, Was that a defining moment in your career?
It certainly was at the time, and without BEWARE THE MOON I wouldn't have met Reece Shearsmith, which means HIM INDOORS wouldn't have happened, which means no THE BODY either. So it was definitely the moment that kickstarted everything for me. I got to say thank you to John by giving him a cameo in my feature adaptation of THE BODY.
You began your career as a writer / journalist, specialising in horror cinema. Would you say those roots have helped you grow as a filmmaker?
Absolutely. Not only in the sense that your own research leads you to discover movies that had previously passed you by, but had I not been a staff writer at Horrorhound in 2006, I would never have written the 25th retrospective on AN AMERICAN WEREWOLF IN LONDON that lead to the documentary.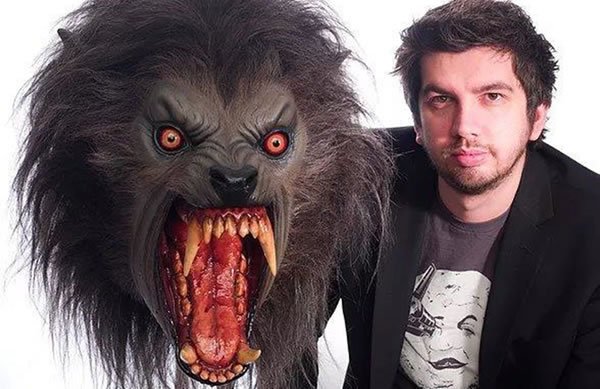 Paul in 2009
In terms of my current projects, they're littered with Easter eggs to movies I love. It's always fun when someone sends me a tweet that they've spotted something new.
You've also written a couple of books: LOST IN THE SHADOWS – The Story of The Lost Boys and BEWARE THE MOON – The Story of An American Werewolf in London. Any literary plans for the future?
I'm an 'idle hands' kind of guy. I can't sit and not do anything. These were done purely out of frustration, waiting for movie projects to green light. They were a lot of fun, but I have no desire to do anymore.
I also did some creature performing during that time. I played a sand monster in a Mark Gatiss written episode of DOCTOR WHO (which reunited me with Reece Shearsmith) and then spent the best part of a year on SOLO – A STAR WARS STORY as a wookiee.
Do you have a favourite bunch of horror movies? You're not allowed to list AMERICAN WEREWOLF IN LONDON!
I do, but you know what, the older I get the more I feel my sensibilities getting tamer and tamer. I couldn't watch a movie like MARTYRS again. Or LAST HOUSE ON THE LEFT for that matter. One thing that has never changed is my love for THE EXORCIST, which to this day I still believe is the greatest movie ever made. George Romero's DAWN OF THE DEAD also remains a comfort movie of mine – as is De Palma's CARRIE. I watch that movie whenever I'm about to start shooting a new movie. It's my lucky rabbit's foot.
How do you view the current state of the genre, particularly in Britain? Are there any current home-grown directors you admire?
I think horror across the globe is thriving. The world is a mess right now, and from chaos comes creativity. It was the same in 1968 and it's the same today. That said, I'd love to see more studios and production companies taking a chance on UK talent. I've made two movies studio movies for Blumhouse yet I'd still love to make a movie here at home. The horror genre in Britain continues to be treated as an embarrassment that is kept on the naughty step. There's a lot of pissed off creative people out there, and Brexit has only pissed us off even more. The British Jordan Peele or Ari Aster could be lying in dormant, but we'll never know that until attitudes in British film funding change. This is the home of Hammer Horror, for Christ sake! It's time horror became a staple of the British film industry once again. The talent is there… USE US!!!!
As for home grown directors who I enjoy and find inspiring… Edgar Wright, Neil Marshall, Corin Hardy, Ben Wheatley. I also loved Alice Lowe's work on PREVENGE. I'd love to see more women having opportunities to tell genre stories in the UK. I don't think we've caught up with the US yet in that respect.
Finally, what's next for you?
UNCANNY ANNIE came out I the US on October 4th so right now I'm reading a million and one screenplays to make sure what's next is something I believe in and feel passionate about. There are a couple of things in the pipeline, but until anything is signed, I can't really talk about them. In addition, I'm also writing my own material again, which is pretty much what I'm spending my time doing right now.
UNCANNY ANNIE is at 3.15pm at Cineworld, Leicester Sq. on Sat 2 Nov, as part of the Arrow Video FrightFest Halloween all-dayer.
Paul will be introducing the film.
www.frightfest.co.uk