Back to News list
FrightFest & Fab Press Launch The FrightFest Guide To Ghost Movies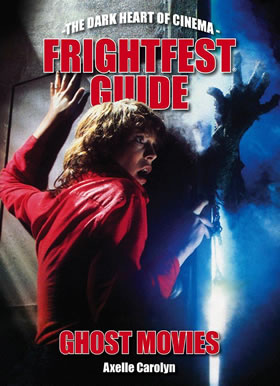 FrightFest and FAB Press once again join forces to launch THE FRIGHTFEST GUIDE TO GHOST MOVIES, which goes on sale during FrightFest 2018, Aug 23 – Aug 27.
Following the success of The FrightFest Guide to Exploitation Movies, and The FrightFest Guide to Monster Movies, this is the third in an on-going series of wide appeal books for both the curious spectator and the cult connoisseur.
This year's FrightFest Guide is written by horror genre writer and award-winning filmmaker Axelle Carolyn, who has helmed an atmospheric bone-chiller herself – Soulmate, Axelle is well-versed in all things weird, wicked and witchy and her book surveys the last 120 years of the genre, reviewing 200 of the most memorable titles from across the globe. From timeless classics to recent blockbusters, quirky indies to international sensations, each of these movies has contributed to the development of the ghost movie as we know it.
Axelle remarked: "Ghosts have haunted me my whole life. Everything I've ever directed, from short films, to Soulmate and Tales of Halloween, has featured ghosts — they're simply my favourite supernatural creatures. Ghost stories have been told for as long as humans have gathered around campfires, and their evolution on screen, from comedies to horror, is fascinating to look at".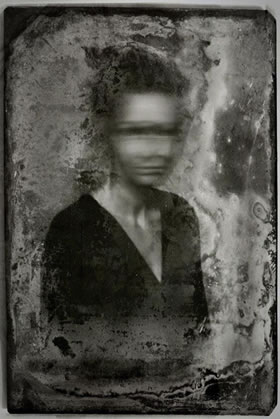 Lavishly illustrated, and enriched with anecdotes and critical analyses, this guide also features a foreword by Andy Nyman: the star, co-writer and co-director (with Jeremy Dyson) of acclaimed British chiller Ghost Stories, a love letter to the genre adapted from Nyman's popular West End stage play.
The official book launch takes place 23 to 27 August 2018 at FrightFest, Cineworld, Leicester Square, London. The FrightFest exclusive hardcover will be on sale for just £20. The book's international street date is 26 October 2018. Paperback price: £16.99 (UK) $24.95 (US).
Arrow Video FrightFest 2018 takes place Thurs Aug 23 – Mon Aug 28 at the Cineworld Leicester Sq and The Prince Charles Cinema. It is sponsored by and partnered with: Horror Channel, Sennheiser, Screen International, Entertainment Focus, Splice Media, Fandom, Dread Central, Den of Geek, Radisson Group & Queensbury Pictures.
All FrightFest enquiries and interview requests contact: Greg Day, Clout Communications, 07889 861646
For review copies – either pdf or physical copies – contact: Harvey Fenton at FAB Press (07790 664367, harvey@fabpress.com)
Axelle Carolyn
Editor's Notes
The Author
Lifelong horror fan Axelle Carolyn was brought up on a steady diet of ghost stories and Stephen King novels. She decided at a young age to embark in a career in film. She started by contributing set reports and reviews to genre magazines including Fangoria, SFX, IGN, and L'Écran fantastique. For the next few years, she covered film shoots including the first two Hostel films, The Hills Have Eyes and its sequel, and the Lordi movie Dark Floors. Around the same time, she started penning screenplays, and sold her first script in 2005. Axelle's first book, It Lives Again! Horror Movies in the New Millennium won the Silver Award in the Performing Arts category at ForeWord magazine's 2009 Book of the Year. Soon afterwards, her first fiction short stories started appearing in anthology books such as Dark Delicacies III, alongside tales by Clive Barker and Chuck Palahniuk, and the star-studded Mammoth Book of Body Horror. After a brief stint in front of the cameras (most notably as a Pict archer alongside Michael Fassbender and Olga Kurylenko in Neil Marshall's 2010 release Centurion), Axelle directed her first short films in 2011. The Last Post, starring Jean Marsh, and The Halloween Kid, narrated by Derek Jacobi, both featured protagonists finding comfort in the supernatural and in the presence of ghosts. Soulmate, Axelle's first feature, opened FrightFest Halloween the following year before touring festivals around the world. The movie collected a Best Director award from Rome's FantaFestival, as well as Best Screenplay at France's La Samain Fantastique, and a Best Actress accolade for Anna Walton at FantasPorto. In 2015, after moving to the USA, Axelle created, co-produced and co-directed horror anthology Tales of Halloween. Axelle's own chapter, Grim Grinning Ghost, offers a tense supernatural chase building up to a jump scare. Tales of Halloween was presented as the closing night movie of FrightFest 2015. 'She is currently a writer on upcoming Netflix series Chilling Adventures of Sabrina.
The Publisher
FAB Press is an independent publishing company that has been serving film fans since 1993, issuing a library of titles that cover all the important directors and movie genres of interest to cult connoisseurs. FAB Press has been working with FrightFest's Alan Jones for many years, publishing his books Dario Argento: the Man, the Myths and the Magic, The FrightFest Guide to Exploitation Movies, and Nicolas Winding Refn: The Act of Seeing.
The Festival
FrightFest is the most prestigious horror fantasy movie event in the United Kingdom. Created by Paul McEvoy, film exhibitor Ian Rattray, film critic, international journalist, author and broadcaster Alan Jones, and veteran PR man Greg Day, the main FrightFest event takes place annually over the August Bank Holiday in London.