Back to Film & DVD list
Panic Button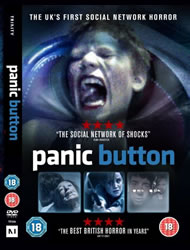 PANIC BUTTON is Chris Crow's ground-breaking, psycho-cyber horror thriller, acknowledged as the UK's first Cyber Horror feature film when it was originally released in 2011.
This remastered version, launched on DVD & Download on Oct 23 2017, courtesy of Trinity Film, has some impressive DVD EXTRAS including an Audio Commentary with writers Frazer Lee, John Shackleton & David Shillitoe and a Guerrilla Filmmakers Masterclass.
Clout PR handled all release publicity.