Back to Film & DVD list
Once Upon A Time In London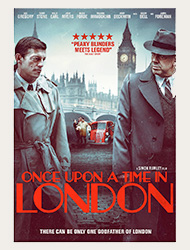 The latest feature film from Simon Rumley (RED WHIRE & BLUE, CROWHURST) tells the story of the violent reign of two of London's most notorious gangsters, Billy Hill (Leo Gregory) and Jack 'Spot' Comer (Terry Stone) and charts the legendary rise and fall of a nationwide criminal empire that lasted until the mid-fifties and which paved the way for the notorious Kray Twins and The Richardsons.
Produced by Terry Stone & Richard Turner and released un the UK by Signature Entertainment, the film also stars, Holly Earl, Dominic Keating, Geoff Bell, Jamie Foreman, Doug Allen, Andy Beckwith, Roland Manookian, Justin Salinger and Kate Braithwaite.
Clout PR handled both the Unit Publicity and UK distribution.