Back to News list
FATHER EARTH gets digital download release from Dec 1 2022
FATHER EARTH, the critically-acclaimed feature film from Graham Fellows, gets a digital download release from Dec 1 2022.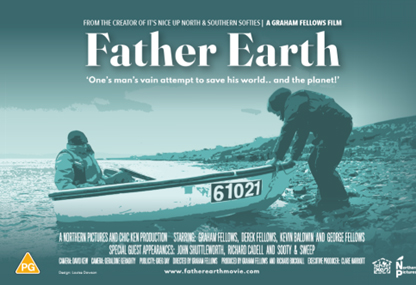 New clips:
Official trailer: https://youtu.be/5VaZbm3VL1Q
"A brilliant film" (Britficks)
Filmmaker and Comedian Graham Fellows' latest indie film, FATHER EARTH, will receive a Digital Download release from 1st Dec. Details will be announced shortly. To mark the news, two exclusive clips have been revealed, featuring touching scenes between Graham and his late father, Derek.
Currently enjoying an extensive national tour of cinemas and arts venues, where each screening is followed by a Q&A with Graham, FATHER EARTH is the moving yet quirky and comedic true story of one man's efforts to make sense of his world, whilst attempting to save the planet. And of course, there's Graham's perennial character creation, John Shuttleworth, to contend with…The iconic musician, actor, writer & filmmaker admits that this is his most personal film to date, which took 12 years to complete.
"Father Earth is a story that no one else could tell, at least not with the same wit, care and attention. Not even Vic Reeves". (Filmhounds Magazine)
FATHER EARTH stars Graham Fellows as himself, and his comic alter ego John Shuttleworth – with guest appearances by Kids' TV legends Sooty and Sweep and Graham's eccentric and mathematically driven father Derek. Filmed mainly in the Orkney Isles, this is Fellows' first movie project since Southern Softies in 2008, which was the sequel to It's Nice Up North' (2005) a collaboration with renowned photographer Martin Parr. Both films were distributed by Picture House and screened on Sky Arts TV.
FATHER EARTH is a Northern Pictures and Chic Ken Production, directed and edited by Graham Fellows. It stars Graham Fellows, Derek Fellows, Kevin Baldwin and George Fellows, with special guest appearances from John Shuttleworth, Richard Cadell and Sooty
& Sweep. Camera: David Kew, Geraldine Geraghty, Matt Holt. Produced by Graham Fellows and Richard Bucknall.
Running Time: 83 min Cert: PG. UK 2022.
To book tickets for the tour: https://fatherearthmovie.com/watchthefilm/
Website: https://fatherearthmovie.com/watchthefilm/
Press enquiries:
Greg Day, Clout Communications
greg@cloutcom.co.uk  07889 861646 @cloutcomcouk
Download images from:
https://cloutcom.co.uk/picture-gallery/gallery/Father-Earth/