Back to News list
Dominic Brunt's ATTACK OF THE ADULT BABIES gets UK release
Nucleus Films to unleash cult feature on Blu-ray, DVD & Digital on June 11 2018
+ First 1000 Blu-rays in Collectors Numbered Limited Edition will have Slip Case designed by film artist Graham Humphreys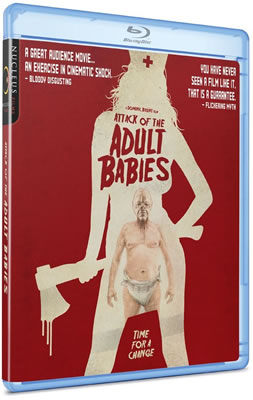 The safety pins are off as Emmerdale actor and director Dominic Brunt and his producing partner actress/writer Joanne Mitchell (Before Dawn and Bait) bring us a satirical and sexy shocker unlike anything ever seen before.
World premiered at FrightFest, ATTACK OF THE ADULT BABIES has been described as disgusting, depraved, brave, bonkers, brilliant and quintessentially British in its humour and depravity.
As Brunt and Mitchell reveal: "The film was inspired by a mixture of ideas and events…the Formula One President Max Mosely's sadomasochistic orgy exposé, the dubious all-male Charity events, Freemason lore, exploitative male bosses, Carry On movies, saucy seaside postcards and 1950s EC Horror Comics. The plan was always to make a movie almost beyond description".
New trailer: https://youtu.be/wYJCtS-o8Ck
Shot entirely on location at Broughton Hall in Skipton, West Yorkshire, the cast includes TV favourites Sally Dexter, Charlie Chuck and Andrew Dunn and horror film fans will enjoy a cameo appearance from Human Centipede II; Full Sequence star Laurence R Harvey. The film also features animated sequences, courtesy of Claymation maestro Lee Hardcastle.
Ahead of the June 11 release, there will be special cinema screenings at the Genesis Cinema, London and The Quad, Derby. Details of both screenings will be announced soon.
This is Nucleus Films' first foray into distributing new films to market across all formats and co-founder Jake West commented: "We're very excited to be handling the World Premiere release of AOTAB and working with the brilliant British director producer team Dominic Brunt & Joanne Mitchell Brunt & International Sales agent AMP. We're aiming to bring to this, and future releases, the quality we're know for in all of our cult re-issue titles".
Synopsis
The aftermath of a shocking home invasion forces three frightened family members to break into a remote country manor and steal Top Secret documents. Little do they know the stately pile is also the clandestine venue where a group of high-powered elderly men go to take refuge from the stresses and strains of daily life by dressing up in nappies and having a bevy of beautiful nurses indulging their every perverse nursery whim. Nor do they realise this grotesque assembly is compelled to refuel the world's economy by very sinister, sick and monstrous means. As the bodily fluids hit the fan, the bloody carnage and freaky weirdness escalates.
Cast
Andrew Dunn (Dinner Ladies, Doctors), Kate Coogan ('Emmerdale', Northern Soul), Charlie Chuck (Bait, The Smell of Reeves and Mortimer), Sally Dexter (Poldark, Holby City), Nicky Evans (Shameless, Before Dawn), Mica Proctor (Nightshooters), Joanne Mitchell (Before Dawn, Bait), Seamus O'Neill (Coronation Street, Sightseers), Laurence R. Harvey (The Human Centipede II: Full Sequence), Thaila Zucchi (Girlfriends) and newcomer Kurtis Lowe.
Credits
Mitchell-Brunt Films present ATTACK OF THE ADULT BABIES, directed by Dominic Brunt (Bait, Before Dawn) and written by Paul Shrimpton (Zombieworld, Inbred) from a story by Joanne Mitchell (Before Dawn, Bait). Producers are Karl Hall (I Am Not A Witch) and Joanne Mitchell. Executive producers are James Norrie (Lowlife, The Void) and Bob Portal (Anna and the Apocalypse, Fashionista). Director of photography is Geoff Boyle (Bait, Mutant Chronicles), production designer is Jordan McHale (Emmerdale, A Touch of Frost) and costume designer is Lance Milligan (Kill List, Habit). Prosthetic make-up supervisor and designer is Shaune Harrison (Star Wars, Harry Potter, Avengers, World War Z), key special effects by Graham Taylor (Entity, The Slayers) and visual effects by Neil Myers (Bait, Before Dawn) and Alex Chandon (Inbred). Music is composed by Thomas Ragsdale (Before Dawn, Bait, Hypernormalisation).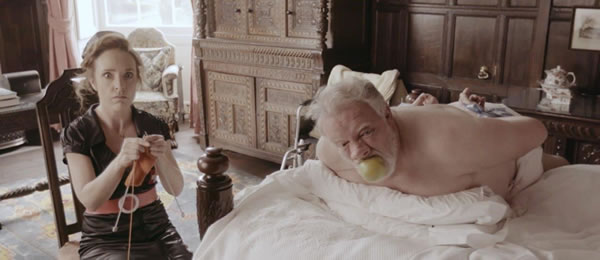 "Destined to become a cult midnight movie hit" (Horror Channel, Top 10 films of 2017)
Release Date: June 11, 2018 (UK only)
Retail outlets: HMV, Amazon, iTunes, Sky Store, Google Play
Extra Features: Making of, Audio Commentary, Trailer & selection of Short Films directed by Dominic Brunt.
http://www.mitchell-bruntfilms.com/
@dominicbrunt @joannemitchellb @NucleusFilms @cloutcomcouk
*Screener link available on request
*Interview slots on offer
*Full press pack available on request
PR contact: Greg Day | Clout Communications