Back to News list
Derren Brown reveals his caricature of Sir David Attenborough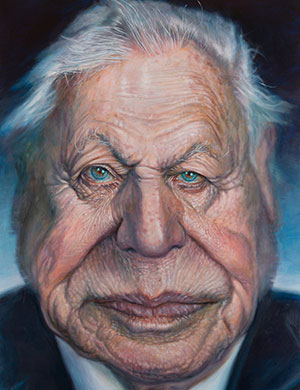 Derren Brown, probably better known for his mind-boggling TV stunts and putting well-known faces on the spot with his psychological trickery, has also carved a reputation as a painter and caricaturist, having published Derren Brown: Portraits in 2009 and enjoyed several solo exhibitions  at the Rebecca Hossack Gallery.
Commentating on his portrait of Sir David Attenborough, Derren said: "Given the nature of caricature, I never imagine the subjects will like them. So I don't make a point of showing people their portraits. But this is done with huge affection and the utmost admiration for an extraordinary man, and a staggering career, which I have followed all my life.
His recent Netflix film A Life On Our Planet is important and wonderful. I've tried to capture the figure of authority here: we should all be listening very carefully to what he has to say".
He has also recently painted Freddie Mercury, Donald Trump, Marilyn Monroe and Willem Defoe. He is currently working on a portrait of David Bowie.
Works from his private collection are now available to own as originals or limited edition prints. Many of these acrylic paintings featured in his book Portraits, and some have appeared in his television shows.
Derren's work can be viewed and purchased here:
https://derrenbrown.co.uk/art-store/