Back to News list
Arrow Video FrightFest 2018 announces record-breaking line-up

Film news (UK): Arrow Video FrightFest 2018 announces record-breaking 19th year line-up.
Remaining in the heart of London's West End for its 19th edition, the world renowned horror and fantasy film festival turbo-charges into the Cineworld Leicester Square and The Prince Charles Cinema from Aug 23 – Aug 27 2018. Hosting a record-breaking seventy films, embracing eighteen countries and spanning six continents, this year's line-up is a true celebration of the genre's global popularity. The five-day fear-a-thon includes 20 World, 17 European and 22 UK Premieres.
The opening night attraction is the UK premiere of THE RANGER. Jenn Wexler's impressive directorial debut feature is an explosive, post-modern slasher, with a kick-ass punk soundtrack and a knock-out lead performance from Chloe Levine (The Transfiguration). Wexler, the first female director to open FrightFest, will be attending.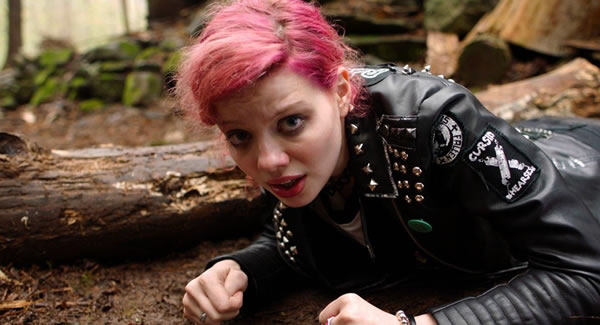 The Ranger
She said today: "We are honored and thrilled to be selected as this year's opening night film. I made THE RANGER because I love punk rock and '80s horror. We can't wait to share it with fans in the city where punk has its roots, at one of the world's best genre festivals."
Bringing the festival to a fitting conclusion is the UK premiere of Gaspar Noé's CLIMAX, courtesy of our headline sponsors Arrow Video, which finds the incorrigible Irreversible wild child at the peak of his confrontational and hypnotically mesmerising powers. Based on true events, this throbbing whirling dervish is Noé's Disco Inferno via Dante's.
Over the years FrightFest has discovered and nurtured a host of talented directors and many are returning this year including Martyrs maestro Pascal Laugier with the UK premiere of his latest in the French Extreme annals INCIDENT IN A GHOST LAND, Paul Hyett with the World premiere of his medieval harrower HERETIKS, Colin Minihan with the UK premiere of romantic shocker WHAT KEEPS YOU ALIVE. Padraig Reynolds with the World premiere of his neo-slasher OPEN 24 HOURS and the fully-charged Turbo Kid trio François Simard, Anouk Whissell and Yoann-Karl Whissell bring us the European premiere of serial killer thriller SUMMER OF 84. Then there are World premieres for the Paz brothers scorching new take on the fable THE GOLEM, Tom Paton's cosmic horror BLACK SITE, and Jon Knautz's THE CLEANING LADY, starring his Goddess of Love muse Alexis Kendra.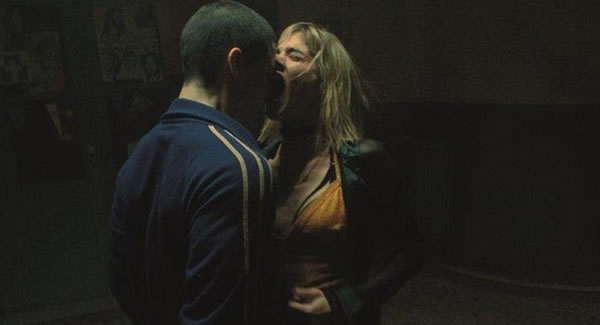 Climax
Plus, the line-up sees Saw maven Darren Lynn Bousman return with the European premiere of nunsploitation ST AGATHA, Insidious creator Leigh Whannell gifts us with a special preview of his super sci-fi thriller UPGRADE, Johnny Kervorkian appears with the European premiere of his Cronenbergian chiller AWAIT FURTHER INSTRUCTIONS, Rock video genius Joseph Kahn in back in the spotlight with the UK premiere of his extraordinary battle rap BODIED, director-turned-producer Lucky McKee with director Robert D. Krzykowski's presents the European premiere of the superb THE MAN WHO KILLED HITLER AND THEN THE BIGFOOT, with Hollywood veteran Sam Elliott giving an award-winning performance.
This year there are a record number of films, embracing zombie horror comedies, redemption thrillers, supernatural twisters, musicals, creature features, biographical dramas, reinvented slashers, gross animation and paranormal freakery. FrightFest has aimed to reflect that rich diversity with films such as Jerome Pikwane's supernatural horror TOLKOLOSHE, the first festival entry from South Africa, which receives its World Premiere, John McPhail's exuberant zombie musical ANNA AND THE APOCALYPSE, the UK premiere of Mike Mort's gory animated shocker CHUCK STEEL: NIGHT OF THE TRAMPIRES. Caye Casas and Albert Pintó's end of the world eye-opener KILLING GOD, Paul Raschid's post-Brexit thriller WHITE CHAMBER, starring Shauna Macdonald and. Takeshi Sone's LGBTQ stunner GHOST MASK: SCAR.
Then there is Matthew Holness' much anticipated POSSUM, Jérémie Guez's blazing A BLUEBIRD IN MY HEART, Andy Mitton's unusual THE WITCH IN THE WINDOW, Linus de Paoli's gut-wrenching A YOUNG MAN WITH HIGH POTENTIAL, Chris Sun's Oz creature feature BOAR, Justin P. Lange's intensely moving THE DARK, Evan Cecil's splatterific LASSO, Owen Egerton's bloody cheeky BLOOD FEST, Anthony Scott Burn's sinister OUR HOUSE, Dominique Rocher's galvanizing THE NIGHT EATS THE WORLD, Adam Marcus' slay ride SECRET SANTA, Dean Devlin's grueling BAD SAMARITAN, starring David Tennant, Trevor Stevens' slyly futuristic ROCK STEADY ROW, Justin McConnell's remarkable shape-shifting LIFECHANGER, Owen Long's dark fantasy SEEDS, Nicolas Pesce's Italian soundtack-tastic PIERCING and Franck Ribière's stylish Grand Guignol recreation THE MOST ASSASSINATED WOMAN IN THE WORLD.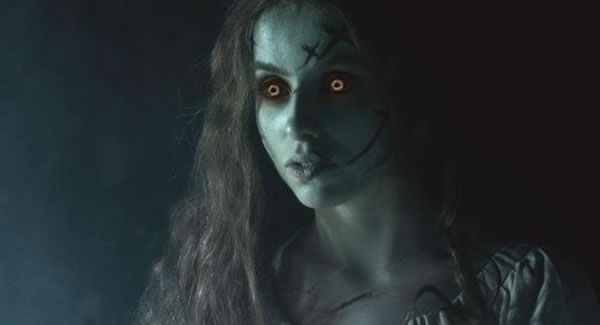 Heretiks
The cabinet of fear holds more…be prepared for Orson Oblowitz's splatter revenge saga HELL IS WHERE THE HOME IS, starring Faruza Balk, Quinn, Lasher's nightmarish HE'S OUT THERE, starring The Handmaid's Tale's Yvonne Strahovski, Tim van Dammen's dimensionally hilarious MEGA TIME SQUAD, David Barker's De Palma-esque PIMPED, Shin'ichirô Ueda's one-take wonder ONE CUT OF THE DEAD, Giordano Giulivi's black-and-white marvel THE LAPLACE'S DEMON, Abiel Bruhn and John Rocco's three mothers saga THE NIGHT SITTER, Matt Mercer and Mike Testin's unstable DEMENTIA PART II, Stewart Sparke's action-packed BOOK OF MONSTERS, Sam Ashurst's experimental 200-anniversary celebration FRANKENSTEIN'S CREATURE, Kristian A. Söderström's tribute to VHS collectors everywhere VIDEOMAN, Marcus Hearn's beautifully informative documentary HAMMER HORROR: THE WARNER BROS YEARS, Andre Gower's look at The Monster Squad cult phenomenon, WOLFMAN'S GOT NARDS. Ante Novakovic's Halloween-set crowd-pleaser actually titled FRIGHT FEST and there's murder on the dance floor in Bernhard Pucher's nightclubbed RAVERS, starring Georgia Hirst from Vikings.
The popular raw talent strand 'First Blood' returns with four stellar titles: Kevin Chicken's outstanding body modification shocker PERFECT SKIN, Aislinn Clark's THE DEVIL'S DOORWAY, a terrifying depiction of devil possession, Harry Lindley's computer virus techno thriller CTRL and Ben Kent's F.U.B.A.R, which sees a stag party descend on a Zombie Apocalypse paintball weekend. What could go wrong? Here's where you'll find tomorrow's names today, so good talent-spotting.
Another of FrightFest's popular discovery strands is our spotlight on South American fantasy and this year highlights the scream of the crop. The one title that is currently scaring up a storm is Demian Rugna's TERRIFIED, (you will be!). Then there's the European premiere of Ezequiel Endelman and Leandro Montejano's homage to Dario Argento, CRYSTAL EYES, the UK premiere of Gonzalo Calzada's Argentine hit LUCIFERINA and the UK premiere of Gustavo Leonel Mendoza's CULT OF TERROR, an engaging documentary look at all the Latin American and Spanish-speaking fantasy festivals.
In 2008 FrightFest world-premiered Kerry Anne Mullaney's The Dead Outside and since then have consistently championed female directors. This year is no exception. Apart from Jenn Wexler's THE RANGER and Anouk Whissell's involvement with SUMMER OF 84, we also showcase the European premiere of Mitzi Peirone's visually dazzling BRAID, the European premiere of Aislinn Clark's THE DEVIL'S DOORWAY (one of our 'First Blood' entries) and, by popular demand, a second screening of Issa López's stunning Mexican fairytale TIGERS ARE NOT AFRAID. Nor must we forget Veronika Franz, Katrin Gebbe and Agnieszka Smoczynska's wonderful contributions to the Euro-fable anthology THE FIELD GUIDE TO EVIL, which receives its UK premiere.
No FrightFest would be complete without a couple of shockers starring our First Lady of Fright, the incomparable Barbara Crampton. This year, everyone's favourite genre icon is represented by the European premiere of Sonny Laguna and Tommy Wiklund's fabulous reboot PUPPET MASTER: THE LITTLEST REICH and the UK premiere of Brad Baruh's weird, wild and blood-soaked DEAD NIGHT.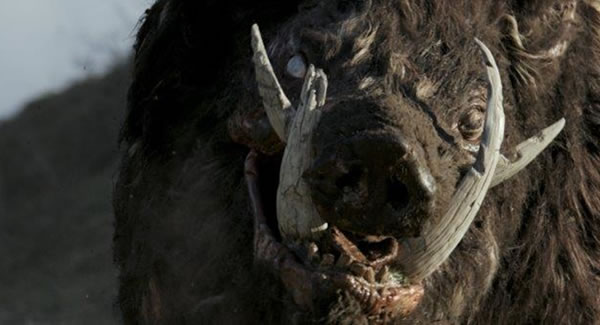 Boar
Casting a truth-searing spotlight on FrightFest itself is Chris Collier's documentary FRIGHTFEST: BENEATH THE DARK HEART OF CINEMA, which will receive its World premiere. Assembling a vast range of footage from every single past event and putting together dozens of interviews, the result is a warts-and-all look at the people behind FrightFest and what makes the UK's best genre festival tick.
For many seasoned movie-lovers the much-missed Scala Cinema in London's King's Cross area was the repertory Mecca for the weirdest double-bills and electric audience atmospheres. It was also where Shock Around The Clock began, the origins of FrightFest Now fans can relive those golden days with a double-bill of classic exploitation chosen by the veteran programmer of the establishment herself, Jane Giles. Her book on the venue will be published in September by FAB Press and to celebrate FrightFest and Jane Giles will present Jeff Lieberman's pulp science fiction BLUE SUNSHINE and Julien Temple's Sex Pistols documdrama THE GREAT ROCK'N'ROLL SWINDLE, both to be shown in 35mm.
For your ears only! In a first for FrightFest, director Roxanne Benjamin (XX, Southbound) presents an exclusive screening of FINAL STOP, a must-hear horror short produced by Sennheiser and starring Phoebe Tonkin (The Originals). Shot entirely on smartphone, and recorded in full binaural audio using the AMBEO Smart Headset, the film is designed to be watched with headphones (which will be supplied), so audiences can immerse themselves in the story and its terrifying 3D soundscape.
There will also be a special screening of GHOST STORIES where co-writers/co-directors Jeremy Dyson and star Andy Nyman will host a live commentary and The Duke Mitchell Film Club is back with a hosted presentation of Sam Jones' documentary LIFE AFTER FLASH. This is followed by the now notoriously popular DUKE MITCHELL PARTY, where the audience and invited special guests can expect all manner of madness guaranteed to kick off your Saturday late night in style.
Alan Jones, co-director of FrightFest, said today: "We have celebrated the astonishing vibrancy of this truly independent genre for nineteen years now, and our audience knows that over five joyous days with us they will experience being jolted, shocked, saddened, terrified, provoked, transported, challenged and even transformed. So come and join us on another fabulous voyage of discovery into places many except the bravest FrightFester won't go".
He added: "A lot has happened over the past twelve months in the world of horror fantasy. Fueled by a number of head-line grabbing, Oscar-winning, box-office hits, the mainstream thinks it has 'discovered' horror in a big way. But the ever-expanding FrightFest community have always known that Horror fantasy has forever been slap-bang centre-stage, and is finally getting the recognition the consistently money-making genre deserves".
This year's guest list, special events and the Short Film Showcase entries will all be announced in the coming weeks.
Festival passes will go on sale Sat 30 June at noon and will only be available to buy online: http://www.frightfest.co.uk/tickets.html
Single tickets will go on sale on Sat 21 July from 9am.
For full programme details: http://www.frightfest.co.uk/
FrightFest 2018 – Film Stills
https://cloutcom.co.uk/picture-gallery/gallery/frightfest-2018-film-stills/
FrightFest 2018 – Film Posters
https://cloutcom.co.uk/picture-gallery/gallery/frightfest-2018-film-posters/
FrightFest 2018 – Logos and Artwork
https://cloutcom.co.uk/picture-gallery/gallery/frightfest-2018-logos-artwork/
www.frightfest.co.uk | FB: /FrightFestreal | Twitter: @frightfest | IG: @frightfestUK
www.arrowfilms.com | FB: /ArrowVideo | Twitter: @ArrowFilmsVideo | IG: @ArrowVideo
#ARROWFRIGHTFEST
Please note that the event is called Arrow Video FrightFest 2018
We'd like to thank all our sponsors & media partners: Horror Channel, Sennheiser, Screen International, Entertainment Focus, Splice Media, Fandom, Dread Central, Den of Geek, Radisson Group & Queensbury Pictures.

All press enquiries:
Clout Communications Ltd @cloutcomcouk
Editors notes:
About FrightFest
Dubbed "the Woodstock of Gore" by director Guillermo Del Toro, FrightFest, set up in 2000, has grown in size and stature since its cult roots at the Prince Charles Cinema and today is internationally renowned for discovering exciting and original horror fantasy genre films and for supporting the talent behind them, helping to launch the careers of such directors as Simon Rumley, Christopher Smith, Eli Roth, Neil Marshall and Simon Hunter.
Over the years the festival directors, Greg Day, Alan Jones, Paul McEvoy and Ian Rattray, have developed FrightFest into a brand leader for horror film, expanding its footprint in the UK by hosting special events throughout the year and joining forces with the Glasgow Film Festival, where they run an established three-day event. They have teamed up with FAB Press to publish a series of 'The FrightFest Guide To…" books and recently entered into an exclusive partnership with Signature Entertainment to release films under the festival's thriving label 'FrightFest Presents'.
About Arrow Video
Arrow Video brings the very best in cult, horror and genre films, released in deluxe, definitive editions with uncut versions, newly commissioned artwork, specially curated extras and booklets. Starting as an offshoot label in 2009, the collection now spans more than 400 releases including films from Dario Argento, John Carpenter, Lucio Fulci, Wes Craven and George Romero, plus upcoming releases from the likes of Guillermo del Toro and Edgar Wright.
Recently the label has expanded into the US, whilst also moving into acquiring New Release content, including such titles as Mexican horror We Are The Flesh, BAFTA-nominated The Ghoul, outstanding Australian debut Hounds of Love and The Villainess, all of which have received US and / or UK theatrical releases as part of Arrow Video's release strategy for new and contemporary films on the label.