Back to News list
10 Questions with George Baron, director of the gender-bending noir thriller THE BLUE ROSE
Ahead of the World Premiere of THE BLUE ROSE, which he started making whilst still at school, George Baron talks about overcoming self-doubt, the concept of 'pastel-noir' and the influence of David Lynch as a male role model.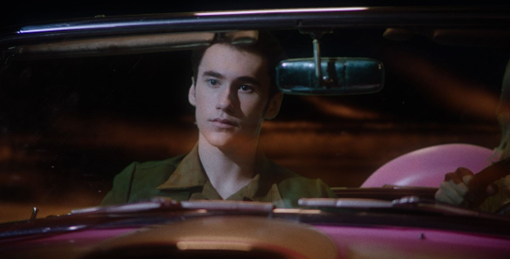 George, THE BLUE ROSE marks your feature film debut. What would you say were the biggest challenges in getting it off the ground?
The biggest challenge was probably overcoming my own doubts and anxieties I had about the project. Getting the right people on board for the cast and crew actually fell into my lap pretty easily.
When you started shooting the film in 2021 you were only sixteen years old, joining a very select band of teenage feature film makers. How did you find coping with all the pressures at the time?
Yeah, I don't think there are many of us out there. I've only heard of like two others, so it feels nice to be spearheading this new generation of filmmakers. I literally shot the film over my summer break and then went back to school like two days after we wrapped. I think the biggest pressure I had to cope with was the feeling of being underestimated.
The film is based on an immersive theatre Art Show you directed in 2020. What was it like making the leap from theatre to film? Did it feel like a natural transition?
Well, I think the film itself is very theatrical. And my roots are grounded in theatre. I think the most challenging part was trying to bring over those immersive, obscure, and intimate elements into a film. The transition was definitely just that, a transition.
THE BLUE ROSE is visually stunning and dazzlingly provocative and inspired by David Lynch in particular. Why?
Davd Lynch is kind of the only male role model I've ever had. I always had these far-fetched ideas and surreal stories that I thought were just things that interested me and no one else, and then I saw "Blue Velvet" for the first time, and I was like "Oh my god, there's a market for this!".  There are obvious inspirations from David Lynch throughout the film.
What other directorial inspirations did you draw upon?
Well, there's classic noir inspirations like Hitchcock and films like "Mildred Pierce" and "Sunset Boulevard". Another film inspiration of mine would probably have to be Melanie Martinez. Seeing her film "K-12" made me realize that you can write, direct and act in your own film. And that you can make a movie with visual emphasis and an excess of colour theory. I would also say that I'm very inspired by pop-surrealism artwork. My childhood best friend's surrealist artwork is featured throughout the film, and she's always been a longtime collaborator of mine, so it was fun to weave the story around her paintings.
You describe the film as 'pastel-noir'. Can you elaborate?
Yeah! So essentially the concept of a "pastel-noir" is that you take the structure or general idea of a noir film, but you don't make it look like a noir film. So, I was really influenced by shades of pastel pink and green and blue. All of these really soft yet vibrant colours that you just never want to take your eyes off of. So, it creates this really interesting juxtaposition where the content of the film is dark, but the visuals are the complete opposite. There was a brief time when I thought about making the film in black and white, but I think that would have been a very different movie.
Although THE BLUE ROSE is set in the fifties, it feels very contemporary with its themes of gender fluidity. Is it important to you that the film is embraced by the post-millennial generation?
Well, I mean obviously, I'm Gen Z so that Gen Z voice is gonna come through somehow. I didn't want the story to be about gender fluidity or sexuality, and it's not a really big part of the story either. I do however think that the film has many queer elements and I think a lot of LGBTQ+ people (and even those who are not) are going to find things they resonate with in this film no matter what generation they come from.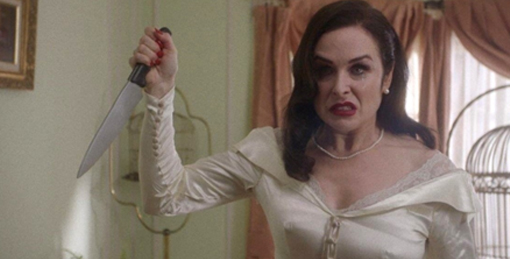 The horror elements of the film have a dark splash of deviance about them. Have you always embraced the horror genre and who are your greatest influences?
I've been a horror fan since I was a little kid. I think all of the films I plan to make in the future will have horror elements. Some of my favourite horror movies would probably have to be "House Of 1000 Corpses", "Carrie", and "Sleepaway Camp". There's actually a really small "Sleepaway Camp" reference in the movie and I'm curious to see if anybody notices it. But when it comes to horror literature, I am a huge fan of Stephen King and VC Andrews.
The casting is terrific. There is a real team spirit. Did the process fall naturally into place?

Thank you! I have to hand it to our casting director, Michelle Lewitt. She's incredible. The process definitely fell naturally into place. I'm very grateful and thankful to our cast members for their performances.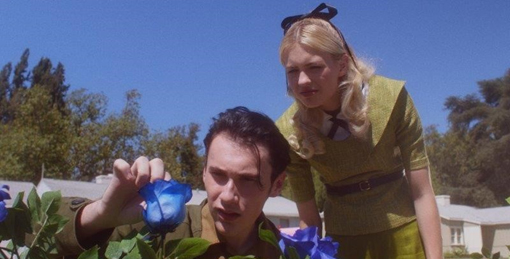 You also star in the film. What was it like playing opposite the hugely Olivia Scott Welch?

Olivia is great! She's really fun to work with and she brought a lot to the table. She's the perfect partner in fighting crime.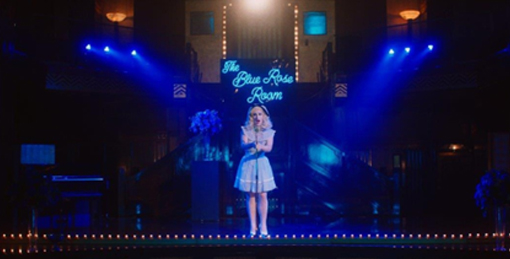 The film has its World premiere at FrightFest 2023. Excited or what?
I literally cannot express how thrilled I am! Although I do have to say that I am very anxious about it though.
Can you tell us about future plans for the film?
Honestly, no, I just hope the distribution gods are kind to me.
And looking ahead, what new projects are you working on?
-I have the script completed for my 2nd film. So that's definitely something I'd like to do soon. But what I really want is to act in something that I have no directorial influence in.
THE BLUE ROSE is showing online on Sunday 27 August, 6.25pm, in Discovery Screen 1, as part of Pigeon Shrine FrightFest 2023.