Back to Client list
Vincent Kamp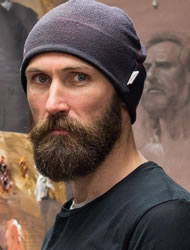 Fascinated by the dark, gritty underground world of urban subculture, his paintings delve beneath the surface of social class, creating intense portraits of people in a fused background of cinematic lighting, brooding sexuality and impending violence.

Apart from painting portraits of people like singer/songwriter SAM SMITH and actress CAPRICE, Vince creates subversive thematic works like his Barbershop-inspired 'Fear and Loathing in East London' series,
In November 2018 he is planning an interactive solo show, THE LONG GAME: an ambitious, performance art homage to his love of gangster films.
He is represented by Clarenden Fine Art.
---